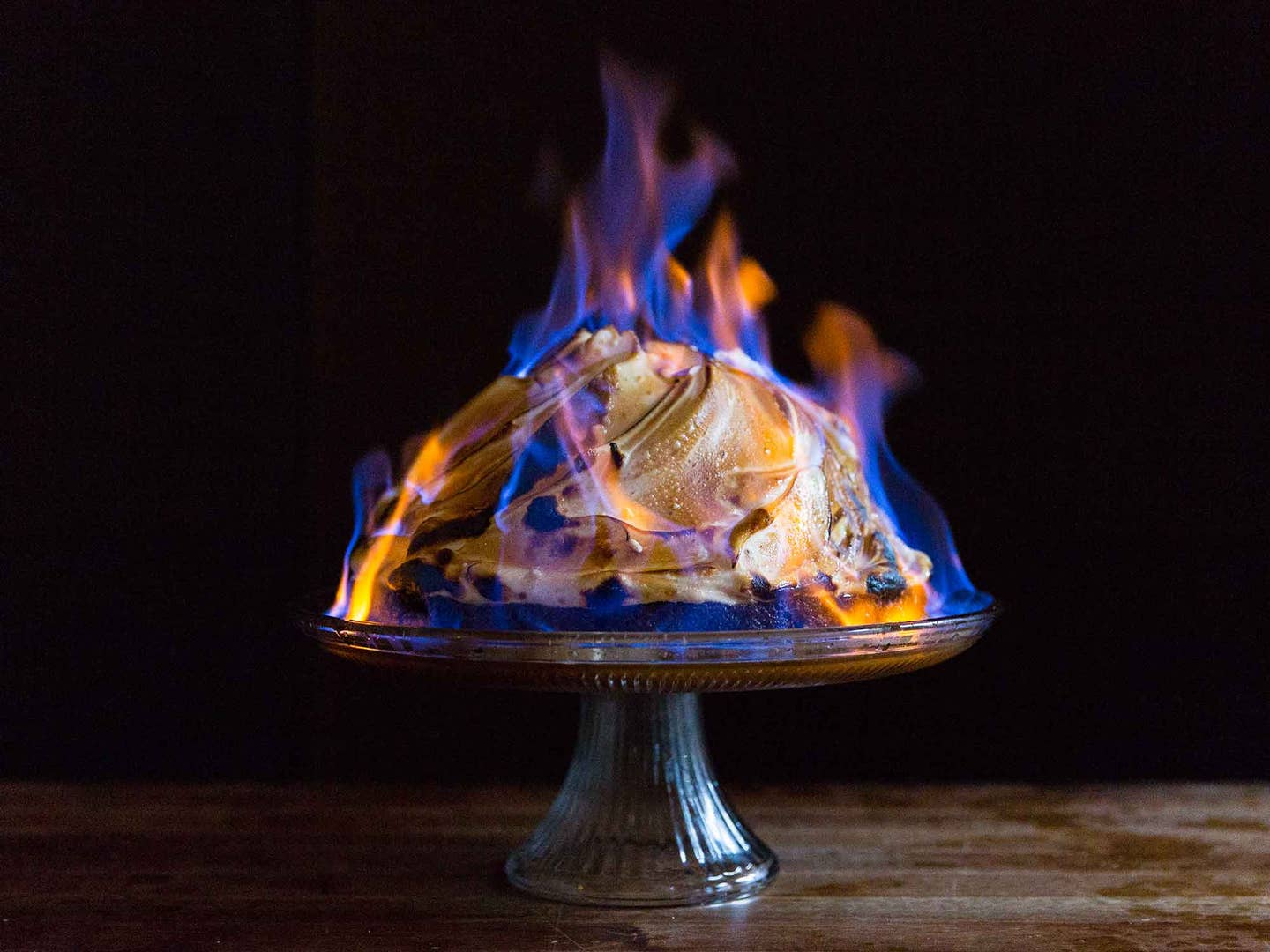 Culture
Baked Alaska is Ready for a Comeback
It's ice cream on fire! What more do you need to know?
Left with a freezer full of ice cream from "Churn After Reading,", we decided to make something with it (rather than merely grab spoonfuls each time we walked by the fridge). Baked Alaska, a 19th-century American dessert of layered ice cream cloaked with meringue, came to mind. The choices of how to make baked Alaska are endless—some contain only one type of ice cream, others three or more; some have a layer of cake as a base, others don't; some are flambéed, others not. We went full throttle by using three plentiful ice cream layers separated by crumbled chocolate cookies atop a fudgy, flourless chocolate cake. Then we topped it with a splash of rum and set it ablaze, because the best part of this old-school dessert is the drama.
Use an offset spatula to spread one ice cream flavor at a time. Allow each at least 10 minutes to harden in the freezer before adding the next.

The best thickness for the meringue coat is about 1/2 inch. Any thicker and it will weep; too thin and it will disintegrate in the freezer. For the best texture, apply the meringue no more than 4–6 hours before igniting.

Meringue will not stick to sorbet. You can layer ice cream in any pattern or thickness you like, but be sure the outer layer is dairy-based, or coat dairy-free domes with a thin layer of cake crumbs, chopped nuts, or cocoa nibs before adding meringue.

Blowtorch meringue before it's flambéed to give it a deeply toasted marshmallow flavor that the flambé alone won't provide.

Since booze will slip down the sides if drizzled on top, nestle half a clean eggshell into the top of the meringue before freezing. To serve, fill it with overproof rum and light with a long match or lighter. Carefully ladle more rum into the shell for a "flaming volcano" effect.

To avoid slicing rock-hard ice cream, temper Baked Alaska in the refrigerator for 20–30 minutes before serving. Dip a sharp knife in warm water and wipe it clean between each cut.