Recipes
For Clam Chowder That Actually Tastes Like Clams, Hold the Cream
Rhode Island clam chowder's clear, umami-rich broth lets the flavor of fresh clams shine through
Serves

serves 4

Cook

1 hour 10 minutes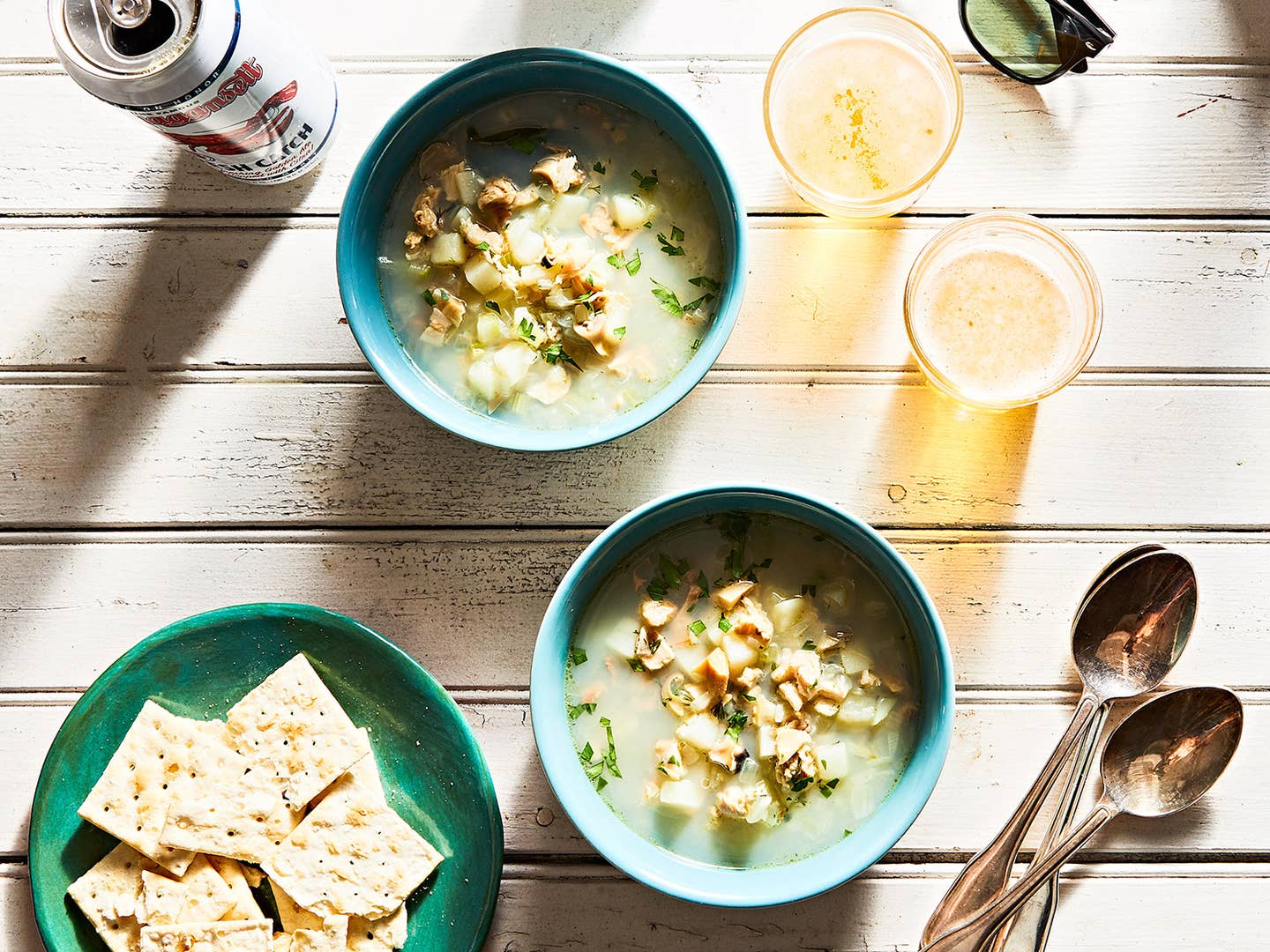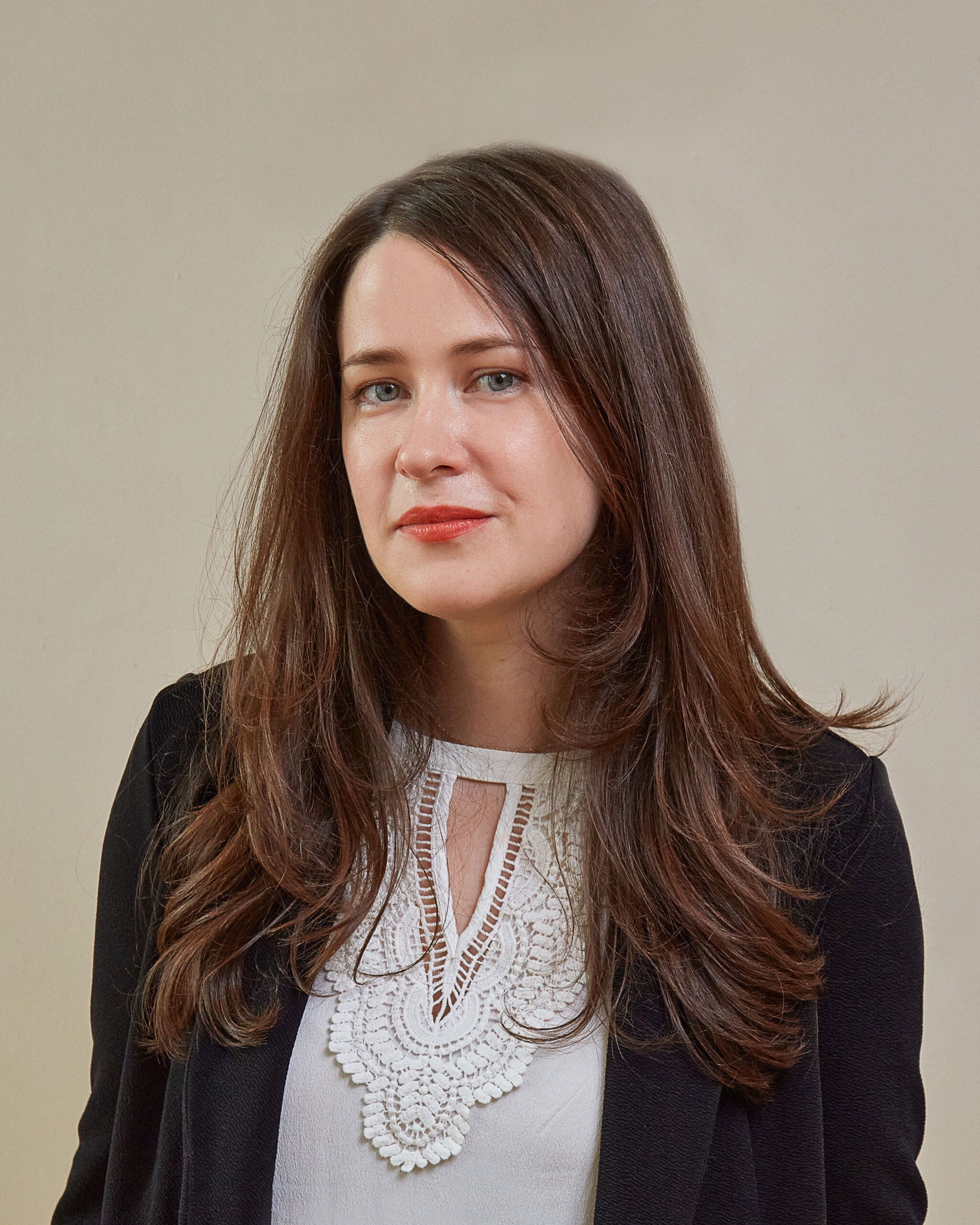 ---
New Englanders, and most Americans, typically only recognize one clam chowder: the creamy kind. Growing up outside of Providence, Rhode Island, I was no exception: along with crisp clam cakes, a cup of the gravy-like, potato-laden clam stew—often thick enough to hold a spoon upright—was the star of countless lunches, on weekday jaunts to nearby beaches along the shores of Newport, Bristol, or Narragansett, or on family vacations to the Cape, southern Maine, or coastal New Hampshire. While the occasional restaurant also offered the tomato-based Manhattan style (sacrilege!), it wasn't until I moved out of state that I heard of something called "Rhode Island clam chowder."
Turns out a handful of restaurants, particularly on the southern end of the state and on nearby Block Island, have been selling the cult-classic dish for decades. With a clear broth reminiscent of the area's cloudy seawater, it has a tendency to raise eyebrows among New England-style devotees. Order Rhode Island clam chowder at any of the restaurants in the region today, and your server will—without fail—pause, size you up, and ask if you know what you're ordering.
The word "chowder" refers to a soup or stew, most often made with seafood, milk or tomatoes, salt pork, onions, and other vegetables. According to Rhode Island seafood historian David Norton Stone, the Rhode Island version has a backstory that's "as murky as its dishwater gray broth," though its simplicity suggests that the dish may have originated as a clamdigger's quick and practical supper. The chowder consists of little more than fresh hard-shell clams (known locally as quahogs) in a clear broth. Any other additions, such as bacon, potatoes, onions, salt, and pepper—are all ingredients that the cook easily could have had on the boat.
The creamy New England-style chowder likely supplanted the original version by catering to clam-shy diners. Milk or cream mellows out the musky shellfish flavor and leaves only a whisper of that ocean-y umami, yielding an entry-level seafood dish. Rhode Island clam chowder takes things up a notch by relying purely on fresh clams for depth of flavor—as summer soups go, you can't beat the hydrating, salty broth. While restaurants in the region have put their own spins on Rhode Island clam chowder, the bones of the recipe haven't changed. I recently spent a weekend eating bowl after bowl of the stuff and used two as inspiration for my riff on the classic dish.
First up was Matunuck Oyster Bar in Wakefield, where chef Jeff Cruff and owner/oysterman Perry Raso offer an elevated, sea-to-table interpretation of classic clam shack fare. "In the summertime, it just doesn't get any better than a cold beer and Rhode Island clear chowder," says Cruff. He sweats onion, celery, and red bliss potatoes with bacon, then adds just enough fresh dill and thyme to enhance the clam broth without upstaging the bivalves. While many restaurants use pre-shucked, mechanically-chopped clams, Matunuck brings in whole, fat chowder clams, shucks them in-house, and cuts them into meaty chunks.
Off the coast, on tiny Block Island, I found another Rhode Island-style chowder destination: The Beachead. The waterfront building, which served as a lifesaving station until it was turned into a restaurant in the late 1960s, has changed hands several times over the years, but the clear chowder has remained a constant. "Some people are not familiar with it, and we'd probably sell a lot more if we did the New England [style]," concedes current owner Becky Clark, "but it's something that is so unique to here, and we love having an old-school Rhode Island recipe available for people. It's interesting and different." Beachead chef Adonis DeSouza keeps the dish simple: "Onions, celery, fresh thyme and parsley, potatoes, and clams. That's it. It's basic, but it all works."
Inspired by my home state's signature soup, I bought a bag of quahogs after my trip and got to work on my own recipe. Served with some crusty bread or a handful of oyster crackers, it's the next best thing to a vacation. Here are my rules of thumb for making this seaside summer treat.
While quahogs differ in size and age, you needn't fuss: whether you're raking for giant chowder clams on the shores of Block Island or picking up a bag of smaller cherrystones at your local grocery store, they'll make a fine chowder. Just be sure to clean and purge your clams when you get home. Scrub the shells, then soak the bivalves in a bowl of salt water—this will encourage them to expel any additional grit.
Steam Quickly and Carefully
To prevent overcooking clams during service, most of the restaurants I visited added chopped raw clams to the soup base at the end. For home cooks, it's best to steam the clams in water, then use the resulting clam liquor as the base. Avoid overcooking the shellfish by steaming quickly. In a large pot, add the clams, a couple of garlic cloves, and a few inches of cold water, then cover and crank the heat up to high. When steam begins to flow out the edges of the lid, 3 to 6 minutes, start checking the clams every minute or so, and use tongs to remove them from the pot as soon as they open. If any clams remain unopened after 15 minutes, discard them.
Once the clams are just cooked, turn off the heat and strain their cooking liquid—this will be the flavorful chowder base. Set the clams aside until they are cool enough to handle, then remove them from their shells, adding any collected juices to the reserved cooking liquid. Chop the clams into small, bite-sized pieces.
While some chowder recipes call for lightly sautéing the aromatics with smoky bacon fat or salt pork, I opted for a pork-free version to let the purity of the clams shine through. Dice the onion, celery, and potatoes finely and uniformly for even cooking, then sweat them lightly in butter or olive oil without browning, until fragrant and just beginning to soften. Add a handful of fresh herbs and continue cooking until they have mellowed slightly, about 1 minute more, before adding the reserved cooking liquid.
Ingredients
Kosher salt
4 lb. cherrystone clams (about 20 large)
4 cloves garlic, thinly sliced (1 Tbsp.)
2 Tbsp. extra-virgin olive oil
2 medium russet potatoes, cut into ⅓-inch pieces (2¼ cups)
1 large yellow onion, finely chopped (2¼ cups)
2 large stalks celery, finely chopped (1 cup)
1 bay leaf
2 Tbsp. finely chopped fresh flat-leaf parsley
1 Tbsp. finely chopped fresh dill
Freshly ground black pepper
Instructions
Step 1
Purge the clams to remove any excess sand: In a large bowl of generously salted cold water, add the clams and set aside at room temperature for 15 minutes.
Step 2
Transfer the clams to a large pot, leaving the sand behind in the bowl. Add the garlic and 2 cups fresh cold water to the pot, cover, and cook over the highest heat possible until steam escapes from the edges of the lid and the clams begin to open, 3–6 minutes (start checking after 3 minutes). Use tongs to transfer the clams to a large bowl as they open, allowing up to 15 minutes; discard any that don't open. In a fine-mesh strainer set over a heat-resistant liquid-measuring cup, strain the cooking liquid, discarding any solids. Add enough water to bring the amount to 8 cups; set aside.
Step 3
Rinse out the pot and return to medium heat. When the pot is dry and hot, add the oil. When the oil shimmers, add the potatoes, onion, celery, and bay leaf; cook, stirring frequently, until the onion is translucent and softened, 10–11 minutes. Add the parsley and dill; continue cooking 2 minutes more. Add the reserved cooking liquid, then bring to a strong simmer and cook until the vegetables are tender and the broth has reduced slightly, 20–22 minutes.
Step 4
Meanwhile, remove the clams from their shells, and add any accumulated juices to the pot. Chop the clams into ½-inch pieces. Immediately before serving, stir in the clams and turn off the heat. Season to taste with pepper and additional salt. Serve hot.