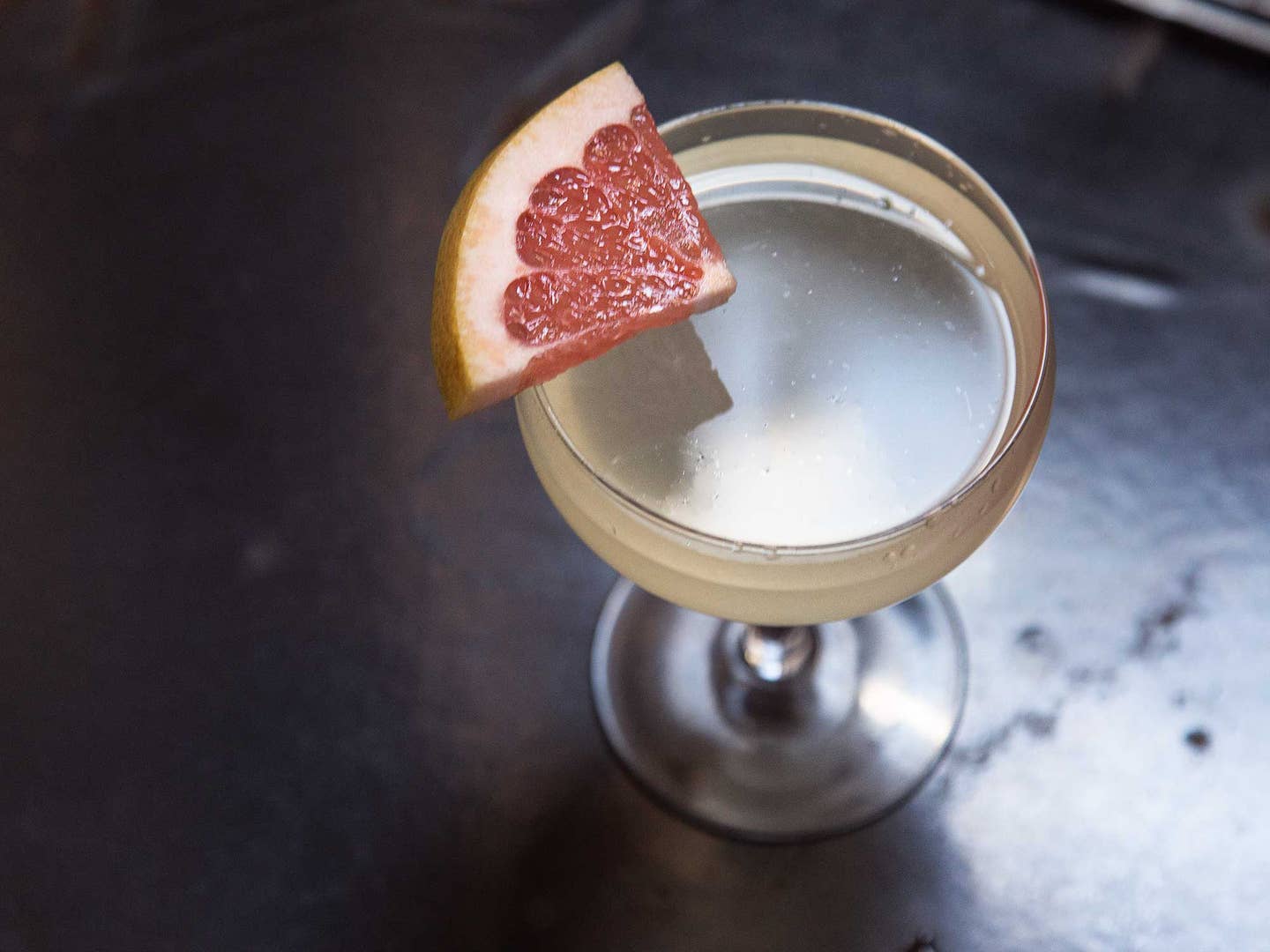 Drinks
Add a Powerful Accent to Any Cocktail With a Rinse
The easiest way to make a drink your own? Swirl just a bit of your favorite spirit around the inside of the glass
Plenty of beloved spirits and liqueurs—let's take absinthe as an example—are brawny enough to overwhelm every other flavor in a cocktail. Yet sometimes we want its distinctive anise character, but without clashing or competing with the rest of the drink. In that case, rely on a simple but extremely effective bartender trick: rinsing the cocktail glass.
Rinsing is pretty self-explanatory as a technique: You're coating the inside of a cocktail glass (or rocks glass) with a thin layer of liquid (liqueurs, bitters, and other spirits), then dumping out whatever doesn't stick. By doing so, you add strong accent of flavor and aroma that layers onto the drink without either dominating it, or getting lost in the other ingredients. The classic example is a Sazerac, a rye-and-bitters cocktail in an absinthe-rinsed rocks glass; the absinthe hits your nose as you take a whiff, then lingers on the palate while letting the rye take center stage.
Generally, rinsing is used with extremely strong flavors; along with absinthe, you'll see Chartreuse, a single-malt Scotch, perhaps mezcal. But it's a useful technique any time you want to add a complementary ingredient without taking over the cocktail. Take the Aviation, a classic that we love to see on cocktail lists: It's gin, maraschino liqueur, and lemon, with crème de violette. Too heavy a dose of the violet liqueur can take over the drink, and you're left with a cocktail that reminds you of fancy soap. We prefer to rinse the glass with crème de violette, then leave it out of the cocktail itself; you get a hint of the flavor, but it doesn't dominate.
This goes for many liqueurs—they can add vivid fruit or floral flavor to a drink, but they're sweet enough that they should be used sparingly. So why not rinse a glass with them?
Pour about a quarter-ounce of your liqueur or spirit into the bottom of a cocktail coupe. Gently swirl the liquid around the glass until it's fully coated; then pour out the excess liquid so it doesn't pool in the bottom. Shake or stir your cocktail, and strain into the prepared glass.
A classic gin sour—that's just gin, fresh lemon juice, and sugar shaken together—is refreshing on its own, but also adapts to any number of other flavors. Adding a big dose of fruit liqueur would take over the drink, drowning out the lemon and leaving it too sweet. But a quick rinse brings in the suggestion of that fruit flavor, strong on the nose and elusive on the tongue. Here, we're using the grapefruit liqueur pamplemousse, but any fruity or floral liqueur would work: blackcurrant Cassis, elderflower St-Germain, pomegranate liqueur, or even an orange liqueur like Combier, Cointreau, or Curaçao. It's a great way to play around with those random bottles you've been collecting that are too sweet to drink on their own.