How to Travel Like a Food Editor
Everything you need to maximize your edible souvenir haul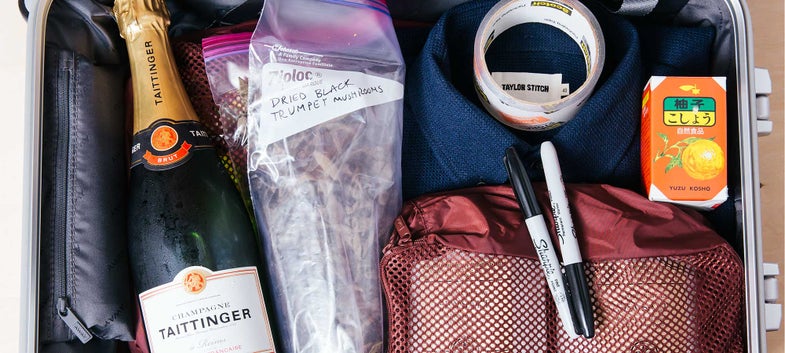 Like most folks in the food biz who travel regularly, I have a handful of tricks up my sleeve for making my experience more pleasant and efficient. I stash oranges in my carry on—the hydrating snacks breeze through security and a twist can freshen up both your personal space and those 2-ingredient in-flight cocktails. (Just be sure to check with your neighbors before tearing into citrus fruits—some folks are irritated by the fragrant oils in the peels). A colleague told me that she once watched an elderly woman order a Bloody Mary from a flight attendant, then take two extra nips of Stoli from her purse to top it off. Since hearing about this stroke of brilliance, I'm nearly always prepared with my minis of hooch too. These little pre-mixed cuties from Hochstadter's come in TSA-approved 100-mL cans and they go a long way toward making the coach cabin feel a little fancy.
But above all, I always make sure to leave loads of space for food in my bags. I'm constantly on the lookout for local snacks and edible souvenirs, many of which have a tendency to come in heavy and breakable packaging. A few carefully selected pieces of luggage and some basic, lightweight packing materials help to eliminate messy, in-flight disasters and get those edible treasures safely home in style.
When I asked Ethan Frisch of Burlap & Barrel how he transports samples of spices and other dry goods back the US, he pointed to this line of airtight duffels from Yeti. The straps are padded to wear it like a backpack, or to carry the bag in hand or over the shoulder like a normal duffel. The soft sides can be stuffed to capacity, or winched tight around smaller loads with luggage straps. The durable waterproof sides and rugged leak-free zipper are impressively effective at keeping fragrant foods sealed in and moisture out.
There's something particularly tragic about sacrificing space in your luggage for a bottle of precious Mezcal or Bordeaux, only to bring home a suitcase full of broken glass and wine-stained underpinnings. Never suffer that heartbreak again; tuck a few of these protective bottle cozies in your bag for packing up any unexpected alcoholic souvenirs. Also great for specialty oils and vinegars!
This luxe carry-on from Away is my new favorite piece of luggage for bringing back all manner of edible and drinkable treasures. It is sleek enough to fit into most overhead compartments, yet sturdy enough to safely load up with wine bottles for bagcheck. Plenty of interior zip pockets mean that oddly shaped items are secured, preventing breakage; and a built-in battery pack allows you to charge your electronic devices on the go (be sure to eject the battery and carry it on with you into the cabin if you're checking the suitcase).
The polycarbonate version is plenty durable ("unbreakable", according the the company website), and it comes in loads of fun colors, though I'm especially fond of the snazzy aluminum model for its space age styling and airtight seal, which prevents more fragrant foodstuffs from stinking up the cabin.
In the event you still need to squirrel away some clothes and other personal items in with your bottles of single malt and tins of sardines, a set of packing cubes is handy for maximizing space and keeping like items together. This set from Away is designed to fit perfectly in their Carry-On and Bigger Carry-on models, while Muji sells a similar product, available in two sizes, individually.
Ok, they're basic as heck, but hear me out. When traveling to spice-growing parts of the world, load up your pantry by buying in bulk; dry ingredients are often available in paper or plastic bags, so spare yourself the unnecessary glassware and toss all those goodies in a few heavy duty freezer bags. Be sure to label the contents clearly, and keep spices separate from odor-absorbent foods like coffee and chocolate.
With the exception of the aforementioned Wine Skins, bubble wrap is a waste of precious luggage space. Wrap small or oddly-shaped breakables in a few layers of clothing and tape tightly with packing tape as needed.
Cookbook author and SAVEUR contributor Rachael Mamane lives part time in Oaxaca and travels back and forth between the US and Mexico regularly. Rather than weighing down her gear with 750s of Mezcal from local distilleries, she suggests bringing back samples like the booze industry veterans—get a set or two of food grade plastic bottles (new please, no cosmetic residues!), label the bottles clearly with a nontoxic marker, and bring home a whole flight of spirits to enjoy once you get where you're going.
Whether you're toting your truffle haul to market or packing a first class meal to upgrade your economy flight, this grown up, soft-sided cooler from the iconic outdoorsman's brand Filson will ensure both you and your food stay (and look) cool.
Pro tip: Pack the cooler down flat in your suitcase, then fill it with dainty, delicate souvenirs like macarons and chocolates. The structured sides keep boxes from jostling around in flight and the compact size slides easily under your seat.
Don't be afraid of traveling with temperature sensitive foods—there's always a way! Gel packs, when frozen, are typically allowed through airport security. Get your perishables as cold as possible before you hit the road, then pack them in a small cooler with 2–4 of these babies. When traveling domestically, produce, dairy products, and meats intended for personal consumption are easy to transport.
For international travel, of course, check the customs and border regulations for the country you're entering before stuffing that leg of jamòn in your carry-on.