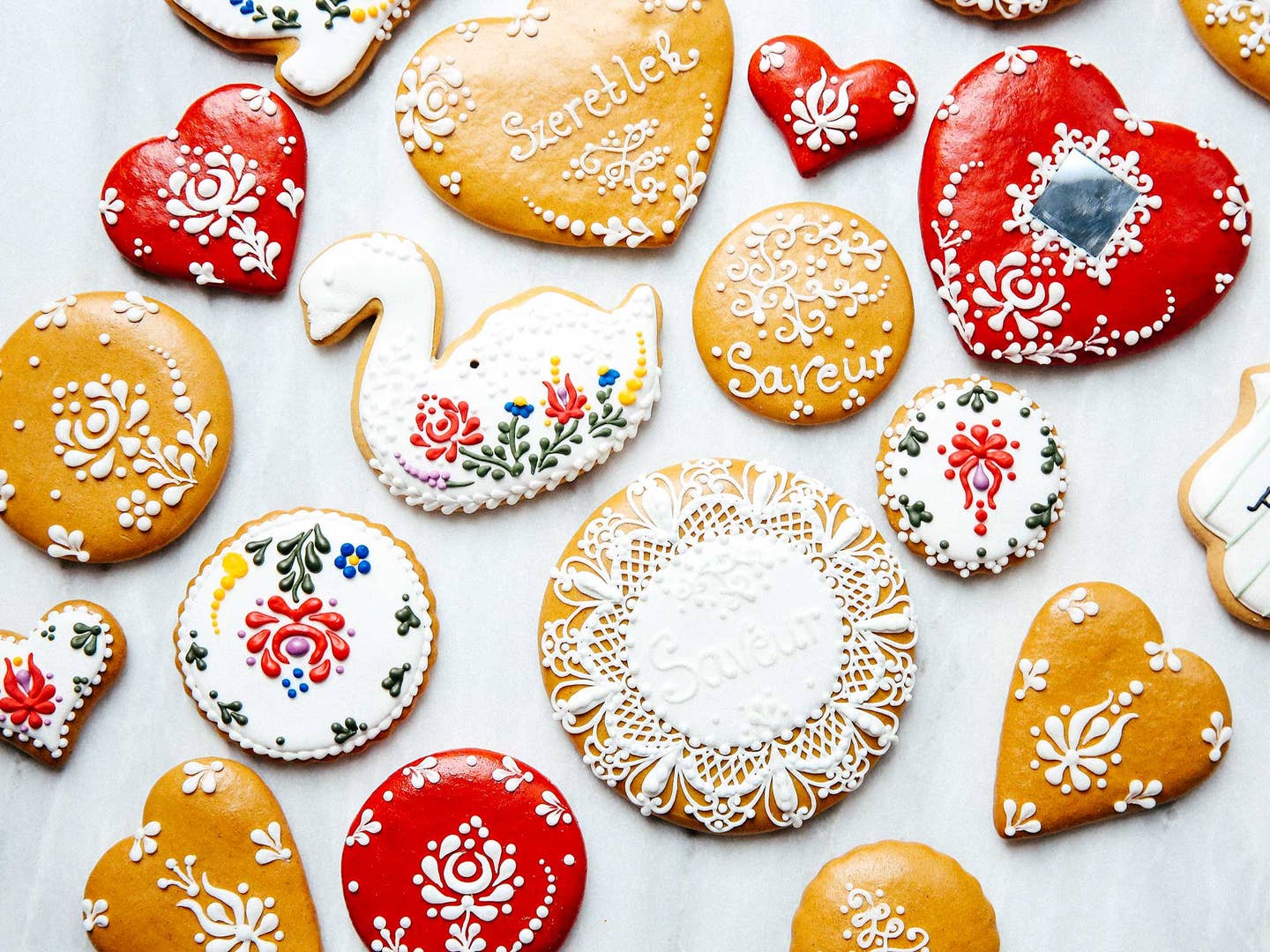 Culture
These Gorgeous Cookies Tell a Nation's History With a Piping Bag
Mezeskalacs, intricately decorated Hungarian gingerbread cookies, are edible works of art with an important cultural heritage
When you hear Aniko Kocsis say it, the word is a poem.
Mezeskalacs. (May-zesh-koh-lotch.) Traditional Hungarian gingerbread cookies painstakingly decorated as artwork. With a silver-tipped piping bag, Aniko dots icing into intricate lace embroidery and paints floral designs that mimic the colorful patterns on folk dresses. Whorls of white surround a small square mirror set into a red heart-shaped cookie. "You give it to someone," she says, "to show they're in the middle of your heart."
Aniko is one of the few bakers in America that practice the centuries-old art, one that draws on German and Russian influences but over the decades has become uniquely Hungarian.
Watch: The Cookie Artist at Work
"Big social events, you always have mezeskalacs," she goes on. This is especially true around Christmas, when the designs are the most elaborate. But at her home in Lebanon, New Jersey, Aniko also just finished up batches of heart-shaped cookies for the Valentine's Day rush. Over the past five years she's made mezeskalacs into a literal cottage business, selling cookies to the area's Hungarian community and teaching the decorating art to church groups, school children, and the youth members of the Hungarian Scout Association.
Yes, scouts. There are a lot of them. But instead of merit badges for outdoor survival and physical fitness, the Hungarian scouts study the traditional folkways of their ancestors. Every summer Aniko joins with other scout leaders at a summer camp in upstate New York to teach their charges the Hungarian way to cook, dance, sew, sing, speak, live, and breathe Hungarian. And once every five years the camp is host to an international forum where 700 Hungarians born outside of Hungary (everywhere from the U.S. to the U.K. to Venezuela) gather to celebrate Hungarian culture. Naturally, there are mezeskalacs aplenty.
Mezeskalacs begin with typical baking spices: a little cinnamon, some clove, a dash of dried ginger. But their tawny color and characteristic lightness come from a slurp of honey, which brings not just flavor, but also moisture that converts into steam in the oven, poofing the dough high and giving the finished cookie plenty of air bubbles and a slight crispness. This light, mild cookie is the perfect base for royal icing piped into floral patterns (mezossegi) as well as cross-hatched lace, animal designs, and Hungarian aphorisms. "Keep calm and eat gizzard stew," says one of the cookies Aniko shows me. Not a traditional saying, but one I'm ready to turn into a fridge magnet.
Aniko didn't learn the art of mezeskalacs from her mother, who makes a mean pacal pörkölt (tripe stew) but doesn't decorate cookies. As it turns out, she picked it up from the internet, watching videos on YouTube that have racked up tens of thousands of views. Go ahead, try watching just one. Before you know it you'll have spent hours gaping slack-jawed at the time-lapse creations of cookies just beyond your grasp.
One particularly prolific mezeskalacs YouTuber, Tunde Dugantsi in Bowling Green, Kentucky, uses the videos as marketing for her online gingerbread business, where she sells her mezeskalacs as well as instructional books on how to decorate your own. Now Aniko is doing the same. She doesn't have a website yet, but you can email her at honeycookies16@gmail.com to arrange an order and shipping.
"It's taken years of practice to learn how to do the designs right," Aniko tells me. Those multi-colored floral patterns have been the most difficult for her to master, but now she paints them as easily as her own whimsical designs that she often makes up on the fly as she's piping. She first dove into the painted cookie world as a way to deepen her knowledge of Hungarian culture beyond her experiences as a teacher in a Hungarian school. "The culture is so important to me. With it I don't feel alone, and I know I can give whatever I know to the next generation."
That passing of the torch is especially important to Hungarians, many of whom fled to the U.S., Canada, Australia, and parts of Latin America following a bloody revolution in 1956. With such a widespread diaspora, local community ties are vital. Hence the scouts, and their emphasis on traditional folkways. And hence Aniko's mezeskalacs, which are as much about community as commerce.
Over in New Jersey, the Hungarian social calendar is planned out well in advance. In June, the city of New Brunswick will be celebrating its 42nd annual Hungarian Festival, where over 10,000 Hungarians will gather for cultural performances, folk art exhibits, and massive amounts of traditional Hungarian food. For four frantic days before the festival, Aniko and other scout leaders will cook literal tons of stuffed cabbage, goulash, chicken paprikash, tripe stew, and plum dumplings. The income they raise from sales will all go towards the Hungarian scouts, which have members as young as five and as old as 82.
"Once a scout," Aniko says with a smile, "always a scout."