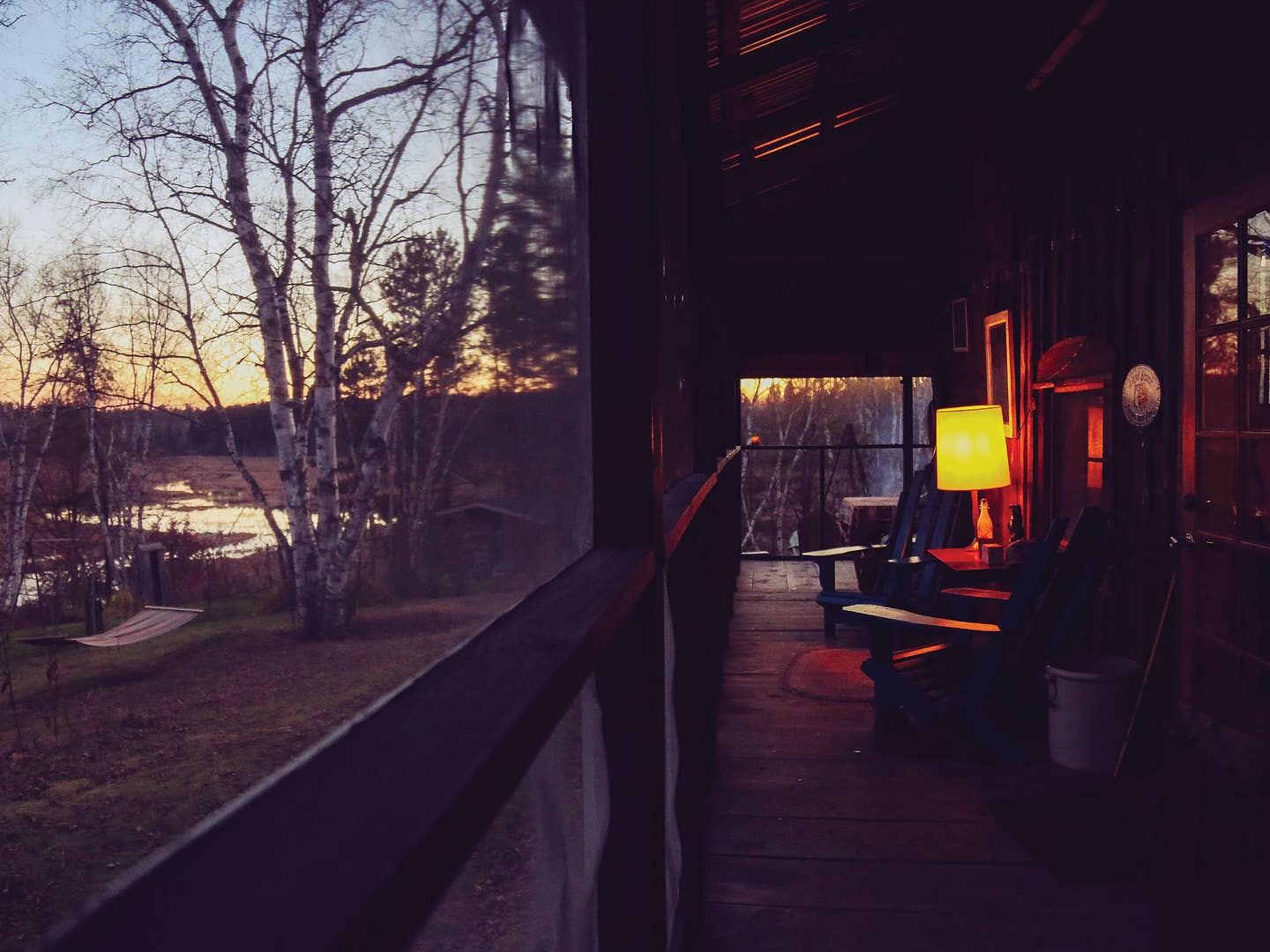 Travel
A Midwestern Hunter's Thanksgiving
Each year, deep in Minnesota's northwoods, Amy Thielen invites a close-knit band of friends to hunt her land, and fortifies them with lusty, late-fall dishes like venison and sauerkraut that rival any turkey and stuffing
The saturated blue night sky dilates rapidly to chambray like an old TV coming to life. After color, we get sound. The first shot from the woods detonates from a distance, sounding like the low beat of a pillow-stuffed bass drum; the next two, as sharp as rim shots, crack off a lot closer to the house. A bolt of excitement rolls through me, equal parts greed and reverence, two feelings that merge during our annual deer hunting weekend as naturally as sour mix and whiskey, and I think, I hope that was one of ours.
Our band of deer campers, as I call our hunting party, have been settled in their cold, open tree stands for over an hour, so it's possible. I've been awake much longer, having risen before dawn on the most ceremonious of days, the deer hunting firearm-season opener, to send them off with a proper breakfast. I don't get up to cook this early unless it's a holiday, which is telling; after seven ritualistic seasons that's pretty much what this weekend has become. In true holiday fashion, the morning meal contains enough riches to raise the body temperature by a few degrees: a couple of skeins of smoked sausage that I pan-steam until the bottoms darken and the juices evaporate into a ropy caramel; a leaning tower of buttered toast; tar-dark coffee, two thermoses' worth.
After breakfast our hunters—my husband, Aaron, five of his friends, and one of their teenage boys, all of whom were so festive and raucous last night—silently draw on their safety-orange regalia, each donning their own unique arrangement of bright vests, overcoats, and chaps. Glowing like neon signs in the dark house, they pick up their rifles from the garage and tromp out to their various stands in the trees to sit and watch and wait.
It likely won't be long. Our 150 acres swarms with what some of my neighbors refer to as "too many deer." From my driveway, I usually see only the does. They cock their heads at me, as if trying to discern my species, and then come to their senses and jump into the woods in three graceful, storybook arcs, their white fluffy tails flipping up defiantly behind them.
But the fall hunting season coincides with the mating season—more elegantly known as the rut. This is the time of year that the does lose their reticence and the bucks, generally as elusive as ghosts, let down their guard and show themselves. Gripped by the mating instinct, the bucks grind the musk gland at the base of their antlers against trees until the bark is rubbed raw; they paw roughly into the ground, leaving behind divots and pheromones, a trail of crumbs for cute young does to follow. During the rut, even the shrewdest bucks get sloppy. The horniest among them get the sloppiest, and the most starry-eyed get strung up on the high beam between our son's playhouse and our thickest oak.
If it sounds brutal—well, unfortunately, most protein gathering is. Even when one is armed with a rifle (patently unfair human advantage), bringing in a deer is not a given. It takes dedication, and preseason tracking, and skill. And a little luck.
When Aaron comes in for his midmorning coffee break, he reports that he saw not a single deer from his 10-foot-high tree perch but witnessed a number of loud, drunken crashes through the leaves that all turned out to be squirrels, and that around the same time that his toes began to freeze and go numb the sun started to melt the snow and the woods fell silent. And it was peaceful. After a few cold hours of sitting, surveillance turns into meditation. I imagine our seven hunters, together with the 10 hunters on our neighbor's land, hands clasped on rifles, standing watch like ushers over a hushed crowd of observant animals fidgeting in the dry underbrush. As rituals go, hunting is simultaneously singular and plural, individual and communal.
Throughout my childhood, the ceremonies practiced during deer hunting season dawned on me peripherally, like someone else's religion.
I grew up in this town—Park Rapids, Minnesota, an hour-and-a-half drive due east from Fargo—in a nonhunting family, squarely in the cultural minority. The only red meat my mom ever set on our table was beef. If my dad ever took a walk in the woods I don't remember it. It would have been rough going in his wing tips. We lived in town, in an aspirationally suburban island within a coniferous sea of outdoorsy northwoods folks, most of whom possessed deep freezers filled with their own venison.
But I clearly remember the signs of the season. Then as now, two weeks before the official firearms opener, you could see it coming. Bludgeoned target bucks stood as lawn decoration in front yards across town. Bright orange hats curled up on the dashes of passing trucks like cats in a warm nook. Bakeries sold doe-eyed deer cookies and cupcakes topped with tiny plastic rifles, and the farm and fleet store hawked pink camouflage lingerie. (Even though plenty of women hunt, the deer hunting merry widow joke never dies.) Men started wearing knives on their belts, and school absenteeism, for both students and teachers, was largely ignored.
So when I sat at my fourth-grade desk and watched the kid across the aisle needle a column of numbers into the soft skin of his forearm with a Bic pen, and asked him about it, he looked at me with bewilderment. "Countdown to deer hunting opener," he said, turning back to his calendar tattoo, sucking in his spit in great anticipation. "When I will be ab-sent."
I was curious: boys—hunting—venison. In that order.
When, 20-some years later, Aaron suggested that we put our land to good use by hosting deer camp, I agreed, my curiosity piqued. I didn't want to hunt myself—I enjoy butchering and won't hesitate to trim a deer liver or butterfly a heart, but I remain squeamish about guns and their cold metal triggers. Basically, I'm one of those hypocritical kinds of carnivores who'd rather not turn out the lights if I can get someone else to do it for me.
Aaron and his friends, including his bandmate Darrin Bruse and his two brothers, who grew up hunting with their departed dad, are drawn to the historical romance of the deer hunting tradition. My collection of old cookbooks is what reels me in. Fernand Point, for example, includes pages of venison and wild bird recipes, with multiple variations of murky, gutsy pan sauces. All of my American books over 50 years old contain entire chapters devoted to game. I realize that the meat I eat shouldn't be a narrow multiple choice, but should reflect the wider aperture of what surrounds me: bear, wild ducks, rabbits, and mostly venison.
Ever since we moved back home to this cabin in the woods, eight years ago, I'd wanted to crack the mystery of what they ate in the mythical hunting shacks and forest huts I'd always heard about. Were all hunters like our neighbors, keeping a steady diet of venison steaks and fried potatoes, or were some of them more ambitious? I'd heard stories of sourdough, homebrew, and braised deer hearts with wild rice, and other camp cooks who, like me, didn't hunt but instead worked the stove. I turned to my favorite deer-shack photo from an old book of heartland cooking, in which a plaid-shirted gentleman fried potatoes in one black iron pan and slipped a venison roast into the wood oven in another. Give these hunters glasses of wine in place of their canned beer, and the scene could pass for a secret Basque cooking society.
Figuring that any holiday this revered had to revolve around food, I swiftly appointed myself camp cook and began dreaming up the menu. None of us can take off the traditional week for the hunt, so we pack our harvest into a single long weekend. This torques the pressure to bring in enough deer to share among us during the weekend, but still, we are loose about it, as casual as family. The hunting day may look like a lot of napping, snacking, and coffee drinking, but the preservation of energy is an art—and we're fairly regimented about it.
In time, my menu has grown mossier and earthier, darker, heavier in flavor, and thicker with place. This year we have teak-colored teriyaki ducks. Fried onions imprinted with the cast-iron pan. A winy sauce for the venison so dark it looks like it might taste rusty. Apples roasted right in the coals of the campfire. Spiced coffee spike, fragrant with whiskey, should anyone's toes remain stubbornly cold after the hunt. And, as always, if we get a deer, I will make fresh deer liver pâté and strive to have it made, chilled, and on the table before they finish cleaning the carcass.
In the kitchen, Beth, one of our hunter's wives, and I fret over the hunt. Just in case we don't have a deer in time to harvest the backstraps I need for our Saturday dinner, I've mined my deep freezer for feral animals, thawing two meticulously plucked wild ducks our neighbor Kenny gave me a few weeks back. I also forage my cupboards, finding treasures I've been putting aside all fall: fermented pickles, fermented beets, homemade sauerkraut, our own birch syrup, the wild rice that Aaron harvested from the creek. These jars are a record of my days, the nuts in my cave, and they cost me nothing but time, so I squander freely.
As with hunting, our feast always contains an unpredictable wild card. When I reach up into the cavity of one of Kenny's ducks, I find it: a cache of gizzards from his entire hunt, the ruby jewels from at least 10 ducks. I rub them with salt and herbs and set them to cure while I look around for a bunch of fat in which to slow-bake them.
I fry onions until they're tarnished and sweet and tip them out over a taupe pile of our own wild rice. I go down to the garden to grab some rutabagas, yanking the last two corpulent ones from a row full of runts. I dip into my back pantry and pull out my fermented beet kvass. When it's mixed with vodka and lemon the cocktails glow a radioactive magenta, and as the hunters straggle in, creaky from the cold but happy, they accept them like a cure.
They bring with them the word we've been waiting for: Todd got the first deer, a buck. Hallelujah, we rejoice. Todd, the oldest Bruse brother, is an actor, a fermentation fiend—he loves my kvass—and wears a hat made from the fabric of his father's favorite La-Z-Boy chair. He's been moping for years, quite vocally, about not getting a deer, so this is a big one.
When Todd brings me the floppy fresh venison liver, the color of a black eye, things get serious. This is not just seasonal food, but urgent food. Even two days' sitting in the fridge turns deer liver bitter, but if trimmed and cubed and immediately sautéed with bacon, brandy, and butter, the liver tastes uncommonly sweet and minerally. As the juices pool on my board I realize that in comparison, my daily cooking is rather bloodless. This weekend definitely rights that wrong.
When we sit down at the table, I look around at our crew, their plates crowded with more side dishes than at Thanksgiving, nibbling on birch syrup—glazed duck legs like lollipops, and on lettuce dressed with duck pan juices and dark coins of gizzard confit. Rough and unpredictable and just a shade too blessedly decadent, this weekend perfectly captures the complications of the woods around us. I understand the devotion behind deer camp. I see the romance.
In the glow from the oil lamps, goodwill flows through me from my head to my toes. In fact, my feet overflow with it, turning red and overheating, as they often do after such epic meals. I wonder, is their pulsating due to the triple punch of ruby-red things I've consumed—red venison and liver and red wine—or a surplus of salt or, fear of fears, the first twinge of gout? It's always hard to tell. I ask my tablemate to my left to squirt the cook some more merlot from the box, if you please, and I shuck off my socks by hooking each down with one toe. (I'll find them tomorrow morning, beneath my chair.)
Shortly after dawn tomorrow, we'll trim the meat and make big batches of merguez, spicy Italian, and plain venison ground with a constellation of backfat, and scrub my kitchen down to the nub, before commencing the final peg in our weekend, the champagne toast and division of meaty loot among coolers; that's everyone's favorite ritual. The last-minute liver pâté, the hawking of backroom ferments, the general excess of cooking and overeating (and inevitable sock-shucking) are mine.
Amy Thielen's Thanksgiving Recipes