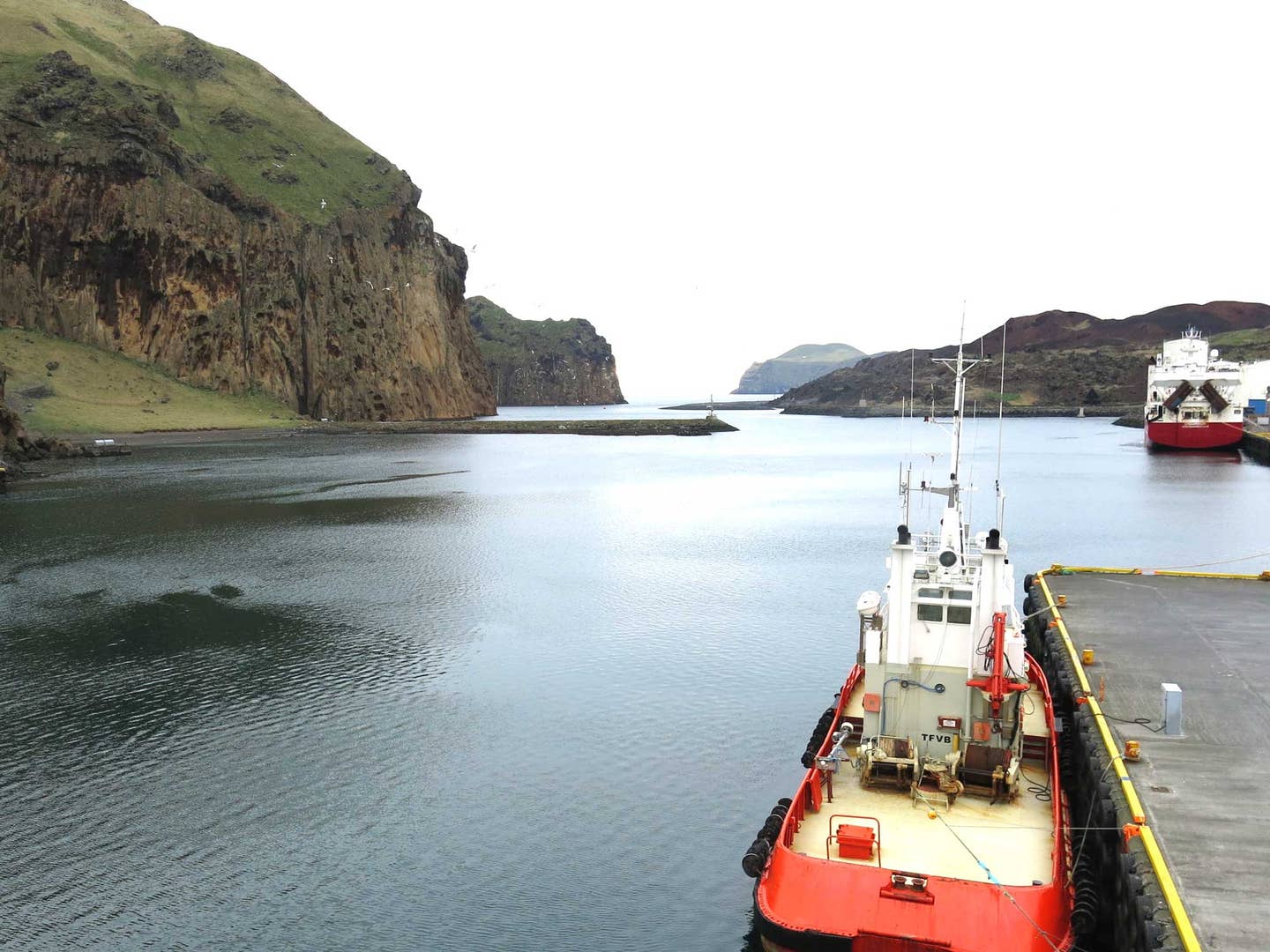 Travel
There's Never Been a Better Time to Eat Your Way Through Iceland
The Viking island's not messing with Nordic tweezer cuisine
In a nature reserve on the outskirts of Reykjavik, Dill chef Ragnar Eiriksson bends down and pushes away dried grasses to expose a tuft of wild rhubarb, the curly leaves and red stalks newly emerging from hibernation.
This is one of the stops on his regular foraging circuit, hunting the edges of the city to gather lovage sprouting in parking lots, chervil in a little old lady's backyard, patches of watercress nurtured by geothermal power outflows. He is also enthused by the recent planting of red currant bushes in a public garden two blocks from the restaurant. "Those should be ready to fruit by next year," he estimates.
The new Icelandic food isn't about smelly shark or dainty tweezers, but rather, finding comfort in ingredients native to the far north and reconsidering how to present them.
So cooks skip foie gras for seaweed that tastes like truffles. They discard risotto for pearl barley. Mosses clinging to lava fields get used as a binder for baking bread. Farmers tap syrup from the few existing birch forests. Horse is back on the menu. (During harsh famines in the Nineteenth Century, its consumption was considered an indication of poverty.)
Siggi Hall, a founder of the annual Food & Fun Festival, defines the revival of Icelandic comfort food: "We're an island, isolated through the centuries, it took months to get here by boat. In the old times, we had to be completely self-sufficient. And we had a complex about being so small and far away—it's not like you can drive over the border and get something nice from France. But that just made us more creative with what we've got."
That creativity is driven by the country's homegrown ingredients. Here are nine of the essential flavors that define Icelandic cuisine now.
Native to subarctic regions, the herbaceous stems of this fragrant celery cousin grow to three feet and have greenish-white starburst blooms. Traditionally, Archangelica officinalis is used in confections and liqueurs, where it adds a juniper-like flavor, and along with caraway, it's a key ingredient in Brennivín, a potent Icelandic schnapps imbibed during the Thorablott winter festival, when Icelanders need to counter the taste of rotted shark and other putrefied snacks.
At his Reykjavik restaurant Matur og Drykkur, Gísli Matthías Auðunsson salts and pickles the seeds as a substitute for capers; Ragnar Eiriksson dries and powders the leaves for his larder at Dill. "I dug up some roots this spring and stuck them in vodka," he says. "I'll let it infuse for a year and then see what happens."
A strong tisane of Arctic thyme (Thymus praecox ssp arcticus) was a popular Viking hangover cure. Look for this wild herb, which grows in loose tufts on sandy or gravel patches, in the barren highlands next to glaciers and volcanoes. It has a bitter flavor compared to other thyme species but is a natural pairing for Icelandic lamb, the centerpiece of traditional Sunday roast dinners. Along with moss, birch, and bilberries, Arctic thyme is infused into Islandus Góður bottled juices.
Skeptics mocked Eymundur Magnússon when he started growing organic barley at his farm in East Iceland thirty years ago. The grain was first introduced to the island after Norse settlement, and was used for making bread flour and ale, but then fell out of vogue for almost a millennium.
Now, Magnússon supplies specialty grocers like Frú Lauga in Reykjavik with his Móðir Jörð herb-crusted hrökkvi (crispbread) barley-and-wheat crackers, breakfast cereal, and even barley veggie burgers. His barley flour is a favorite of progressive baker Ágúst Einpórsson at Brauð & Co. At Dill, Magnússon's pearl barley is paired with earthy carrots. The hulled grains, which have a rounded appearance after polishing, taste like a chewy, nuttier version of puffed rice.
According to The Little Cook Book for Genteel Housekeepers (1800), Icelandic food was cooked in two separate ways. Expensive ingredients were for "respectable" people while the cheaper ones were cooked for the "unseemly." That included humble cod heads, which were reserved for unrespectable classes after the fish was processed as bacalao for offshore markets such as Portugal.
In the remote Westfjords, cod and haddock continue to be cured naturally while hanging in open sheds—the dry, cold, salt breeze removes moisture and preserves the fish. At Matur og Drykkur, housed in a former fish factory near the old harbor in Reykjavik, a slow-cooked whole cod head lacquered in chicken stock is served with lovage and potatoes. The process turns the bland, sturdy flesh sweet, and the head practically invites you to scrape it with a spoon to discover every morsel clinging to the jaws and eye sockets.
Crowberry (Empetrum nigrum) is the intensely dark fruit of a boreal heather species that ripens in early August, when picking wild berries is practically a national sport in Iceland. Crowberries have a fresh, bitter taste suited to jam or schnapps. Reykjavik Distillery, the country's first micro-distillery, uses foraged crowberries in a syrupy liqueur that tastes like a lighter version of cassis.
Sheep far outnumber people in Iceland, where they graze nonstop under the midnight sun. "Most farms are family owned," says Sindri Sigurgeirsson, chairman of the Farmers Association. "The lambs are entirely reared outdoors and move about freely. Their diet of sedge, willow, moss campion, and berries makes our lamb instantly recognizable for its distinctive taste." His own farm, Bakkakot, is close to the central highlands.
Smoked lamb, called hangikjöt, is dry-cured or pickled in brine, then cold-smoked over a fire fueled by dried sheep dung. Thinly sliced hangikjöt layered on scorched flatkökur (flatbread) smeared with intense yellow Icelandic butter is a classic open-face sandwich. It's like eating a volcano. Or the still warm ash, at least. An updated variation, twice cured until it turns crisp as a cracker, is served with whipped buttermilk at Matur og Drykkur.
A stalk of rhubarb dipped in sugar was once considered a treat for Icelandic children. Rhubarb jam appears on the table at every meal—the Icelandic especially love its tart flavor with leg of lamb. Top crusty sourdough with the housemade rhubarb preserves for breakfast at Bergsson Mathús or order the fizzy rhubarb soda and cake at Slippurinn in the Westman Islands.
When the Vikings first arrived in their longboats, they brought along Irish slaves who introduced söl (dulse) to the Icelandic diet. Icelanders continue to harvest seaweed species that thrive among tidal pools on their coast. Biologist Eyjólfur Friðgeirsson is considered the island's master seaweed forager. He recently introduced chefs to a species of tufted algae, Polysiphonia lanosa, which tastes remarkably similar to black truffle. In the Westman Islands (Vestmannaeyjar), so named for the Irish slaves who revolted there in the Ninth Century, Gisli Auðunsson clambers over rocks to gather this "sea truffle," which he turns into an emulsion for sweet langoustines at Slippurinn, his seasonal resaurant in this archipelago southeast of the capital. "I'm rich," he jokes, pointing to a huge mound growing on the shoreline.
Norwegians first introduced skyr to Iceland over one thousand years ago. While its popularity mostly died out in Scandinavia, this slightly sour dairy product was so treasured by the island's settlers that they praised it in the Icelandic Sagas. Similar to strained or greek yogurt, but milder in taste, it was originally paired with porridge in a dish called hræringur. Now skyr is a standard on dessert menus, with a dash of toasted oats and berries as a nod to the earlier custom.
Out near the Snæfellsnes peninsula, at Erpsstaðir Creamery, Einar Guðbjartsson and Ingvar Bæringsson produce homemade skyr ice cream and udder-shaped, white chocolate Skyrkonfekt. These quirky candies are also stocked at Burið, a cheese and specialty foods pantry in Reykjavik.