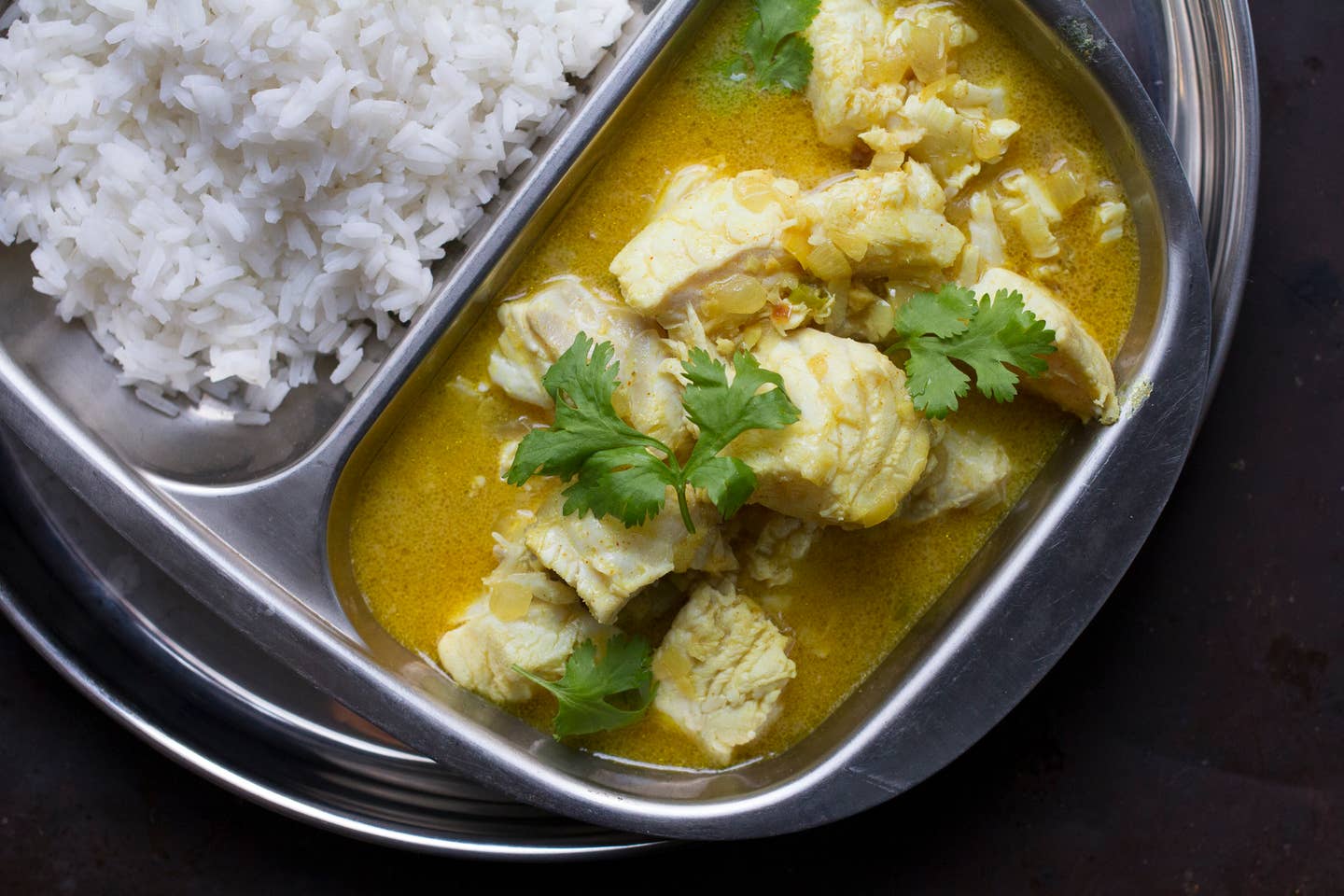 Recipes
An Easy Indian Curry with More Sour than Spice
Make this refreshing Goan fish dish for dinner tonight
I used to think I knew what curry was all about. Butter chicken, saag paneer—something stewy, spicy, and rich. Of course curry takes a lot of time to make, too—hardly harried weeknight dinner fodder. But one of the things you learn when your magazine does an entire issue about a country is that you may not know as much about a cuisine as you think.
Working on SAVEUR's India issue showed me how much I had to learn about the breadth and depth of Indian cooking. So did a cookbook I picked up when living in New Zealand, in a town of 20,000 people with all of 25 restaurants, five of which were Indian. The book was called The Curry Bible, and after I plowed through my five-restaurant supply of dishes, I started cooking from it religiously. My favorite dish from the book? Goan fish curry.
Goa, located on the west coast of India, has a regional cuisine known for seafood and coconut milk. But there's another ingredient in the Goan pantry that calls back to its Portuguese colonial roots: vinegar. That's what adds the sour twang to Goa's more famous vindaloo curry, which, despite its sourness, tastes a lot like what younger me thought curry tends to taste like: stewy, spicy, and rich.
This particular dish breaks that mold. It's very Goan—it calls for fish, coconut, and vinegar—and it's very much a curry, with ginger and garlic pastes and a homemade spice mix of cumin, coriander, chile, and turmeric. But it comes together quickly, an hour or less from start to finish. It's light, not heavy, more of a creamy soup than a heavy stew. And its flavor is bright to the point of refreshing, thanks to that fresh ginger and garlic and a few glugs of white wine vinegar for wonderful tang. It's a curry to show you just how easy and versatile curry can be, and how it can defy all of your expectations.
Like many curries, the flavor improves the next day, so I suggest making the base for the sauce the night before, even freezing it, and reheating it when you're ready for dinner. Once the sauce is simmering, cooking the fish and getting dinner on the table takes just a few minutes. Start your rice first; there's no time to wait.