Indian Green Curry Chicken with Black Pepper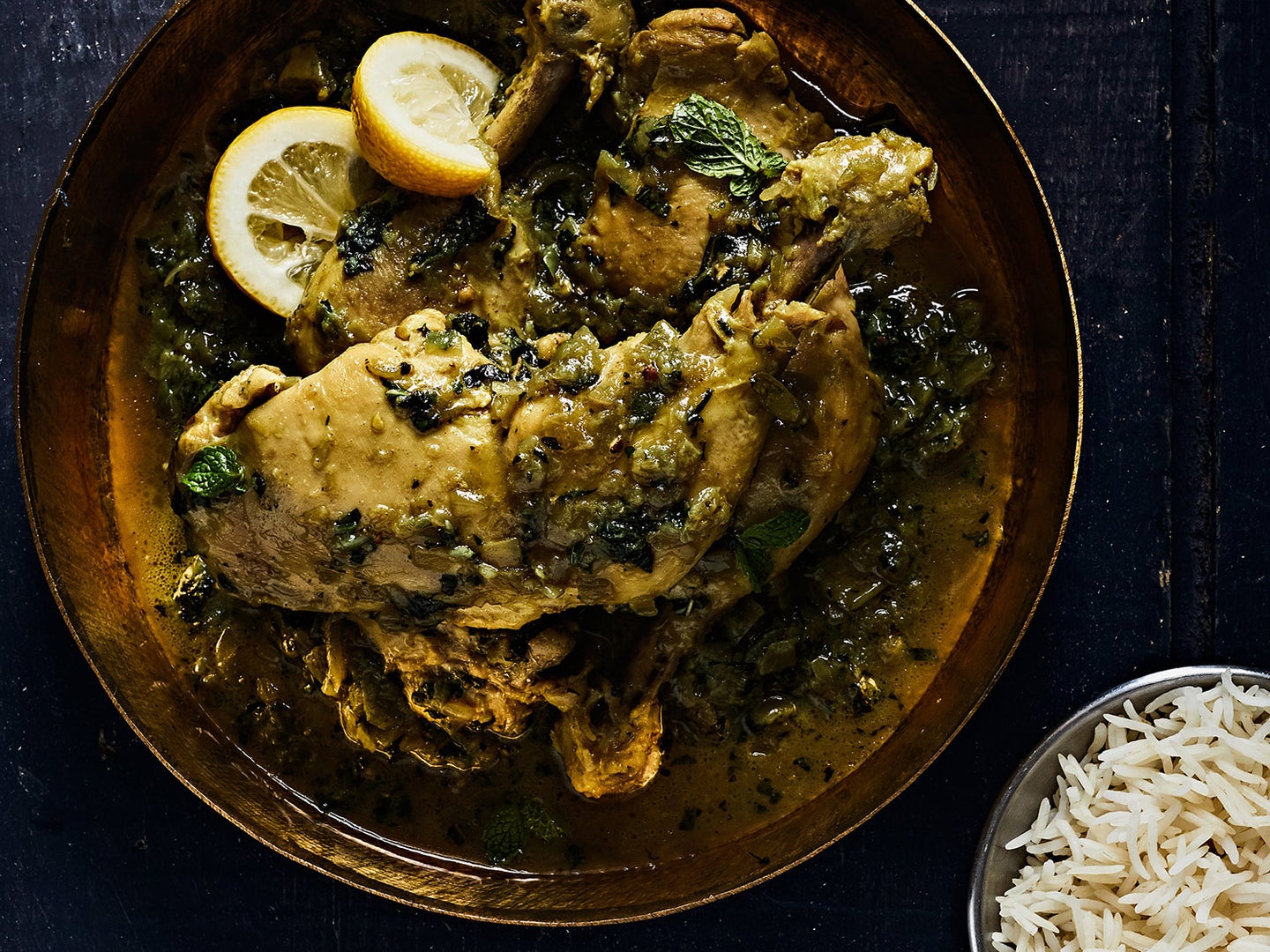 In this Indian-inspired green curry, juicy chicken legs are flavored with fresh herbs, plenty of aromatics, and a generous scoop of toasted, freshly ground black peppercorns.
Featured in: This Chicken Curry Gives Black Pepper the Spotlight It Deserves
Equipment
Indian Green Curry Chicken with Black Pepper
In this Indian-style green curry, chicken legs are marinated with yogurt before being simmered with aromatics and a liberal dose of toasted, freshly ground black peppercorns.
Time: 1 hour, 30 minutes
Ingredients
2 tsp. whole black peppercorns
½ cup Greek yogurt
2 tsp. kosher salt, divided, plus more as needed
4 large chicken legs (2½ lb.), skin removed
2 Tbsp. clarified butter
2½ cups (12 oz.) finely chopped yellow onion
8 large garlic cloves, grated (2 Tbsp.)
3 green Thai chiles, halved (optional)
1 tsp. curry powder
¼ cup coarsely chopped fresh mint
¼ cup coarsely chopped fresh cilantro
Lemon wedges and steamed basmati rice, for serving
Instructions
In a small skillet over medium heat, add the peppercorns and cook, stirring and shaking frequently, until very fragrant and toasty, and slightly oily in appearance, 3–4 minutes. Transfer to a mortar and pestle or a pepper mill and let cool to room temperature, then coarsely grind.
In a large bowl, whisk the yogurt with ¼ cup cold water. Add 1 teaspoon salt and ¼ teaspoon of the ground pepper. Whisk well to combine, then add the chicken and toss gently to coat. Set aside to marinate at room temperature while you prepare the sauce.
In a large, deep skillet over medium heat, melt the clarified butter. When the butter is hot, add the onion and cook, stirring frequently, until just beginning to brown, 15–20 minutes. Add the garlic and chiles (if using) and cook 5 minutes more. Remove the chicken from the bowl, wiping away any marinade clinging to it, and add to the skillet. Season with salt, then add ¼ cup cold water, stirring gently to combine and to coat the chicken evenly. Bring to a simmer, then cover and regulate the heat to maintain a gentle simmer. Cook, stirring occasionally, until the chicken is cooked through, 30–35 minutes. Uncover, stir in the curry powder and remaining ground pepper, and continue cooking until the chicken is very tender and the sauce is thickened, 10–15 minutes more. Stir in the mint and cilantro, then transfer to a serving platter and serve, with lemon wedges and rice.