Our 20 Best Recipes For India's Festival of Colors
Indulge in these sweet delicacies made for one of India's most iconic festival, Holi.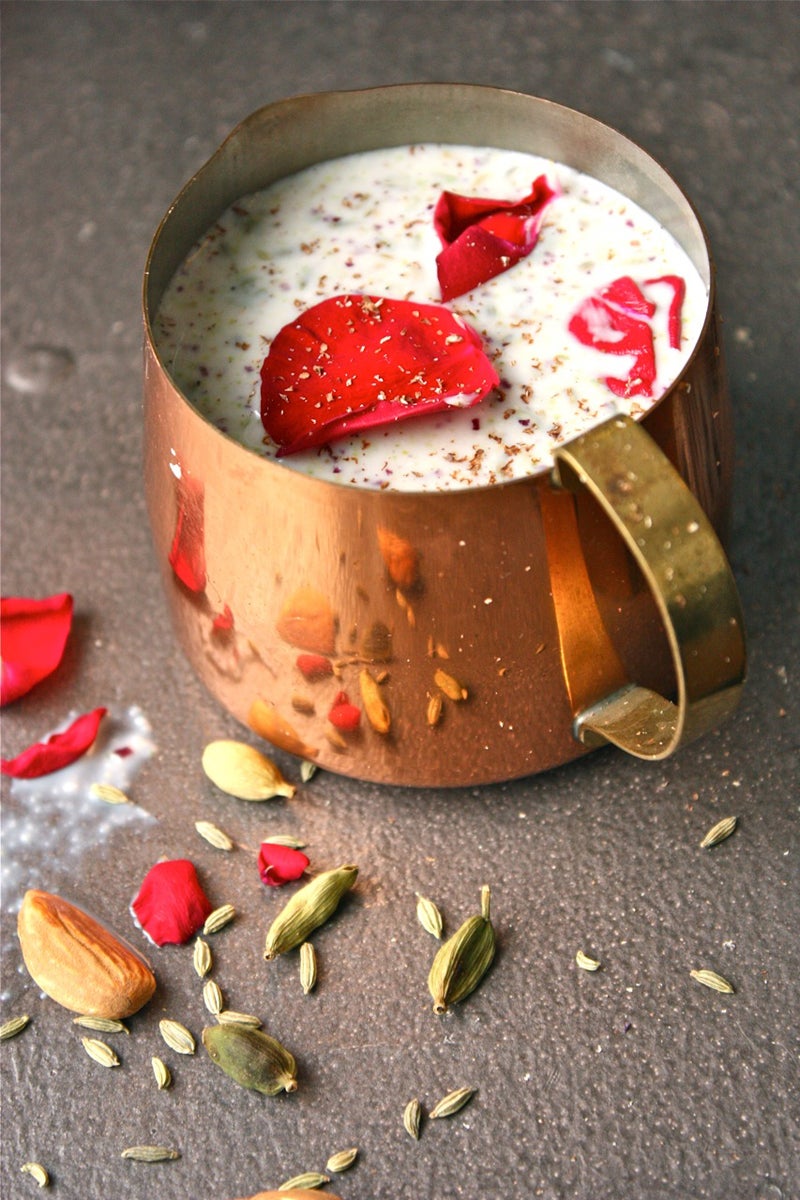 Holi signifies triumph of good over evil and the onset of spring as well as offering prayers to the gods for a good harvest. It is celebrated by eating many sweet delicacies and widely known for covering each other in colorful powder.
Traditional cardamom-scented Indian rice pudding owes its particular richness to the inclusion of whole milk, which has been reduced by half during the cooking process to produce a thick, creamy base. Get the recipe for Kheer (Indian Rice Pudding) »
These sweet, fried rice flour balls are a typical prasadam, or "offering," sold at Hindu temples in Kerala or at local sweet shops. The runny batter, which includes banana purée, grated coconut, and jaggery syrup, is spooned into a ghee-coated appachatti pan (a specialty pan with divots), which is then heated over an open flame, cooking the batter into crispy cakes. (If you have an aebleskiver or takoyaki pan, those work too.) Fried unniyappam can be stored for up to a week and reheated in a moderate oven before serving. Get the recipe for Unniyappam (Fried Banana and Rice Flour Balls) »
Home cook Yamini Joshi gave us the recipe for this Punjabi dessert of cardamom-spiced milk bolstered by toasted vermicelli noodles, dried fruit, and nuts. Get the recipe for Sevaya Kheer (Vermicelli Milk Pudding) »
A hint of rosewater adds sweet, floral aroma to this moist, dense semolina cake, packed with four types of coconut. Refrigerating overnight gives the semolina time to soak up the sweet coconut liquid, resulting in a softer, more tender crumb. Get the recipe for Goan Coconut Cake (Baath) »
For these simple bite-size confections from Bengal, milk is turned into homemade paneer cheese and then combined with sugar and cardamom to yield a dense, fudge-like treat. Get the recipe for Bengali Milk Sweets (Sandesh) »
This syrup-soaked toast is slathered in a sweetened reduction of milk flavored with saffron. Get the recipe for Shahi Tukra (Royal Toast) »
This luscious rice pudding adorned with cashews and raisins, is reason to celebrate in Pongal, India. Get the recipe for Tamil-Style Sweet Rice Pudding »
Pistachios, cardamom seeds, and saffron are mixed into yogurt to make this cool and creamy dessert. Get the recipe for Sweet Yogurt with Saffron and Pistachios (Shrikhand) »
Indian thandai, literally translated as 'something that cools', is a sweet, creamy milk drink flavored with nuts and mixed with spices such as cardamom, fennel, rose petals, and poppy seeds. On Holi, the Indian festival of colors, the refreshment is traditionally served with the addition of bhaang (a derivative of marijuana). Here we've substituted gin instead, which accentuates the nutty, warmly-spiced, floral flavors in thandai perfectly. Get the recipe for Thandai »
Pongala means "to boil over," referring to the moment the starchy water from this sweet rice dish bubbles above the lip of its clay pot. At the Attukal Pongala festival, pongala, the offering made to a Hindu deity, is cooked over fire and seasoned with jaggery (unrefined palm sugar) and coconut. Recipes can vary to include cardamom, cinnamon, banana, and raisins. Get the recipe for Pongala (Sweet Sacred Coconut Porridge) »
Local to Kerala, these chewy, lightly granular sweet rice balls are made by binding green mung bean flour and rice flour with cashews, coconut, raisins, and cardamom, using melted ghee and jaggery syrup. Their flavor profile—sweet but strongly spiced—is typical of South Indian sweets. At the Attukal Pongala festival, where they're created as an offering to a Hindu goddess, they're steamed in special pans with individual divots, but a bamboo steamer or steamer insert works just as well. Get the recipe for Mandaputtu (Steamed Cardamom-Spiced Rice Flour Balls) »
This buttery confection is a quick and simple treat commonly given to small children in India. Clarified butter (ghee), jaggery, and spices are kneaded into dry leftover roti to make a rich, shaggy dough that is then pressed into snack-sized balls. Get the recipe for Spiced Indian Cake Balls (Roti Laddu) »
Triangular deep-fried pastries stuffed with spiced potatoes and peas are an iconic Indian snack. Pair them with tangy tamarind chutney or herbaceous coconut-cilantro chutney for dipping. Get the recipe for Indian Samosas
Crispy chickpea-battered vegetable fritters are a popular street-food snack throughout India. This recipe calls for potatoes and onion, but cauliflower florets, eggplant slices, or plantains can also be used. Pair them with tangy tamarind chutney or herbaceous coconut-cilantro chutney for dipping. Get the recipe for Pakoras (Indian Vegetable Fritters) »
These flavorful mashed potatoes are spiced with mustard seeds, fresh curry leaves, turmeric, and ginger, and mixed with peas. Get the recipe for Aloo Masala (South Indian Potatoes) »
Chana Masala is a simple chickpea stew with many variations, eaten by a multitude of people across India. This recipe comes from author Suketu Mehta, who wrote about the dish for our 150th issue. Get the recipe for Chana Masala (Spiced Chickpeas) »
Unlike some other staple Indian breads, which are unleavened and crafted from durum wheat flour, or atta, fluffy naan is made with all-purpose flour and yeast. Traditionally, the dough is slapped against the chimney wall of a clay tandoor oven and baked over wood fires, but many home cooks make it on the stovetop. It is best savored hot and slathered with ghee. Get the recipe for Indian Leavened Flatbread (Naan) »
Throughout India, creamy, chilled lassis are the go-to beverage for cooling off during the warmer months. To make them, milk or water-thinned yogurt is blended with ingredients such as Rooh Afza, a scarlet-colored syrup tasting of rose petals and pine, or—for this recipe—ripe mangoes, resulting in a refreshing drink that's as thick as a milkshake. Get the recipe for Mango Lassi »
Dill adds a fresh flavor to this Maharashtrian-style dal. Get the recipe for Spiced Dal with Peanuts and Dill »
This Mumbai street-food snack was inspired by a recipe from cookbook author and teacher Raghavan Iyer. Mashed potatoes are seasoned with cumin, mustard seeds, curry leaves, ginger, and chile; balls of the aromatic mash are then coated in a turmeric-accented chickpea-flour batter and deep-fried until crisp and golden. Get the recipe for Aloo Bonda (Indian Mashed Potato Fritters) »