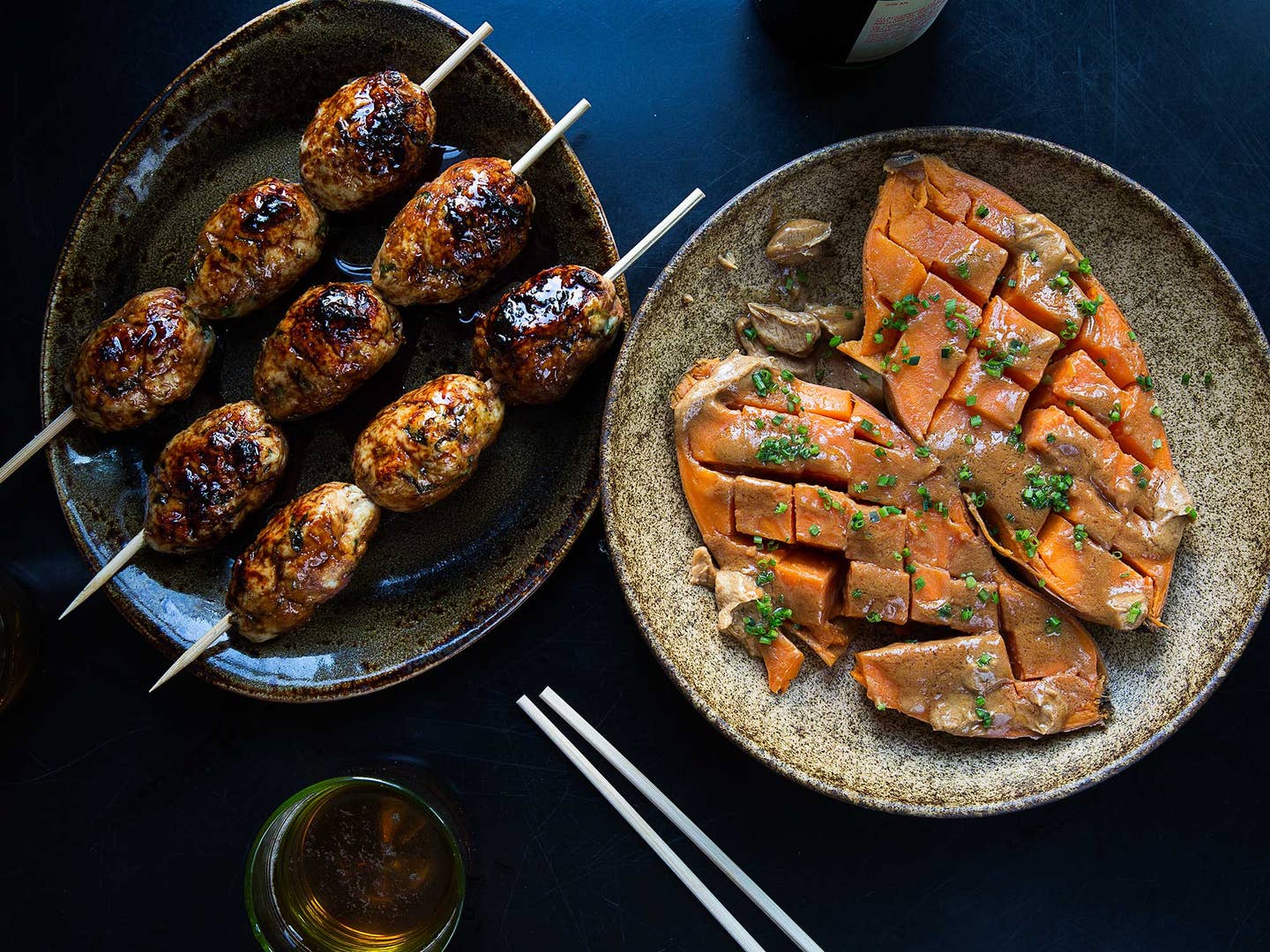 Travel
Berkeley's Ippuku is Still the Bay Area's Yakitori Destination
The Japanese restaurant shows just how good grilled chicken can be
In Asia, drinking-food (and drinking properly with food) is an art form. So welcome to Asian Drinking Food Adventures, where Dan Holzman, chef-owner of The Meatball Shop, and Matt Rodbard, author of the Koreatown cookbook, seek out the best food from bars, izakayas, pojangmachas, and then some.
Grilled chicken is one of the single best foods known to man. Name a non-vegetarian nation that doesn't boast a delicious grilled chicken recipe? Nearly impossible. And of all the nations, of all the grilled chickens, one stands above the rest: Japan.
In Japan, there is no job unworthy of mastery and attention to detail. In Japan, an artisan can bring art to any craft, from cooking knives to getting drunk, elevating it from mundane to spectacular and worthy of notice. And when that attention is turned to the otherwise ordinary task of grilling chicken, an artform called yakitori (translation: "grilled bird") emerges.
A single chicken can yield 33 cuts of meat, and in Japan people eat virtually everything but the feathers. The cuts are then skewered on wooden or metal skewers, sometimes with vegetables, sometimes alone. And then the grilling over charcoal begins, meticulously turning, dipping, seasoning and basting—each skewer cooked to its absolute optimal potential—and immediately served piping-hot.
Chicken grilled this carefully needs nothing more than a dusting of salt, but some parts get glazed with tare, a sweet and smoky barbecue-like sauce made from soy sauce, mirin, and mizuame (Japanese maltose). Sometimes the chicken sticks are served with a dollop of yuzu koshu (chile and Japanese citrus rind), or a small pile of chile pepper and a lemon wedge.
The best yakitori we've had this side of Japan (and possibly even including Japan) isn't exactly a secret (it's on a busy street in Berkeley, CA). It's also not cheap, or particularly hospitable. But damn does that chicken commit itself to memory. Welcome to Ippuku.
Over five years ago in his influential San Francisco Chronicle column, restaurant critic Michael Bauer wrote about the restaurant with a bit of astonishment. "This is the first place I know in the Bay Area that serves shochu, sake, and beer, but not even one wine," he noted in his three-star dispatch.
This was way back in 2010, which in retrospect seems like the Dark Ages given the recent renaissance of traditional Japanese soul cooking in the Bay Area. Today, the currents of shochu and sake flow swiftly—and as equals alongside craft beers in the dozens of sushi bars, izakayas, and ramen shops that stretch from the south bay to Berkeley and beyond. But Ipukko still stands out.
Ipukko's 2009 opening was the work of Christian Geideman, a Bay Area pioneer and master of the ancient Japanese practice of getting shitfaced and eating wonderful things deep-fried and served on sticks. And it was on a recent winter evening that we found ourselves in town, and in the mood for what his restaurant ultimately does best: chicken.
After settling in our booth, having walked past a prominent "no photos" sign and an advanced-level selection of Japanese whisky beyond the usual Nikka and Yamazaki, we rubbed our chilly hands and got down business. First off, a round of massive mugs of Sapporo (which arrived almost instantly), and then lots of chicken.
Dan took control of the menu, and what landed on the table felt like an omakase on steroids; you'll be glad to know that there were no steroids used in the Hoffman Farms poultry that landed plate after plate after plate. Teba (wing), shiro (intestine), nankotsu (cartilage), sunagimo (gizzard), negima (chicken and negi, a mild Japanese leek), toriniku (white meat chunks) were among the many courses that were equally exquisite, each bite representing the ideal preparation suited for an exact cut.
There was a respite from the chicken when ginnan (ginko balls) arrived, and other tasty vegetable course interspersed throughout the meal were equally delicious. We include a recipe for steamed sweet potatoes with miso butter, which captures the flavors of the Japan in one giant tuber. But our favorite two dishes of the night were the tsukune (meatballs, for which Dan has an obvious affinity) served traditionally with a raw egg yolk floating in a shallow dish of tare. The recipe we developed is both easy to execute, and more approachable than, say, our our absolute favorite: bonjiri, chicken tail, which is really more the terminus of the bird's GI tract. Yes, out of all the chicken's wonderful cuts, we loved the ass. And ordered it over and over.
Ippuku
2130 Center Street, Berkeley, CA 94704
(510) 665-1969