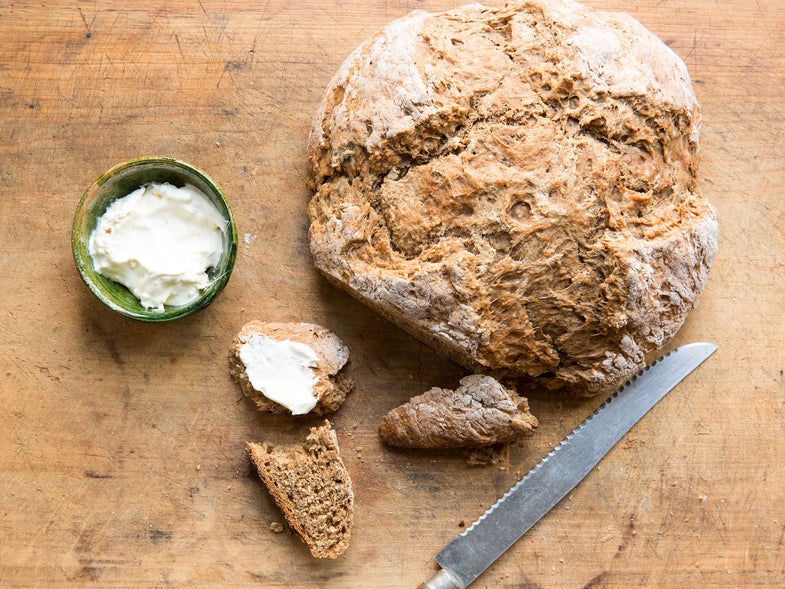 Espresso powder adds a jolt to sleepy soda bread.
Featured in: 5 Unexpectedly Delicious Ways to Cook with Coffee
Irish Coffee Soda Bread
Espresso powder adds a jolt to this sleepy soda bread. We love it as toast for a breakfast sandwich or to mop up rich sauces alongside a dinner roast.
Time: 1 hour, 15 minutes
Ingredients
2 cups all-purpose flour, plus more for dusting
2 cups whole-wheat flour
1⁄4 cup packed dark brown sugar
1 1⁄2 tsp. Kosher salt
1 tsp. baking soda
4 tbsp. chilled unsalted butter, cut into 1/2-inch cubes
1 1⁄2 cups buttermilk
1⁄4 cup Irish whiskey
3 tbsp. instant espresso powder
1 large egg, lightly beaten
Instructions
Preheat the oven to 375° and line a baking sheet with parchment paper.
In a large bowl, add the flours, brown sugar, salt, and baking soda; whisk briefly to combine. Using a pastry cutter, cut the butter into the dry ingredients until only pea-sized pieces remain.
In a separate medium bowl, whisk the buttermilk, whiskey, espresso powder, and egg until smooth. Pour the buttermilk mixture into the dry ingredients and, using a rubber spatula, fold together until a shaggy dough begins to form.
Scrape the dough out onto a lightly floured work surface, then gather any crumbs and knead the dough a few times times to bring it together into a loosely formed ball.
Transfer the loaf to the prepared baking sheet and, using a serrated knife, cut a cross, about ½ inch deep and 6 , into the top.
Bake for 40 minutes at 375°, then lower the heat to 350° and continue baking until the bread is puffed and evenly browned on the outside, 20-25 minutes more. Let cool completely before slicing or tearing.