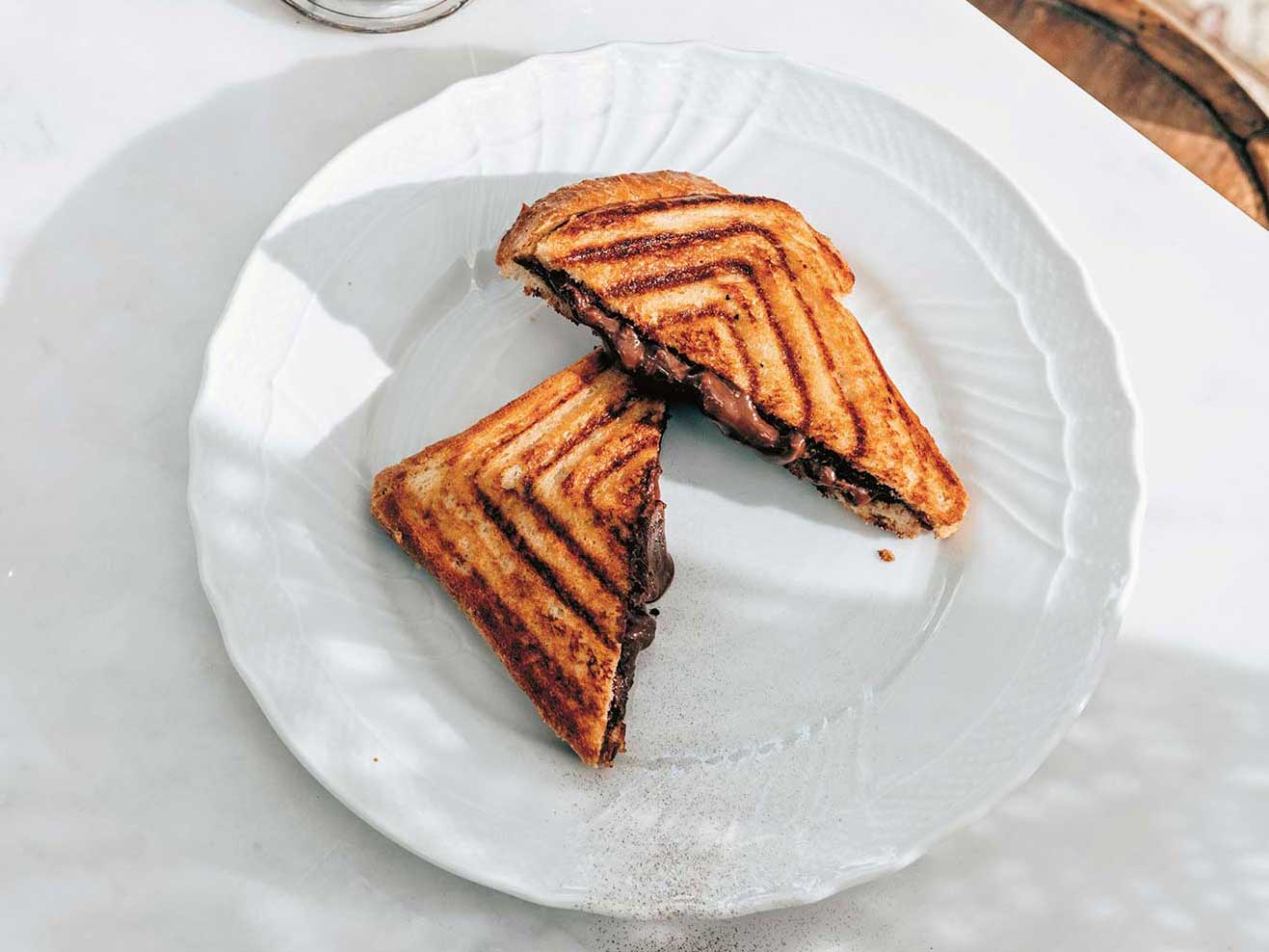 Recipes
You Are Allowed to Eat This Chocolate Sandwich Because It's Italian
The melty, griddled snack cioccolato e pane is a favorite Torino treat from Italy-based cookbook author Emiko Davies
Emiko Davies was sitting in a beautiful cafe in Turin, Italy, listening to Billie Holiday on a red velvet bench by the light of a flickering candle when she discovered a sandwich that would forever change her idea of what a sandwich could be. It was at Caffè al Bicerin, a 256-year-old institution named for its now locally famous drink by the same name (the word means "small glass"), which consists of espresso, warm drinking chocolate, and milk or cream, plus a whipped topping. (Some people spike it with liqueur, too.)
"I have enjoyed the sweetest breakfasts I have ever had [at Caffè al Bicerin]," Davies writes in her cookbook Tortellini at Midnight. The place is, after all, known for its chocolate-forward specialties. And in this instance, she ordered a cioccolato e pane, or griddled chocolate sandwich. "This is basically a sweet version of the favorite Italian snack known simply as toast [in Torino], which is actually a toasted white bread ham and cheese sandwich." (What we call "toast" in the U.S. is known as pane tostato—literally "toasted bread"—throughout the Italian peninsula, she explains.) The sandwich was buttered and pressed, and in the center oozed melty gianduiotto, a hazelnut chocolate from the region that's milky, sweet, and comes shaped like little bars of gold.
Gold it was: "It is, even in its simplicity, so wonderfully decadent," she writes. "I had never seen it anywhere else, but it was a light bulb moment. Of course you should put chocolate into sandwich bread and grill it. Why didn't I think of that?!"
While it is hard to fully recreate the experience of the gilded Italian cafe, history seeping from its walls, and the formal uniforms of the waiters, cioccolato e pane is easy to prepare at home and makes for an exquisite midday treat. Though it is typically made with square-shaped white sandwich bread, using your favorite artisanal loaf doesn't hurt: "If you're making this as a treat with very nice chocolate, I have to say, it's even more delicious with your favorite proper bread. Crusts on or off, it's up to you."
Here, Davies shares her tips and some more perspective:
On Chocolate In Regional Italy
"You can find chocolate all over Italy — in Capri they are famous for their flourless chocolate cake; in the south a log-shaped chocolate 'salame' with lots of candied fruit and spices is traditional. Piedmont really does special things with chocolate—all it takes is a glance at all the grand, historic cafes of Torino that have been making these delicate, pretty pralines for over a century to know that they really have made it an art form. It is also the home of Nutella, which is something that many Italians have grown up on, and bicerin so thick that it'll coat your spoon, so this northern region has made a name for itself with chocolate. In the warm weather, instead of hot chocolate, Torinesi have their pinguino, plain ice cream coated in dark, crunchy chocolate—apparently the first gelato anywhere to be sold on a stick."
On Finding and Sourcing Gianduiotto
"The one I was first introduced to, that my mother-in-law has sitting in a glass bowl, are the Caffarel ones, the original gianduiotto. Definitely sweet! And hazelnut-flavored but smooth and very, very creamy—so essentially when it melts it tastes a little like Nutella but so much better. If you can't find gianduiotto, you could use your favorite chocolate pralines."
"So, this is one of those things that you can make simply with sliced white bread and whatever chocolate, if that's what you have, or you can make it really special with your best chocolates and really nice, proper bread like a delicious sourdough loaf or even a classic brioche. I personally like the latter!"