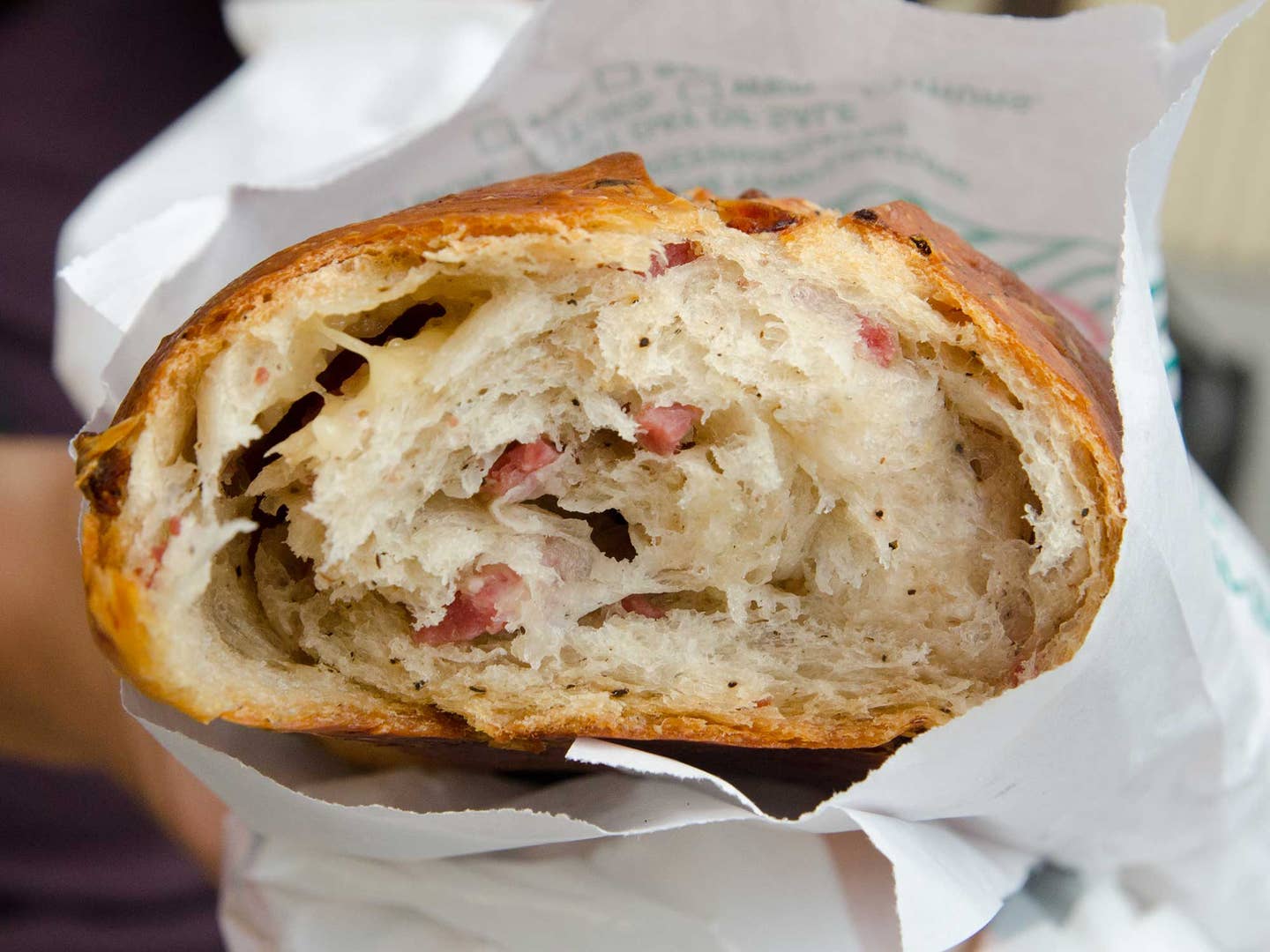 Culture
Our New Favorite Stuffing is Made With Lard Bread
A habit-forming loaf of pork-laden Italian bread makes an amazing Thanksgiving stuffing
We could all use a little more lard bread in our lives. Whether or not you are yet acquainted with this Italian bakery specialty, the words alone are enough to enliven, comfort, and excite. A taste is enough to obsess.
Lard bread is pretty much what it sounds like—an ugly-beautiful concept in which rendered pork fat and meaty morsels of cured or roasted pork are woven into a simple bread dough. The resulting loaf, sometimes doughnut-shaped, usually soft, and ideally with fluffy, flaky layers, leaves grease behind on your fingers and the lingering taste of lard behind on your tongue. The lard gives it body, bulk, and a porky aroma, of which there are few better in life.
Why the Italians married meat with bread is thought to be inspired, like many Italian food traditions, by practicality, scarcity, and genius. Leftover trimmings of roasts or the ends of salumi pieces that weren't maybe meal enough on their own would instead end up as fortification for the next day's bread. Depending on regionality and what was available, this might have included sopressata, prosciutto, or even spicy salamis like pepperoni. The lard would be rendered and mixed in to the dough, often leaving behind faintly noticeable ribbons of white bliss in the final baked product, and the chopped preserved pork pieces would be suspended throughout.
Whereas I can hardly call it a "necessity," lard bread comes in and out of my life based on my proximity to Italian bakeries. If there's one within a 10-mile radius (lately my favorite is from Parisi Bakery on Mott Street in Manhattan), I quickly redevelop my habit, slicing and rewarming it on a dry pan for breakfast, breaking off hunks of it to nibble on throughout the day, going through loafs like I don't know how much cholesterol is in one. But since the bread has such a knack for disappearing, I had never experimented with it for dinner, or in a recipe.
This year I premeditated a hefty purchase for testing out lard bread in a Thanksgiving stuffing. Since pork is the guiding spirit of the bread, providing most of the flavor you need in the finished dish, I kept my stuffing simple to let it shine. Supporting players included some thinly sliced fennel—which I thought would lend some sweetness and complexity to contrast the breads pepperiness—and chopped celery, classic for giving color and crunch to stuffing.
If you wanted it even porkier (no judgment), you could grease the baking dish with rendered lard, or drizzle some on top during the second bake where I used butter. One thing's for sure: after you whiff the subtle smokiness of the stuffing when you slip it out from the oven, and treasure hunt for porky pieces with each forkful, you will never be able to look at plain bread stuffing the same.