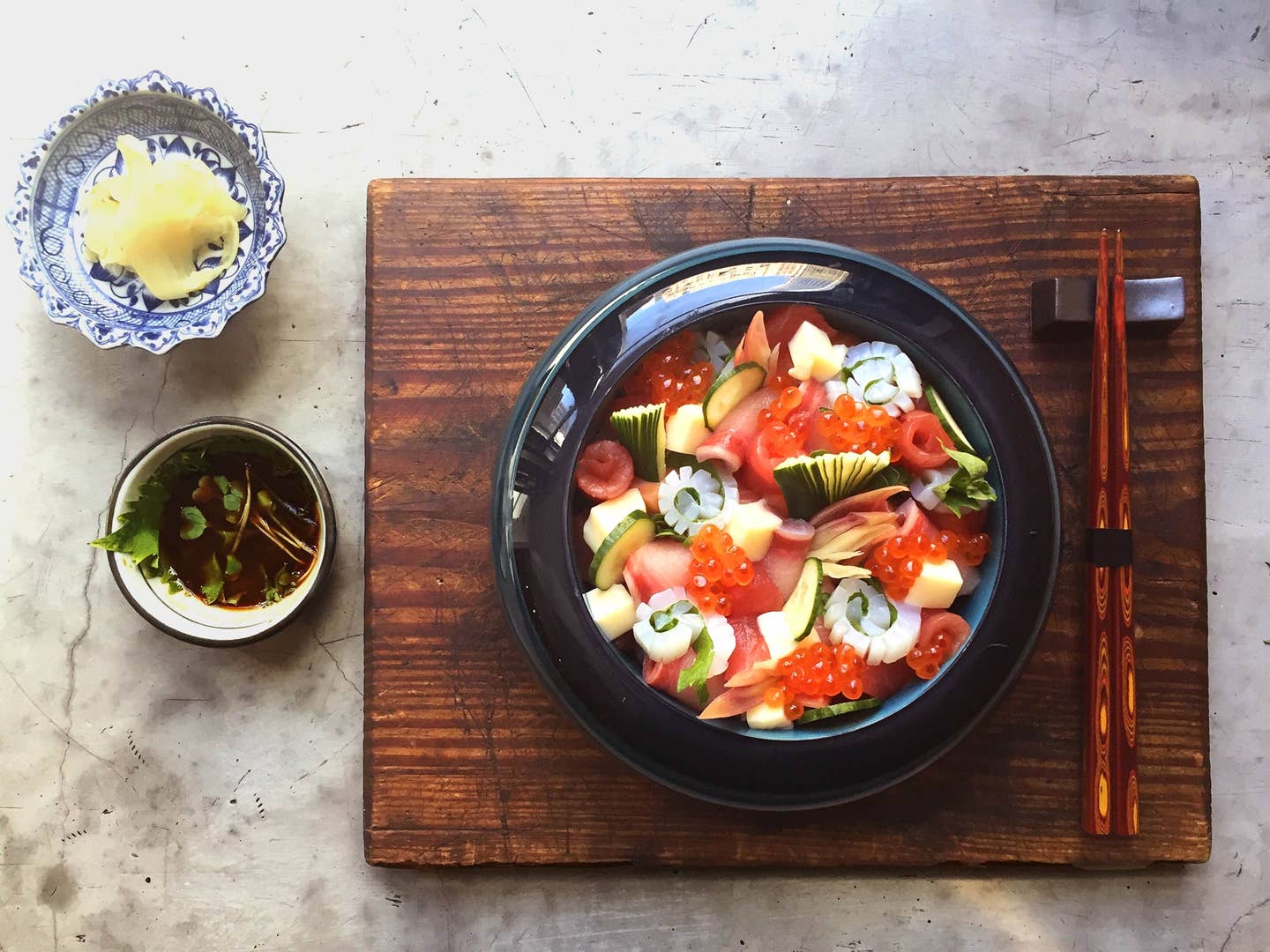 Culture
Chirashi is Sushi for the Rest of Us
Skip the tricky nigiri and hand rolls at home for a simple bowl of fish and rice that's just as delicious—and traditional—as anything else at the sushi bar
Making sushi at home can be a challenge fraught with angst. Amidst the neuroses about perfecting just-sticky-enough rice , the stress of precision in slicing the fish just-right, and the finickiness of forging it into enough vaguely presentable rolls or strips of nigiri with which to fill ourselves, it's no wonder that even a Type-A cook like me would rather leave it to the pros who will always do it better.
For something a lot less complicated but no less satisfying, I love chirashi (or chirashi-zushi to be precise)—a bowl of sashimi and other toppings laid out over vinegar-smattered rice, with all the flavor and tradition of nigiri but far less fuss.
At its most basic, chirashi is a rice bowl, which may be enough to make it buzzy right now. But at its best it's far more artful than 'the lazy cook's sushi' would suggest: colorful slices of fish, glistening balls of orange roe, and a rainbow of other garnishes from sesame seeds to seaweed promising all the architectural potential we lust for in a well-made sushi platter.
In Japanese, the word chirashi means "scattered," referring to way the toppings are typically doled out across the rice. A more country-style preparation than nigiri, it's a more everyday, go-to food for home cooks in Japan, says chef Ce Bian of Chicago's Roka Akor Japanese robata (grill) and sushi restaurant, adding that most people make it for lunch, and usually for one. "Everything is easy to source and quick to assemble," he says, especially because you can buy small quantities of fish and other ingredients straight from a Japanese market or many seafood counters)—Bian's advice for novices, and my favorite trick for keeping prep time to a minimum.
In Japan, the serving style differs by region. Edomai chirashi, from the Kanto region of Tokyo, features a myriad of mostly raw accompaniments fanned out atop the rice in a decorative layer. Gomoku chirashi, from the Kansai region (where Kyoto and Nara are located), differs in that the rice is stirred together with the ingredients, more like a rice salad. The toppings like fish or vegetables can be raw or cooked in either, but the former is more common in Kanto style, and the latter, Kansai. In Japan, you'll see chirashi bowls in high-end restaurants and on to-go shelves.
Regardless of which style you emulate, the choice of what goes into a bowl are endless, as are the options for designing and preparing them. Traditionally, the balance is around equal parts rice and toppings (known as gu in chirashi speak), but some bowls err a little heavier on the rice, and some even add a second layer of rice on top of the fish.
In Japanese restaurants, chirashi is commonly served in lacquered bowls or boxes and eaten with chopsticks. Classically, seafood toppings include raw fish like tuna, salmon, mackerel, or yellowtail (hamachi)—usually cut slightly thicker than they would be for sashimi, a saving grace in preparing it at home. Chef Mike Lim, executive sushi chef at Roka Akor, explains that in Japan, most cooks will age raw fish for a few days so it firms up.
In the version he prepared for me, Lim added meaty pearls of salmon roe (ikura), as well as cooked squid, (ika), scored and rolled into tiny spirals. Inside each was a ribbon of shiso leaf ("It is a little herbaceous, but subtle enough to still let you taste the flavor of the fish," Lim says) that barely peeked through. Cucumber sliced razor-thin gave crunch and bursts of green. And jubilant yellow cubes of tamago, a lightly sweetened Japanese omelet commonly used for chirashi, added richness and contrast. The whole thing was squeezed lightly with lemon and served alongside two smaller satellite bowls of juicy pickled ginger, and a sweet-salty dipping sauce infused with shallot that had been quick-pickled in vinegar and chile.
While my teachers took the traditional route both in toppings and a mastery of displaying them, you don't need any sushi bar knife skills to make a great version of your own. Many home cooks will add simple cooked vegetables and proteins such as bamboo shoots, lotus roots, carrots, mushrooms, or asparagus, fried or fresh tofu, fish cakes, flakes nori or bonito, daikon sprouts, toasted sesame seeds, flaky sea salt, or herbs. Some feature sauces drizzled on top. Whatever is in the fridge or in season can inspire a topping, or a theme. Chirashi takes it all.
For all of its layers, chirashi couldn't be more transparent, or more forgiving. And sometimes, that goes a long way for even the fussiest cooks among us.
Watch: The Japanese Sushi Art of Sasagiri