The Filipino Food Boom of Jersey City
The bustling, multicultural city has been an anchor of New Jersey's Pinoy community since the 1960s; Drew Lazor shows what expats and the next generation are cooking today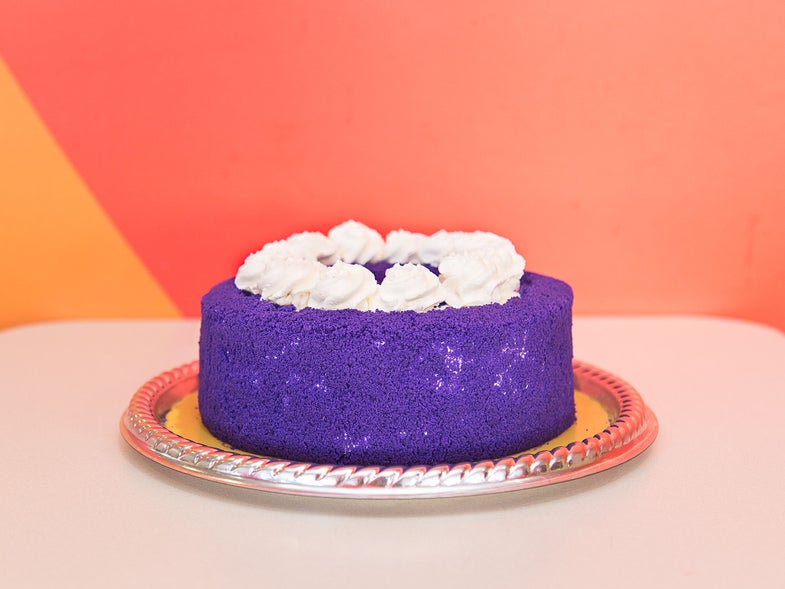 For the month of April, SAVEUR is all about New Jersey, the unsung hero state of American eating. Here's why. Read all our Jersey Month stories here.
The defining characteristic of pandesal is that you smell it before you see it. While this is accurate of most baked goods, it's emphatically true when you're discussing the foundational bread of the Philippines.
Despite its misleading, rooted-in-Spanish name—"pan de sal" literally means "salt bread"—pandesal is sweet. Flirty with sugar and yeast and best eaten hot from the oven (the closer you come to burning your tongue, the better), the pert little rolls broadcast their own brand of olfactory wi-fi, the kind of scent that makes your eyelids flutter and lightly perfumes your clothes.
The wire shelves at Philippine Bread House are stocked with all sorts of treats—sugar-crowned ensaymada filled with smooth ube, the ubiquitous yam the color of Barney's skin; sapin-sapin, the rice-based layer cake that looks like it should be thrown from a Mardi Gras float. But pandesal, often eaten for breakfast but in no way limited to a.m. enjoyment, has paid the Bread House's bills for nearly four decades.
Much like its most coveted product, the shop is a standard bearer of Jersey City, New Jersey's anchor Filipino community. The state's second-largest city is home to its biggest concentration of loyal and opinionated Pinoys, and the restaurants, bakeries, and stores they support capture a culture that's struck an amiable balance with America.
Filipinos started coming to Jersey City in the 1960s, an influx City Council president Rolando Lavarro labels the "brain drain generation"—professionals like his physician parents, coming to America to chase opportunities both in-state and in New York. (The 2010 Census put Jersey City's Filipino population at around 16,000; Lavarro says it's grown since then.) They bought homes, started families, and opened businesses around hospitals and Catholic parishes, then slowly expanded out: downtown, around Journal Square; to the east, where a strip of Grove Street goes by "Manila Avenue"; and due south and west as well. Bergenfield, a 30-minute drive to the north, has a sizeable Pinoy community, too.
Everything in New Jersey is "near" New York in some sense, but those unfamiliar with the state's geography might not realize just how close this area really is to Manhattan. Roughly a mile across the Hudson River, the big(ger) city is often within eyeshot to Jersey City's dizzying, diverse populace, split nearly surgically between white, black, Asian, and Latino.
To put it in starker terms: In September 2001, as a sophomore at St. Peter's Prep, Neal Santos watched the second tower fall from the window of his second-period English class.
He rattles off that fact with surprising nonchalance as we idle in his SUV, back tires still lingering on Newark Avenue, waiting for the right moment to pounce. "What's worse than three Filipinos in a parking lot?" Neal asks, counting himself, plus the two flustered motorists in front of us, attempting to circumvent each other with awkward thousand-point turns. The total Filipino head count in this claustrophobic stand-off is technically 3.5: My mom is from the Philippines, but growing up outside Baltimore, I didn't have access to anything close to Phil-Am Food, the Jersey City stalwart we're attemping to visit.
Neal, a food photographer, grew up in the Jersey City neighborhood called The Heights, but now lives in Philadelphia. In between our second and third lunches on a breakneck eating tour he's chaperoning, we stop at Phil-Am Food so he can stock up on supplies for Pelago, a series of Pinoy pop-up dinners he organizes in Philly.
Since there's no big Filipino cultural corridor in Philly, this is what he misses most about Jersey City—perusing packed shelves of patis (fish sauce) and rummaging through ample ampalaya (bitter melon), with chatty church ladies, cheery Top 40, and monitors blaring Manny Pacquiao's ridiculous soy sauce commercials serving as the soundtrack.
Neal talks about returning home: "It's about being able to find a representation of your culture somewhere—you're not seeing it on TV." But he's also describing the spirit behind Pelago, whose events have been heavily attended by a young, energetic Filipino crowd hungry for a new way to reconnect.
As it turns out, a similar sentiment motivates Erwin Santos (no relation), whose family opened Phil-Am Food in 1973. Santos' mother, Florintina, along with two of her sisters and their respective husbands, started Phil-Am off small; the business eventually grew to include both an adjacent bakery and a wholesale arm.
The market went through a growth spurt all its own once those three branches split up and went independent in 2002. Santos added an online store and worked to expand his product line "a hundred fold," making it a destination for local Filipinos, as well as discerning customers from as far away as Virginia and Ohio. He also focused on growing the store's cooked food offerings, presented in steam tables filled with from-scratch dinuguan (pork blood stew) and pancit palabok, the Chinese-influenced noodle dish crowned with quartered hard-boiled eggs.
"I'm giving you a taste of back home, even if it's only for 20 minutes," says Erwin. He's made the front end of Phil-Am as modern as possible—but the farther back you go, the more native it gets. The building's cramped, bustling palengke, or wet market, isn't far removed from what you'd find on the other side of the planet. And that's on purpose. "Customers, they appreciate that," he adds.
That steam table setup is known as turo-turo—a "point-point" joint—in reference to how customers tend to order. It's easily the most common format for Filipino restaurants in America. At the sunny Casa Victoria, owned by Santos' aunt, Angelina Ferrer, fried bangus (milkfish) and the congee-like arroz caldo sit pretty behind the sneeze guard, holding steady among potted calamansi trees and shelves of Virgin Mary statues. Hidden in the back, a brick-lined oven produces fresh bibingka and buko pie, sticky-sweet confections made with coconut.
Fiesta Grill, another trusted name in Jersey City turo-turo, has been around for years. The fanciest feature of the Newark Avenue branch's spartan interior is probably the ceiling-mounted TV playing Tagalog sitcoms. The food is the thing—pinakbet, stewed vegetables served with the requisite white rice and bagoong, the building-block fish paste; or sinigang, a sneaky-sour soup of braised pork and whole okra. Rowena's Delight & Cake House provides for the turo-turo faithful of on Jersey City's West Side, dishing out lechon kawali, deep-fried belly in bite-size hunks—a crowd-pleasing gateway into the Philippines' obsession with all things pork.
Establishments like these and the Bread House, just a few among dozens, are Jersey City Filipino at its old-school finest, and they're supported by a dedicated clientele. More recently, however, the area's been given votes of consumer confidence in the form of Filipino chains betting on the area. In 2010, Max's, a polished Manila-based brand famous for its fried chicken, opened on Newark Avenue. Two years later, Jollibee, the most successful fast-food operation in the Philippines, debuted a branch in the southern enclave of Greenville. Red Ribbon, a popular sweets shop that offers electric-purple ube layer cakes and the psychedelic shaved-ice dessert halo-halo, holds down a corner in the heart of the city.
Lavarro, who helped these companies smooth out their pre-opening paperwork with City Hall, takes Filipino-focused commercial growth as a sign that the philosophy of the community has shifted. "Our parents were more about assimilation, trying to fit in and be unnoticed," he says. Filipino families nowadays, in his eyes, are "more pluralistic"—openly celebrating their heritage, and more than willing to share it.
They're also more than willing to sound off on what constitutes proper Pinoy food. As a Filipino-American chef, Dale Talde, who opened a branch of his eponymous restaurant in Jersey City in 2015, knew he was in for some interesting conversations. "You know how Filipinos are—they're very picky [with food]," he says.
Talde's menu features a few Filipino-inspired dishes, all of which he executes with little regard for the dogma of so-called authenticity. He serves personal interpretations of kare-kare, beef short ribs slow-cooked a peanut sauce, and the tangy-sweet native barbecue pork, classics that elicit strong opinions. Excuse me, but this is not really Filipino, guests have told him. I know, he's quick to reply.
"It's like any other community—it's tight-knit, and you can tell the favorites are there," says Talde. "I feel everyone has a chip on their shoulder, in a good way."
Where to Eat Filipino in Jersey City
Philippine Bread House
530 Newark Avenue
(201) 659-1753
Phil-Am Food
685 Newark Avenue
(201) 963-0455
Casa Victoria
691 Newark Avenue
(201) 216-1055
Fiesta Grill
655 Newark Avenue
(201) 656-7060
Rowena's Delight & Cake House
444 W Side Avenue
(201) 435-1567
Max's
687 Newark Avenue
(201) 798-2700
Jollibee
393 Danforth Avenue
(201) 946-7461
Red Ribbon
591 Summit Avenue
(201) 795 1988
Talde
8 Erie Street
(201) 630-0077