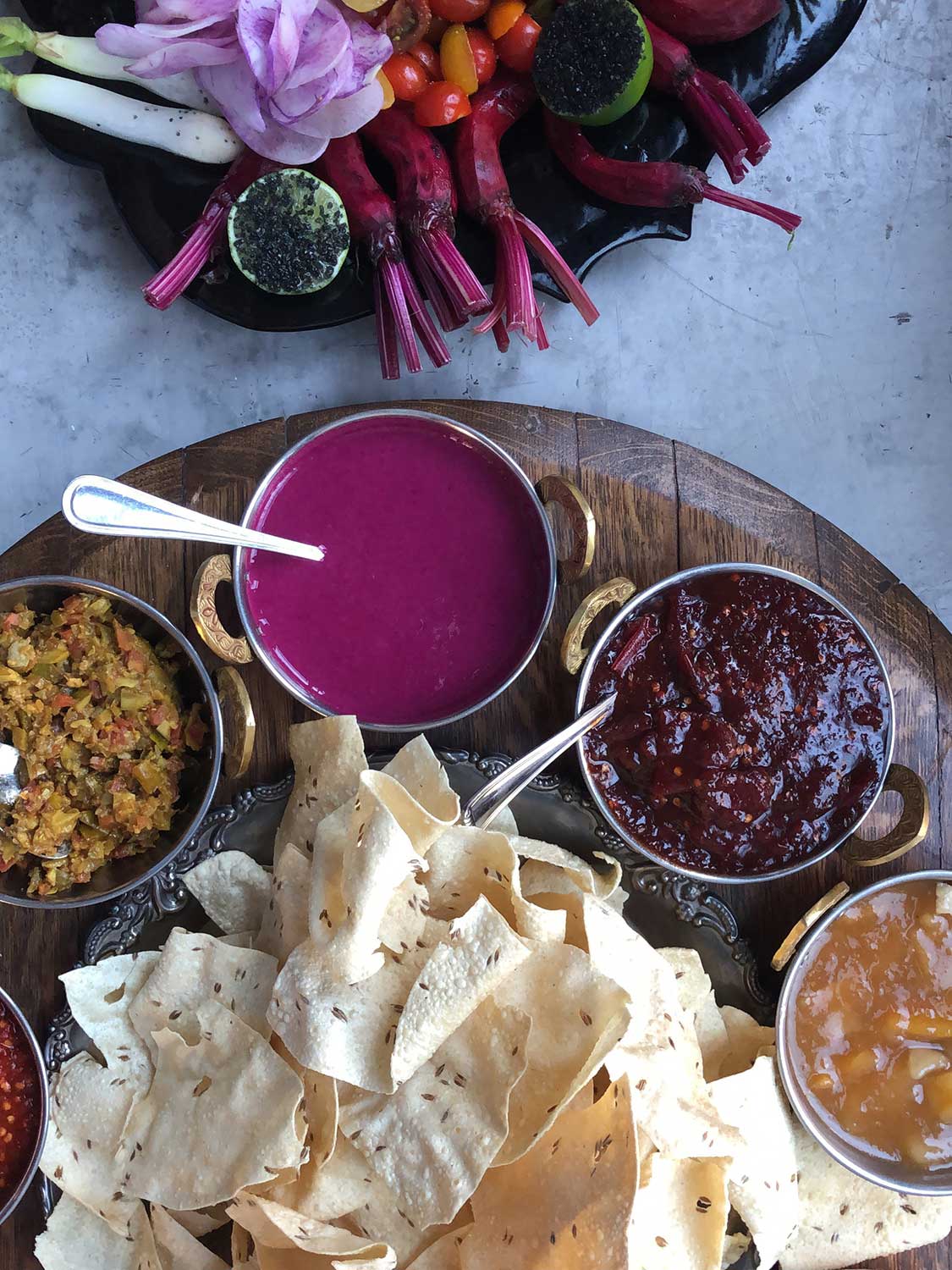 Culture
Chef Jessi Singh Brings Biryani in an Urchin and Volcanic Salt to the SAVEUR Test Kitchen
The chef learned how to cook from his family's traditions
On Monday night, Australia and India converged in the test kitchen during a colorful dinner by chef Jessi Singh of the new Bibi Ji restaurant in Santa Barbara, CA and Babu Ji in New York City and Melbourne. In a happy coincidence, the dinner's inspiring seafood courses were the perfect accompaniment to our Oceans and Islands issue, but the meat dishes, vegetable platters, and breads he brought out of the kitchen were also like nothing we had seen before.
Singh grew up in Australia, but his parents were from India, and most of the meals they ate were home-cooked; he explains that to his family in India, it would have seemed almost insulting to suggest going out for dinner when you could prepare a wonderful meal yourself at home. This is how he learned to cook—from his family's kitchens.
While courting his now-wife, Jennifer, Singh would find that the Indian restaurant options where he lived were often either cheap and chintzy or fancier white tablecloth establishments. "There was no middle ground, and no place 'cool' to eat Indian food," he says. With no prior chef or restaurant experience, together the pair created Babu Ji, which opened first in Melbourne and eventually New York City. These and his newest concept, Bibi Ji, present the foods he grew up on in a more modern, fresh environment way. Singh also put in place an excellent wine list, enlisting the help of sommelier Rajat Parr to curate the perfect accompaniments to his food.
Dishes for the evening included a uni (sea urchin) biryani, which sat nestled in a hollowed-out urchin shell; a summery corn salad topped with lime juice and volcanic salt; and the pleasantly surprising "Balls of Happiness"—thin, crispy little balls filled with a mix of yogurt, herbs and seasonings (pro tip: make sure to eat these in one bite, because they WILL explode). For the main course, his beautiful, round copper thalis (Indian-style serving trays) housed a rainbow of bites including emerald saag paneer, bright yellow dal and coconut scallop curries, and a shaved red onion and cucumber salad among others.