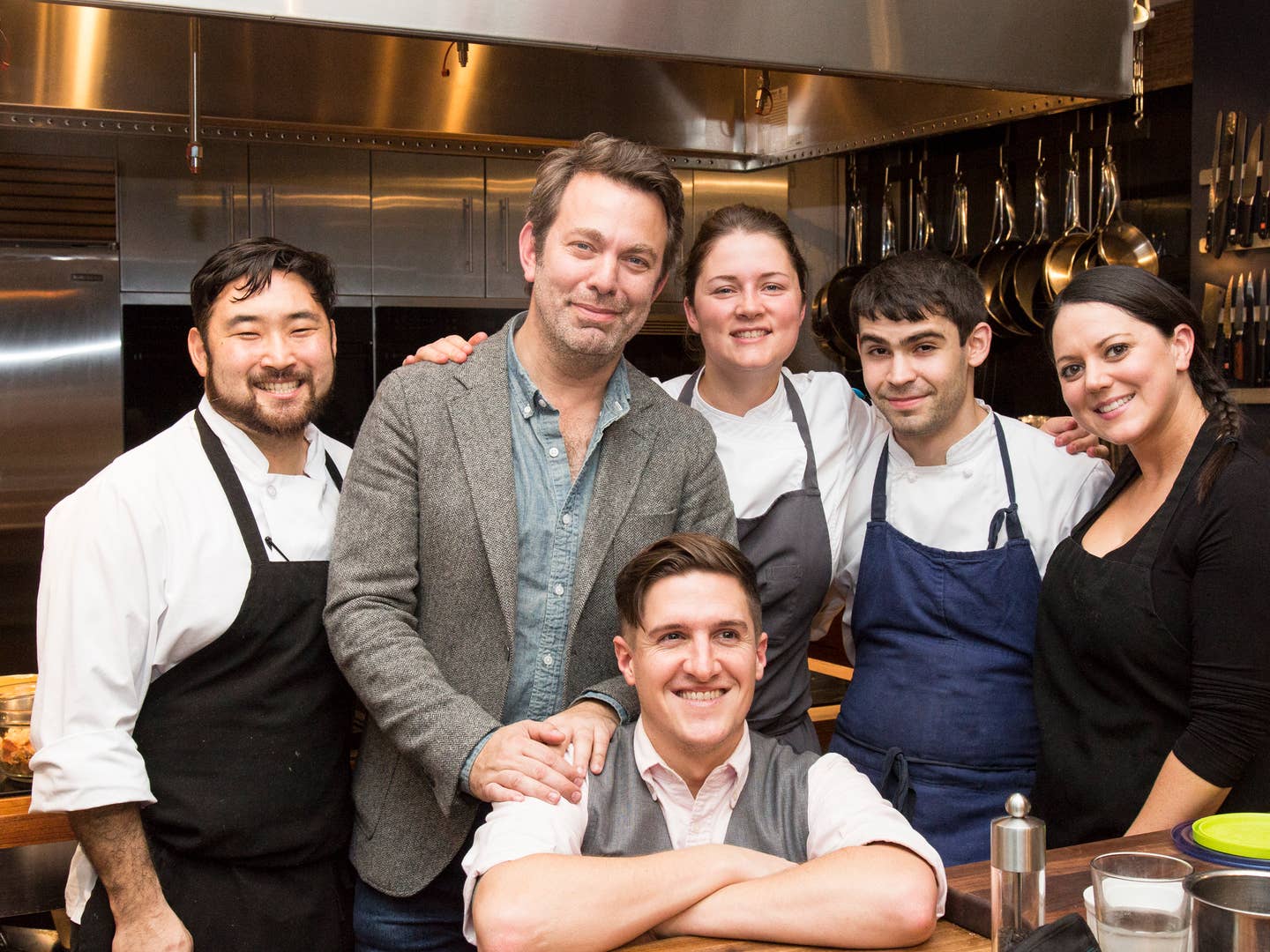 Recipes
Sunflower Purée is Our New Hummus
Chef Jessica Largey proved that purées are anything but boring at last night's SAVEUR Supper
A vegetable or nut purée can easily turn uninspiring. But when 2015 James Beard Rising Star Chef Jessica Largey stepped into the test kitchen last night for her SAVEUR Supper and whipped up a creamy sunflower seed purée to slip under a shaved Brussels sprout salad, we were floored. She proved hands-down that not all purées have to be Walter Sobchaks. Purées can be The Dude. And this three-ingredient not-even-a-recipe is going on our shortlist.
While all SAVEUR Suppers are fun, booze-filled nights, this one was particularly joyous, as we celebrated Largey's new position as chef-in-residence at Intro Chicago, Lettuce Entertain You's award-winning rotating chef restaurant, where she'll be cooking vegetable-driven dishes from February through May 2016. With Stolichnaya cocktails in épare glasses and Brewer-Clifton wine in hand, we toasted Largey and feasted on four dishes and a dessert—with lots of purées.
We started with the sunflower, which Largey made by simmering raw sunflower seeds in milk until they softened enough to be pureed with a quick squeeze of lemon.The result: a rich, slightly nutty, deceivingly creamy paste that had the texture of hummus and held together shreds of Brussels sprouts, dates, and apples just enough to keep them from falling apart on your fork. And then the purées kept coming—in the form of a milky cauliflower sauce that cozied under whole-roasted romanesco broccoli; a thicker golden chestnut paste that sat below seared lamb; and then as a looser vanilla-tinged celeriac sauce that countered rich dulce de leche, hazelnut cake, and stewed huckleberries for dessert.
We laughed, we feasted, and we drank. That was expected. But falling in love with purées as much as we did—we never could've expected that. For more scenes from the dinner, check out the gallery below.