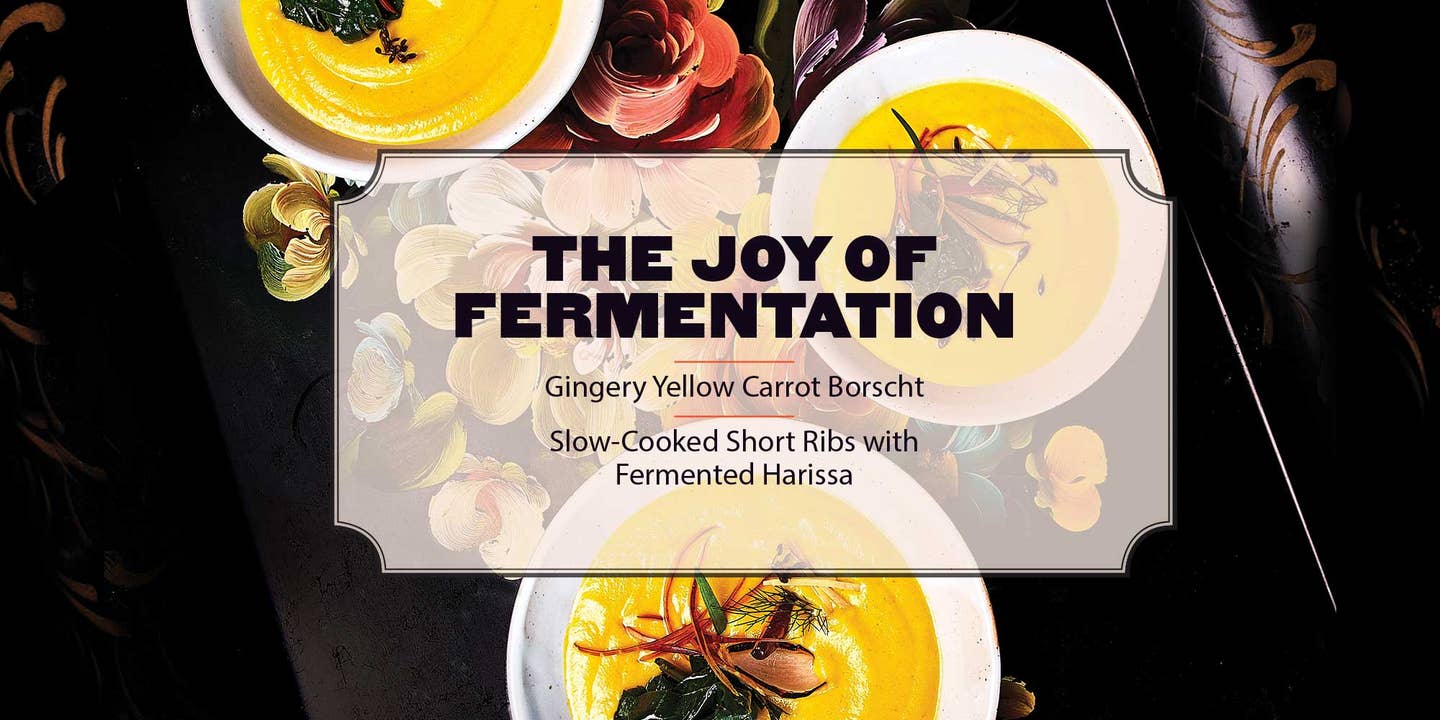 I took part in a panel discussion recently on the future of technology in the kitchen. We panelists were asked to name a time-saving gadget we hoped to see invented. I'm not a Luddite. I like to talk to the voice in my car. At home, I like the music to follow me, magically, from room to room. But I was stumped for a tech upgrade I needed in the kitchen. I could see the value in a dishwasher that could reach out and clear the table itself. Or an app that would remember to remove the cheese from the fridge at an appointed hour so it's not too cold to nibble on when I get home. Beyond that, though, when it comes to cooking I mostly subscribe to the motto of the late Judy Rodgers who wrote in her great Zuni Cafe Cookbook: "Stop, think, there must be a harder way." Which is to say I like the process. I'm not in the market for time-savers because cooking is often how I want to spend my time.
Time figures prominently in A Living Larder: The Joys of Fermentation, which is about chef Cortney Burns' experiments with fermentation. Time as an ingredient and as an investment in the building blocks of good taste. The idea is that you can build complex flavors by giving nature (and lactobacillus) time to do its thing. Try the short ribs with fiery-tangy harissa, or the seed crackers made with lacto-fermented brine (really). Hopefully the range of flavors in Cortney's pantry will inspire you to spend a little time developing some new ones for your own.
In French Gascony, Duck Fat Is King makes similar appeals to my old-fangled ways. The author Kate Hill's country kitchen in Gascony is far from my city kitchen, but we have a shared commitment to keeping copious reserves of creamy, golden-white duck fat always at the ready. Even if you don't raise your own ducks as Hill does, there are good reasons to make and preserve duck confit at home. A corner of my fridge right now is dominated by a large tub of confit duck legs, thighs, wings, and necks. I'm happy to see it every time I open the door and peek in. There is pleasure in knowing it will last and be put to many good uses. And there's pleasure in noting how the flavor deepens as it ages, in taking the time to make something simple, satisfying, and slow. — Adam Sachs, Editor-in-Chief
Erez Komarovsky built a bakery empire and changed how Israelis ate. Then he dropped out to tend his garden near the Lebanese border. He shared with us three challahs and his recipe for a life of constant change.
In Jerez, a sherry maker and a criminologist have embarked on a quest to find the oldest, most potent casks of amontillado (and discover why it just makes food taste better).