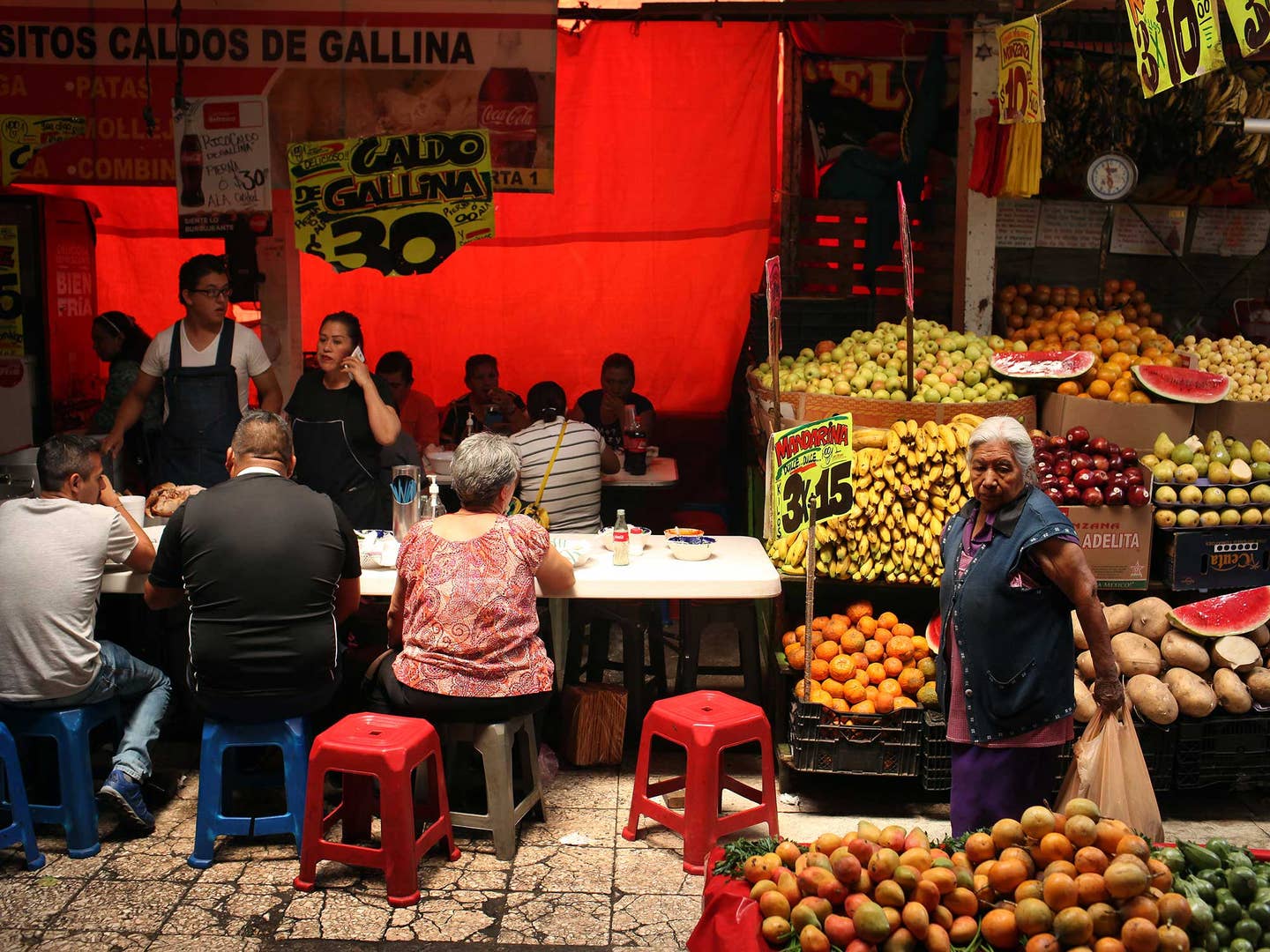 Travel
How to Eat Your Way Through La Merced, Mexico City's Largest and Most Delicious Market
This labyrinthine market, where the chile selection alone runs into the hundreds, can be intimidating on your first visit; here are the essentials to know—and eat
La Merced is only a short walk from the main tourist area of Centro Historico, but if you don't enter it through the dedicated metro station, it's easy to be overwhelmed by the tangle of tianguis—unofficial markets, covered in yellow and blue tents—that surround the main market buildings.
Instead, deposit yourself right in the middle. That's what the guides of Eat Mexico, a food tour company based in Mexico City, recommend, and they'd know. The company gives regular tours of La Merced and helped direct me to some of the market's best food.
Coming up the stairs, navigate through a warren of zapaterias selling shoes for all ages and herbal remedy sellers. The mix of low plastic and corrugated metal ceilings mask the true scope of the market, which has been in this place in some form since long before Hernan Cortes conquered the area in the early 1500s. After the Spanish conquest, the neighborhood of La Merced grew up around the Nuestra Señora de la Merced de Redención de Cautivos monastery, which is a mouthful to call a neighborhood, so it was shortened to "La Merced." Eventually the market organized around a handful of large, central buildings, with smaller sections around the periphery, only to be encircled by the omnipresent tianguis along the fringes.
"It's the one place in Mexico City where you are completely overwhelmed by food, scents, smells, and aromas," says Eat Mexico founder Lesley Tellez. "Even now I still walk in and feel lost—just dazed—for several minutes at a time."
The zapatarias leads into "Pancita Alley." Here there are many good options for pancita, a restorative, bright red soup made with chiles and cow stomach, so follow the cauldron getting the most action. El Yaqui is a relatively sprawling family operation, occupying two opposing counters. Get a bowl—roughly 35 pesos (about $2) for a small and up to 60 pesos (about $4) for a large—and sop up the soup with the thick, freshly made tortillas the cocinera continuously doles out until you say "no más!"
Along the same narrow alley is McTio, a can't-miss taqueria featuring a trademark-infringing golden arch sign in the middle of all the bustle. Sit at the long counter on a ubiquitous low, plastic stool and place your order. Don't hold back. Opt for a combinado or campechano, two- and three-item combinations (one of which should include griddled queso) that cost a little over a dollar each. I prefer the chuleta (smoked pork chop) or the cecina (dried, salted beef). Befitting his namesake, fresh fries top every taco and you should insist on lightly charred nopales, too, before going crazy at the salsa bar.
More antojitos (little tastes) await further down the alley, like brilliant blue corn quesadillas and huaraches spiked with fresh vegetables like flor de calabaza (zucchini flowers) or quelites (greens), but turn to the main building of the market and prepare to be amazed as a fresh produce version of a Raiders of the Lost Ark-sized hall beckons.
The main hall's immensity is initially intimidating, but its height makes it surprisingly calm and pleasant, especially on a weekday. Maybe it's the fact that that you have to travel through dense passageways to get here, but the air is different and cleaner, perfumed with the scents of thousands of fresh and dried chiles. Vendors hawk stacks of dried, raisin-textured chiles, far softer and meatier than I've ever seen at a supermarket, in one section, while fresh poblanos, jalapeños, serranos, and habaneros tower at other stalls nearby.
Omnipresent along the fringes of the hall are the Nopales Shearers. Some work with fervent speed, while others take a more zen approach, resigned to the unending replenishment of nopales. To clean, the Shearers first use the back of a wickedly sharp knife to scrape off the thorns. Then, a single delicate maneuver with the knife removes the perimeter of the nopales and they are either sold whole or chopped into batons, ready for cooking.
Amongst these nopales shearers, my Eat Mexico guide Victor points out an odd vendor selling gusanos (worms), escamoles (ant larvae), and small fried fish similar to smelts. They have room-temperature chicken intestines, bathed in chicken fat, if you are so inclined.
Periodic fires have engulfed parts of the market. The damage from a recent early morning fire in 2013 is still apparent in the main hall, and bales of fresh cilantro mark a violent contrast beside the burnt-out shells of vendor stalls.
Enter the meat market and the change in mood is palpable. Masculine and stuffy with the smell of aging meat and bleach, it's far more cramped than the main hall. Pig heads, cow snouts, tongues and sausage links threaten to lick your shoulders on the slightest misstep. Omnipresent and ever popular salchicha—hot dogs—are stacked everywhere. A brick of ice is dragged through the floors, wet with mud and blood as patrons sidle against baskets full of chicharron to avoid it. "This is a market, not a hospital," Victor says.
A sunny day can be jarring as you leave the market to venture back outside. Close to the meat market is a massive reservoir of cooking supplies and equipment, where you could easily outfit a restaurant or small kitchen that could blast 500,000 BTUs with no problem.
Sweets are sequestered because of the bee hordes. And because local tastes run towards gum-achingly sweet, sugar-preserved fruits are extremely popular. Crystallized pineapples, mango, guava, papaya, and limes have each been rendered saccharine, and all can potentially fuse into giant pyramids in the heat.
I prefer the peanut-engraved balls of dulce de leche, but even if you've exhausted yourself wandering through this massive, teeming market, make time to browse the selection of lollipops, where the intricate handiwork of the candymakers is rendered stunningly cheap, at less than a dollar each and hardly more than five dollars for items that could keep a child occupied through adolescence.
Noah Arenstein is a lawyer, cook, writer, and event planner based in Brooklyn, NY. He co-founded Real Cheap Eats, which sought out the best food under $10 in NYC. Noah recently opened El Atoradero Brooklyn, which relocated from the Bronx to Prospect Heights. Follow him on Twitter: @NMArenstein.