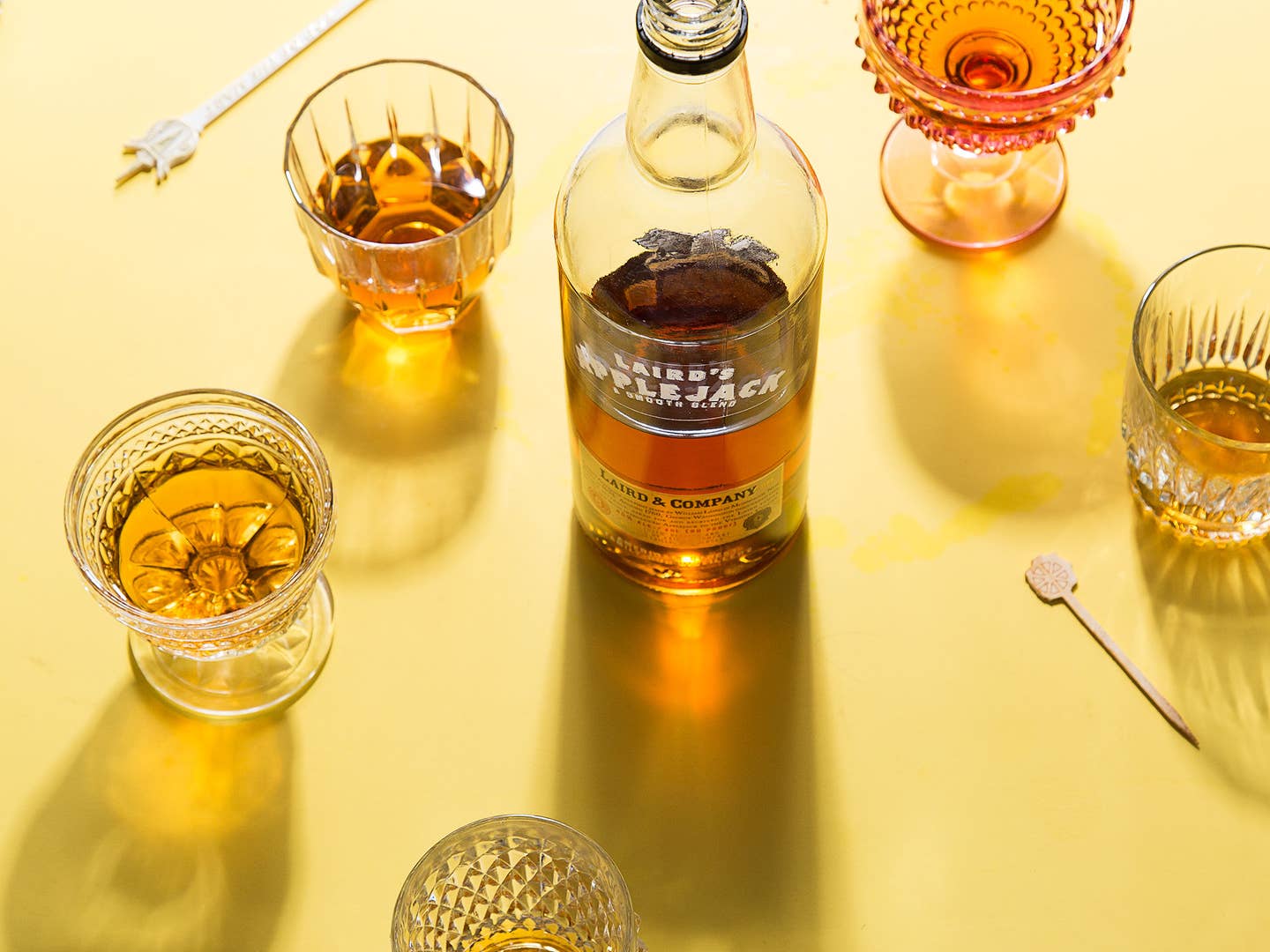 Drinks
New Jersey's Laird's Distills the Pappy Van Winkle of the North
America's oldest distillery, the famed producer of applejack and apple brandy, has grown from obscure spirit holdout to bar cult icon
For centuries, New Jersey has been the home of Laird and Company, the first commercial distillery in America, that produces apple spirits as brisk and sweet and melancholy as an autumn day in the Garden State. If you're looking for a pure reflection of the history of American distilling, nothing tells that story like Laird's applejack and apple brandy. And where the latter is concerned, you'll also find one of the most obsessed-over American spirits in the modern cocktail canon.
Or maybe, given its scarcity, you won't.
The history of Laird's is really the history of America: In 1698, Alexander Laird endured the perilous journey from his native Scotland to the new world with his two sons. They settled down for good in Colts Neck, a Monmouth County, New Jersey town where the rolling hills were green and apple trees were plentiful.
Laird—whom historians suspect made whiskey before—used this most abundant resource to make pure apple brandy. It became a family pursuit, and in later years the Lairds became so skilled that a gentleman farmer named George Washington wrote to them with a request for a recipe for their "cyder spirits." Years later the family provided Washington's troops with apple brandy during the Revolutionary War.
Perhaps the most American characteristic of Laird's is the company's resilience. A fire in the 1800s burned down the distillery; they rebuilt and increased production. They outlasted Prohibition, which required them to stop distilling for a decade, by producing sweet cider and apple sauce. During World War II, they ceased producing hooch again and instead made dried apples and pectin to survive the war effort. Today, it's one of the few producers of applejack in America (and certainly the largest), a holdout from a once well-practiced American tradition of at-home apple "jacking."
In the mid-70s, as Monmouth County's apple orchards were swallowed up by development, the Laird family—which still owns the company—began sourcing their apples from Virginia's fertile Shenandoah Valley and moved their production to a facility in nearby North Garden. They blended their apple brandy and neutral grain spirits to make their most popular product: applejack. And they remained afloat during the days when martinis and gin and tonics were considered exotic by branching to other spirits, such as vodka, as well as bottling hooch for other producers. According to Lisa Laird, the company's vice president, the only people drinking applejack where old men who bellied up a local pubs for a shot and a beer. "Everybody else thought applejack was cereal."
That changed in the classic cocktail boom of the mid-2000s, and suddenly the Lairds found themselves in possession of a newly hot commodity. As drinks like the Jack Rose grew in popularity across the country, so did Laird's, one of the only players in the applejack business. And then, in 2005, influential cocktail revivalist icon Audrey Sanders, of New York's Pegu Club, paid the company a call about an even more obscure product: 100-proof bottled-in-bond apple brandy. Other bartenders soon followed.
While applejack is perfectly suited to shaken drinks with citrus, bonded apple brandy, which requires 20 pounds of apples per bottle, has a flavor that's rich and fruity and dry all at once, and it brings a whole new kind of complexity to an Old Fashioned or Manhattan. Virtually overnight, the spirit became a must-have, with bartenders going so far as to create cocktails specifically for it. A Copperhead adds rye and yellow Chartreuse to the apples, and then there's the Lightning bolt, a little like a Sazerac with apple brandy instead of rye.
Jillian Vose, the bartender at New York's excellent The Dead Rabbit, recently created a cocktail called the Soldier Boy, which calls for lime juice, grapefruit juice, Don's spices (one part each of vanilla syrup and St. Elizabeth Allspice); cinnamon cordial; Combier Pamplemousse Rose; Old Forrester 100 proof bourbon; and a half-an-ounce of Laird's Bonded. She told me that even with all of those ingredients the Laird's still stands out. "Laird's bonded is made from apples," she notes, "it's not apple-flavored. It's aged like bourbon and has beautiful undertones. It's gritty and has a great backbone for cocktails."
With five other apple spirits on the market (Laird's 7.5 and 12 years, applejack, a 100-proof unbonded brandy, and an unaged brandy called Jersey Lightning), the Lairds just don't have the capacity or fruit to meet the demand for the bonded. Bartenders seek out bottles of the bonded brandy with the same mania reserved for Van Winkle bourbon or Russian River IPA. There's a Reddit thread dedicated to finding the stuff, in which one obsessed cocktail enthusiast refers to the bonded brandy as a "unicorn." A new release is coming in 2017.
And so it seems the Lairds will probably be making spirits for another three centuries. They've already been at it for nine or ten generations, and a new one is preparing to take over. Lisa Laird's kids—both college-aged—are learning the business. They've started at the bottom, spending their summers scrubbing the tanks and sweeping the distillery floor. Amen.
Alex French is a Monmouth County-based journalist. His work has appeared in the New York Times Magazine, GQ, New York, Grantland, and elsewhere.