Recipes
Lamb Burger with Mint, Feta, and Balsamic Onions
Serves

serves 4

Cook

35 minutes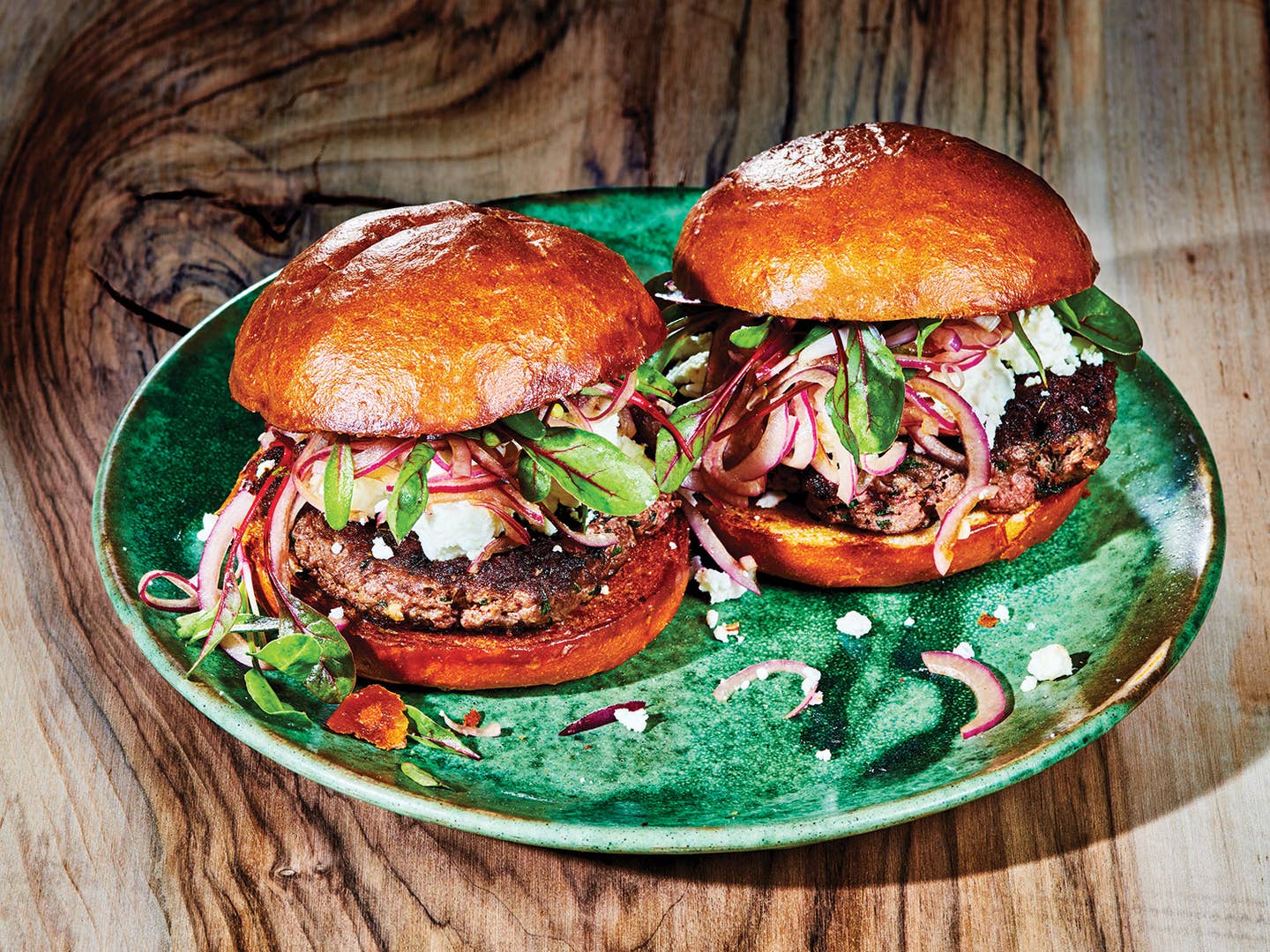 At the Marketplace at Emerald Valley in Washington, Pennsylvania, lemon zest and fresh mint go into every lamb burger patty. A tangle of sweet balsamic onions, a hint of chile, and briny feta balance the charred meat and brioche bun. Ground lamb falls on the fattier side; if using a grill, watch out for flare-ups.
Ingredients
½ cup (1 oz.) finely chopped fresh mint
1½ tsp. finely grated lemon zest
1¼ tsp. kosher salt
1 tsp. dried oregano
1 tsp. sweet paprika
½ tsp. ground cinnamon
½ tsp. ground cumin
¼ tsp. ground ancho chile (optional)
1½ lb. ground lamb
3 Tbsp. extra-virgin olive oil, divided
1½ tsp. high-quality balsamic vinegar
1 small red onion, halved and thinly sliced (1 cup)
Baby greens (optional)
4 brioche hamburger buns, halved and toasted
½ cup crumbled feta
Instructions
Step 1
In a large bowl, add the mint, lemon zest, salt, oregano, paprika, cinnamon, cumin, and ancho chile (if using). Mix well, then add the lamb and half the olive oil, and mix with your hands until just combined (do not overmix). Shape the mixture loosely into four patties, each about 4½ inches across and ¾-inch thick.
Step 2
Heat a large, cast-iron skillet or outdoor grill over medium-high heat. When the surface is smoking hot, add the patties and cook, turning once, until the internal temperature reaches 145°F for medium-rare doneness, 3–4 minutes per side. Transfer the patties to a large plate, and set aside to rest for 5 minutes.
Step 3
In a medium bowl, toss the remaining olive oil and the vinegar, onions, and greens (if using).
Step 4
Transfer the burger patties to the brioche bun bottoms, then divide the onion mixture and feta among the patties. Top with the remaining halves of the buns, and serve immediately.