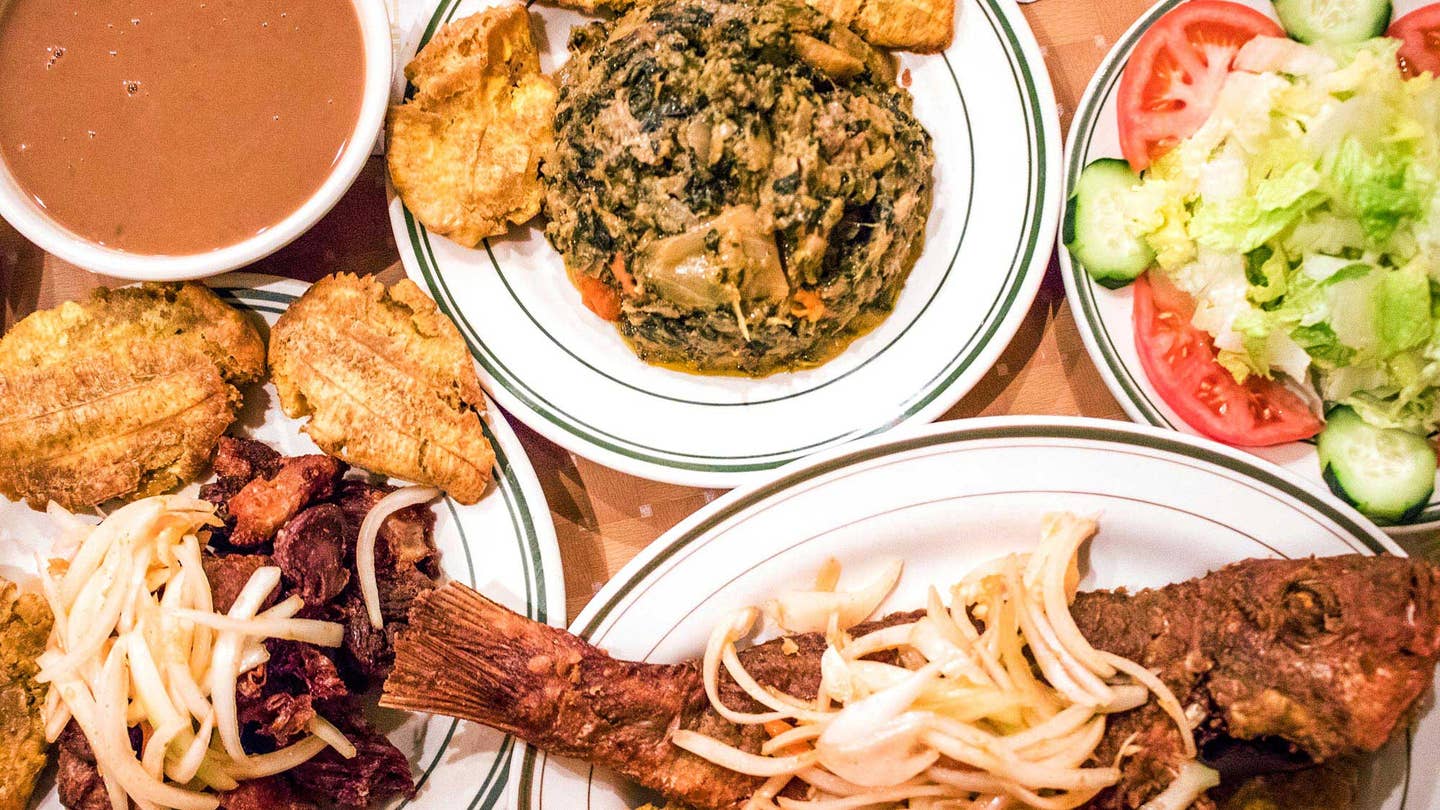 Travel
Seeking Lunch and Refuge at Manhattan's Last Haitian Café
Le Soleil, the only Haitian restaurant left in Manhattan proper, is a vestige of the neighborhood's former Haitian population, and remains a home-away-from-home for Haitian-Americans in New York
Lunch is about restoration; a meal meant to keep you going, to help push through the second half of a day of work before heading home for dinner. Lunch can also be refuge.
On a weekday in the Manhattan neighborhood of Hell's Kitchen, a group of six men hold court at a table near the register at the back of a restaurant. They're speaking in Haitian Creole about the Winter Olympics over plates mounded with rice and beans, and splashed with streaks of the pink-orange piklis hot sauce that appears on every table. At another table, a woman speaks into her cellphone while eating a whole fried fish and drinking a ginger ale. A man dining solo toward the front of the restaurant stares out onto the traffic of Tenth Avenue while he waits for his order. Yellow cabs break away from the constant stream of traffic heading uptown and park outside with their hazard lights on. The drivers dash into the steamy storefront to collect their take-out orders.
Behind a white door at the very back of the dining room, cooks are preparing plates of classic Haitian dishes like crispy pork griot, fried goat, and sweet and starchy plantains. Occasionally the door opens and Haitian gospel music drifts into the dining room courtesy of a small boombox in the kitchen—and the voices of the women cooks who are singing along over the sound of bubbling fryer grease.
Clementa, a cashier who works here several nights a week, is also the dining room server, and she's keeping an eye on the tables, and also her Facebook feed via a cellphone on the counter.
This is Le Soleil, a haven for Haitian-Americans who drive from all over New York City and New Jersey for the homey plates of classic Haitian dishes. The restaurant is known for the affordable, straight-forward, flavorful Haitian staples on its tiny daily menu—which never changes—with daily specials printed on the back. One of the best-selling entrees is the whole, deep-fried red snapper served with vinegary onion slices on top of the salty flesh. The daily specials include lambi, or stewed conch, braised oxtails, and beef tongue made the same way that a lot of other Haitian meats are: stewed until tender, then fried until the outside is crispy. Accra fritters, made with mashed black-eyed peas and cocoyam, are the only appetizer available. There is no bar or dessert menu.
Le Soleil was opened in 1973 by Rolande Bisserth, who moved to New York City from her home in Haiti in 1963, when there was still a thriving Haitian community on the nearby Upper West Side. In the book American Odyssey: Haitians in New York City, author Michael S. Languerre describes the neighborhood and community in 1970 as such: "... from about 69th Street north to 112th Street between Columbus Avenue and Broadway ... the Haitian presence is felt most in most of the Upper West Side's public spaces, where instruction booklets are printed in English, Spanish, and French." As more and more Haitians came to the area, Le Soleil became a mooring for the community, and Bisserth became a mother figure to many. "Everyone calls my mom their mother," says Florence DuVal, Bisserth's daughter, who, since her mother stepped away due to health issues, now manages the day-to-day operations of the restaurant with her father. "She introduces me to other people and says, 'this is my daughter or son' and I'm like, 'I don't know them!'," she laughs. Le Soleil was almost lost forever when rent increases forced Bisserth to close the restaurant's original location further up on Tenth Avenue near 59th in 2011. Two years later, she reopened in a new space, its current location on Tenth Avenue between 56th and 57th streets, and her loyal fans followed.
Today, Le Soleil is the only Haitian cafe left in the borough of Manhattan, and one of just two Haitian restaurants on the island period (Harlem Karibe, which specializes in Caribbean food, is four miles north on 132nd St. in Harlem). The Haitian community that once surrounded the restaurant is now concentrated in Brooklyn, and has spread into parts of Queens and New Jersey.
"Le Soleil is really a family place," says DuVal. She likens the dining experience to visiting her family and being invited to stay for a meal. "It's really the Haitian culture that people love."
And just like a family home, Le Soleil has been a safe space for Haitian Americans to react to and process news outside their home country, and a place to learn about events in the community. In 1991, when then president of Haiti, Jean-Bertrand Aristide, was overthrown in a coup, the neighborhood gathered in the dining room at Le Soleil to listen to the radio for updates on the situation. Recently, when Revolt TV needed a location to interview Haitian-American rapper Kodak Black, they convened here. DuVal says the customers have become part of her extended family. "On our Independence Day, January 1st, my mom will make gomou for everyone and invite them to have wine with us at the restaurant," she says. Gomou, a rich and earthy pumpkin soup, is a part of every Haitian family's spread on the joint New Year's and Independence Day holidays. It's just another way that Le Soleil ties back to Haiti, and the traditions and foods that many Haitians miss when they move to New York City.
Inside the restaurant, lunch is winding down. The steady stream of cab drivers has dwindled to a trickle, and the guests now includes a few people in scrubs on their lunch break from Mount Sinai West on 58th Street. A man on his cell phone enters the room briskly and heads to the cashier, saying 'hello' to various tables as he makes his way through the dining room. "I came all the way from Jersey to get this," he says to Clementa with a smile. "I had to!"