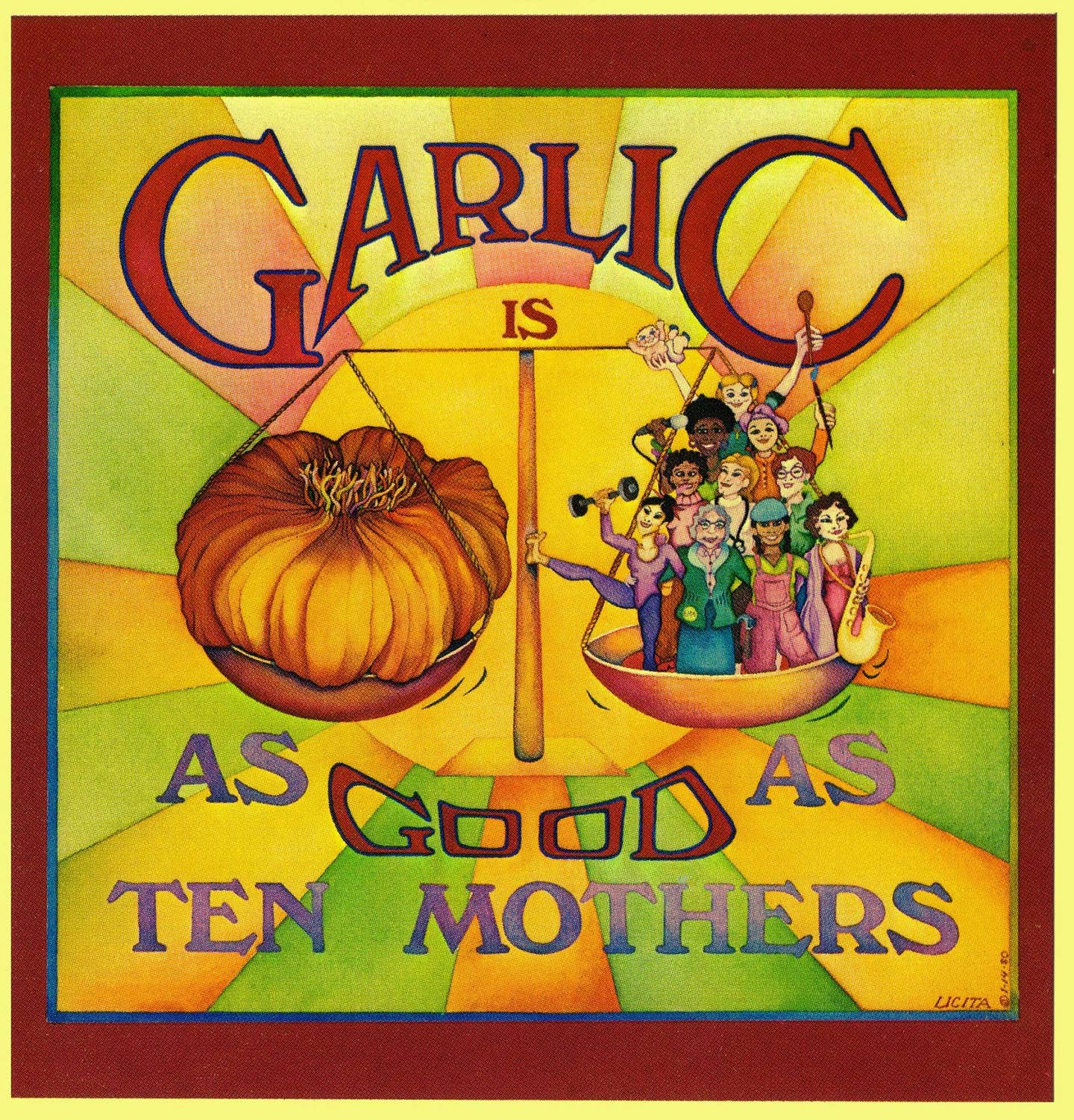 Culture
What Today's Food Films Owe to Les Blank, the Normcore Documentarian Who Cut to the Heart of American Eating
The filmmaker and his 1980 film, Garlic is as Good as Ten Mothers, are more relevant than ever
Anzonini del Puerto, an Andalusian flamenco singer, sausage maker, and butcher of fighting bulls, is sitting under a tree in a polka-dot shirt. The camera is zoomed in on his face, which is crowned with wavy black hair and flanked by wiry white sideburns. When it zooms out, we see a table piled with garlic, tomatoes, bread, and a tin of olive oil.
Del Puerto grabs a knife. In a gruff voice bolstered with Broadway enthusiasm he introduces the spread as the go-to meal for impoverished Spaniards after the country's civil war. He then snaps and sings a romantic tune about garlic and its power to sustain a happy marriage.
The scene, just one of many lush-yet-narratively-stark vignettes from the 1980 documentary Garlic is as Good as Ten Mothers, could pass for an anthropologist's video field notes. There's no background here, no pretense or overt art direction. Which is exactly what makes the film, and by extension its creator the late Les Blank, one of the most important contributions to food storytelling in the past four decades.
Blank had a profound way of capturing the essence of humanity—our cultures and customs, traditions and praxes. His aesthetic: normcore. His approach to filmmaking: subtle but earnest. His 40-plus films: a body of work that capture not just contemporary moments, but the timeless ways people do things.
In Ten Mothers we find Blank mostly in Berkeley, California in the late '70s. There are scenes shot in Oakland, San Francisco, and Gilroy, but Alice Waters and Chez Panisse are the crux of the film, which documents the Bastille Day Garlic Festival that Waters has been running since the mid-70s. The structure of the documentary is loose, more a collection of vignettes than a linear story, but the aim is tight. The focus is always on the people sharing their stories.
"Les documented regional cultures in our country in a way no one else has," says Tom Luddy, a longtime friend of Waters and Blank (he introduced the two) and co-founder of the Telluride Film Festival. Blank didn't rely on "talking head narrations," as Luddy calls them. Instead, "he observed and he caught beautiful moments in all his films. He had a surreptitious style. He didn't talk much. He would just sit around drinking a beer and pick up his camera and shoot," Luddy says.
"[His films] cut deep in terms of our culture," he goes on, "and for years people will look to his works and say, 'this is the best way.'" This happenstance, naturalist approach defines Blank's aesthetic, and is the reason his films—and the people therein—are depicted completely void of intention and agenda.
"Garlic is as Good as Ten Mothers is really the first American food documentary," Alton Brown tells me. Brown, who studied film at the University of Georgia, worked behind the camera long before he was in front of it. He recently chose Ten Mothers as part of a one-off food doc fest at New York City's Metrograph. "It captures the birth of the New American food movement that was just starting and catching fire in the early 80s and late 70s," Brown says.
Ten Mothers was made in a time when food had an entirely different meaning in America. In 1980, when the film was released, 'celebrity' and 'chef' were never used in the same sentence. The fetishized food culture of today was still decades away, and food politics had a different meaning.
"It's very difficult today to get a food documentary made unless it has a strong political agenda," Brown tells me. The list of modern food films that comes to mind is a long one; Super Size Me; Forks Over Knives; Food, Inc.; A Place at the Table; Fat, Sick & Nearly Dead; King Corn. "I wish we could have a little more joy like Les did and observe a subject without any agenda."
"What's Better Than a Bowl of Gumbo? Two Bowls"
The same natural whimsy of Ten Mothers is captured in Yum! Yum! Yum! A Taste of Cajun and Creole Cooking, another food film of Blank's from 1990. While stirring a roux, Cajun musician and Louisiana native Marc Savoy tells us, "Roux is the same thing as your backbone. If you didn't have a backbone you'd fall on the floor, and roux is the backbone of the gumbo. Take music away from the Cajuns you don't have any culture. If you take roux away from the gumbo, you ain't got gumbo." All the while Blank's camera is zoomed in on a spoon swirling around in a thick paste of oil and flour. "You know what's better than a bowl of gumbo?" Savoy asks at the end of the scene, one soundtracked by the live playing of a Cajun band. "Two bowls."
Food was integral to many of Blank's films, but it was not always the focus. He made movies about Gap-Toothed Women (1987), European-American relations (Innocents Abroad, 1991), and Werner Herzog's attempt to document the building of an opera house in the Amazon basin and manually transport a 320-ton steamship over a mountain there (Burden of Dreams, 1982). He also documented music extensively, covering such genres as Norteño (Chulas Fronteras, 1976), blues (The Blues Accordin' to Lightnin' Hopkins, 1968; A Well Spent Life, 1971), jazz (Dizzy Gillespie, 1964), and Zydeco (Hot Pepper, 1973). And in all of these, and Blank's other films, the viewer watches as if she were there, and as if Blank were a fly on the wall—a fly that happened to have a camera.
Ruth Reichl was living in Berkeley when Blank filmed Ten Mothers. She was there writing a story about garlic for New West magazine, a sister publication of New York Magazine Company, and was part of a growing Chez Panisse community. She is credited at the end of the film and recalls Blank's sense of joy firsthand. "Les had such a joyous interest in food," she says.
"In Berkeley in the early '70s," she goes on, "we were all concerned with things like climate change and vertical integration of agriculture business. And we understood that eating had to be an ethical act." To Reichl, even though Blank didn't have "an agenda," as Brown might put it, his work formed an essential piece of that puzzle.
"It makes me sad," Reichl explains, "I went from being a food activist to a restaurant critic, but we all got derailed in that way, and I think Les never stopped being interested in the core value of food as really important to culture and to who he wanted to be."
Blank's nostrils first flared at garlic after author and early Chez Panisse waiter John Harris wrote Book of Garlic in 1974. Garlic is as Good as Ten Mothers takes its name from an ancient Telugu proverb, and one especially joyous facet of the film is how everyone and their mother loves garlic so much.
In San Francisco, an elderly Italian named Rose Evangelisti recalls how her father insisted on a whole head of garlic for the family's sunday gravy, which her mother also made on Thursdays. George Flintroy, an African American restaurateur behind Oakland's since-closed Flint's Barbecue, speaks to the merits of garlic and its direct ties to low blood pressure and good health, and Henry Chung of San Francisco's Henry's Hunan restaurants shows us a classic Chinese-American stir-fry of chicken and vegetables that draws its real flavor not from soy sauce, but from a generous dose of garlic.
And of course Waters loves it too. She dumps dozens of cloves into a hot pan to start a bacon-laden vegetable sauté that she stuffs into chickens that are then swaddled in sheets of dough and baked. She does it to the live music of Le Camembert, a four-piece band outfitted with fiddle, accordion, clarinet, and a hurdy-gurdy.
"I went to New Orleans with Les one time and we went out to the bayou," Alice Waters tells me on a phone call. Blank is a Tulane alum, so New Orleans is the source of inspiration for many of his films beyond Yum! Yum! Yum!. "The boat got stuck and he just jumped into the swamp and swam and pulled the boat back to shore. That, to me, was Les." They made a good working pair. When Blank premiered Ten Mothers in Berkeley, "He roasted garlic in the theater and walked up and down the aisle," Waters says. "Les wanted people not just to see the film. He wanted them to smell it, and I wanted them to taste it."
The subjects of Ten Mothers make simple food, home-cooked dishes that wouldn't get a second glance on the Food Network today. Blank didn't know it at the time, but the leisurely pace he took to document people cooking simple things like tomato sauce and roux would only grow more powerful in the following decades.
"If you have the patience to sit there and watch," Lydia Tenaglia tells me, "the nuance is spectacular." Tenaglia co-founded the production company Zero Point Zero with her husband Chris Collins. Today, their company produces some of the most compelling and high-production visual storytelling about food, including Anthony Bourdain's Parts Unknown, the PBS series Mind of a Chef, and last year's documentary Jeremiah Tower: The Last Magnificent, which features outtakes of Ten Mothers. Tower cooked at Chez Panisse through the '70s and was there for the first Bastille Day Garlic Festivals. Tenaglia included clips from the film "to bring that time period to life."
Ruth Reichl introduced Tenaglia to Ten Mothers in 2002, when the two worked on a Food Network trilogy called Eating Out Loud. "Nobody makes films like Les anymore," Tenaglia tells me. "Les was able to blend himself into his environment and allow people to freely express themselves and be themselves and do what they would do if he were there or not there.
"We all talk now as sort of modern day nonfiction producers," Tenaglia says of the contemporary filmmaking aesthetic. "But it's all still very produced and manipulated. Watch a Les film and it's true vérité filmmaking, where you're allowing the truly interesting and compelling intense characters to play in their natural state without over manipulating."
Maybe Ten Mothers ricochets around my heart because I was born in the '80s. Maybe the hand-held, zoomed in, Camcorder aesthetic speaks to home videos and a forgotten part of me I can't communicate with, that never interrupted the flow of a meal to get the perfect Instagram shot. Blank's films are circumscribed by innocence and propelled by joy. His Ten Mother's not only captures a new way of cooking and the spark of a food revolution, but the genuine delight once found in a relationship with food that we will never have again.