Recipes
Linguine with Sardines, Raisins, and Pine Nuts (Pasta con le Sarde)
Serves

serves 4-6

Cook

1 hour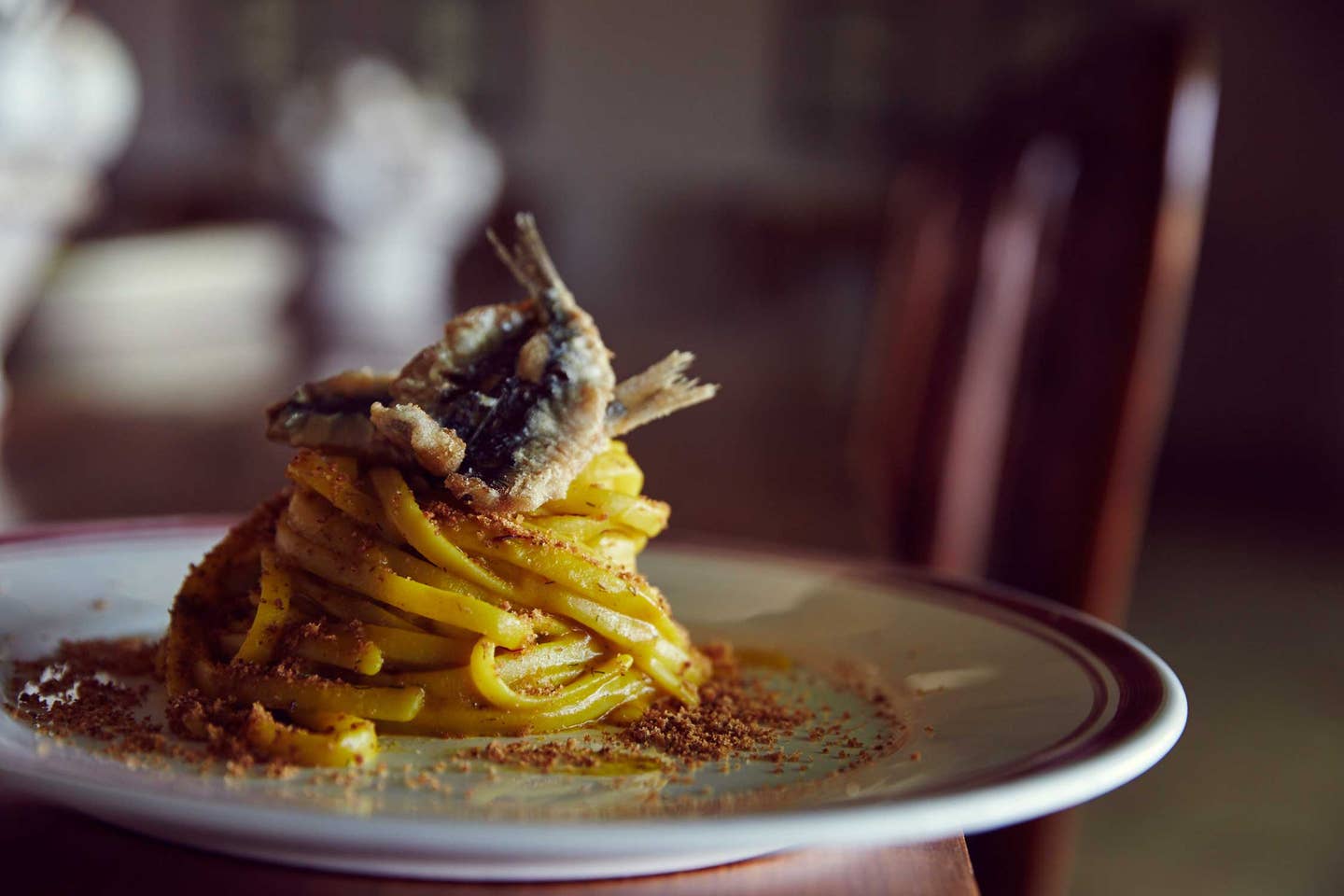 In this representative Sicilian dish, which seamlessly combines Arab and Sicilian flavors, pasta is tossed with sardines from the Mediterranean, raisins and pine nuts grown in the mountains, and a dash of saffron, which imbues the pasta with a golden color. Look for small sardines, which are sweeter and more delicate than larger ones.
Ingredients
1 lb. fresh small sardines, gutted and cleaned (have your butcher do this)
1⁄2 cup extra-virgin olive oil
1⁄4 cup plain bread crumbs
2 oil-packed anchovy fillets, drained and minced
4 large shallots, minced
1 fennel bulb, minced
3⁄4 cup golden raisins
1⁄3 cup pine nuts
1⁄2 tsp. saffron threads, crushed
Kosher salt
1 lb. linguine
Instructions
Step 1
On a cutting board, remove and discard the sardines' heads, then open each sardine and remove and discard the backbone, leaving the fillets intact. Place the sardine fillets on paper towels and dry thoroughly. In a small skillet, warm 1 tablespoon olive oil over medium heat. Add the bread crumbs and cook, tossing, until golden brown, about 4 minutes. Transfer the bread crumbs to a bowl and let cool.
Step 2
In a large skillet, warm the remaining 7 tablespoons olive oil over medium-high heat. Add the sardines, skin side down, and cook until lightly browned, about 4 minutes. Using a slotted spoon, transfer the sardines to a plate and return the skillet to medium heat.
Step 3
Add the anchovies to the oil and cook, stirring, until they dissolve, about 2 minutes. Add the shallots and fennel and cook, stirring, until lightly caramelized, about 10 minutes. Stir in the raisins, pine nuts, and saffron and cook for 2 minutes.
Step 4
Meanwhile, in a large pot of boiling, salted water, cook the linguine until al dente. Drain the pasta, reserving 1⁄2 cup pasta water, then add the pasta to the skillet along with the pasta water and toss until evenly combined. Transfer the pasta to a serving platter or plates and top with the sardines and bread crumbs before serving.