Recipes
Butter-Poached Lobster with Asparagus-Saffron Cream and Roasted Beets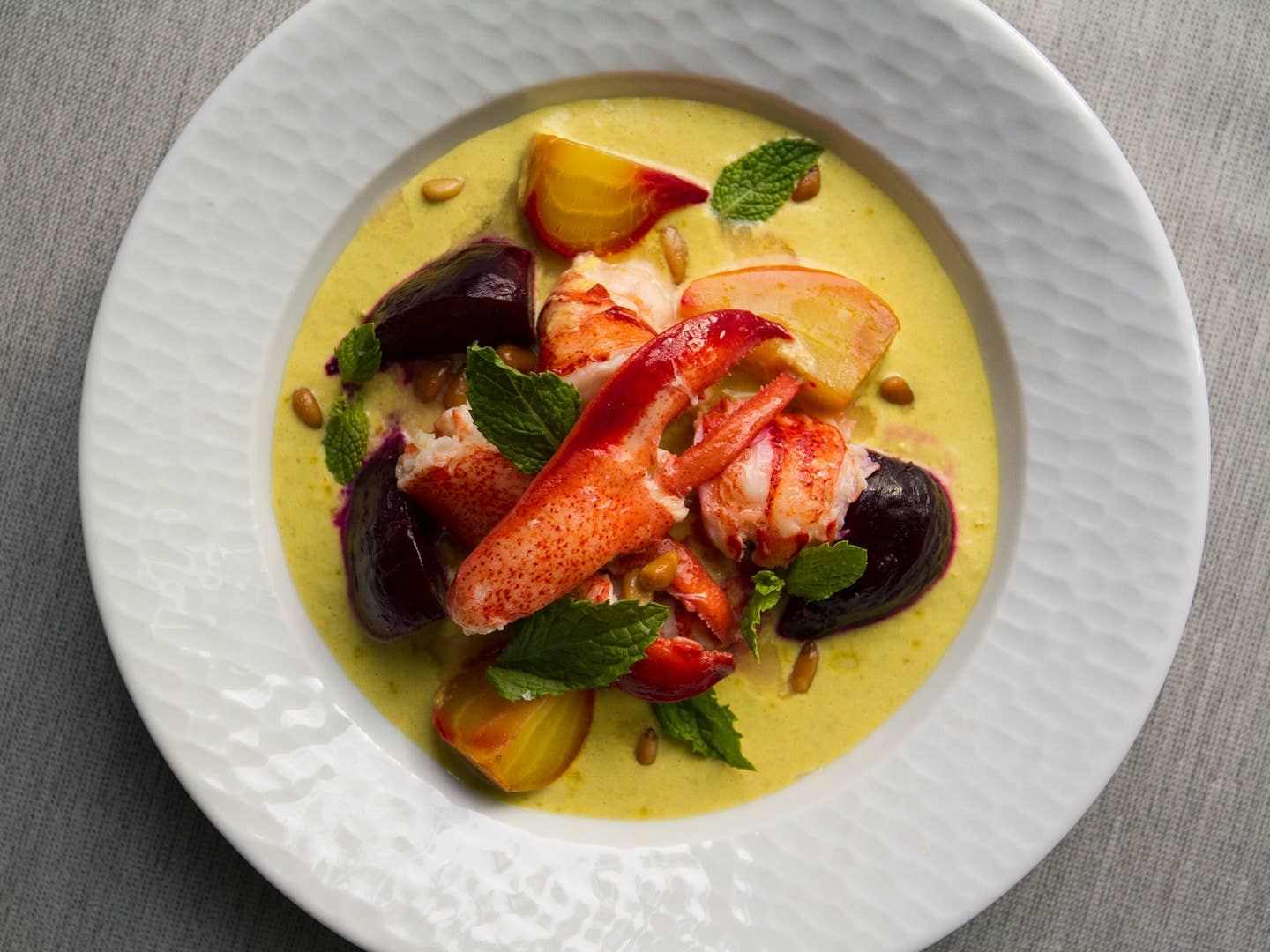 Sweet, tender pieces of lobster and beets are topped with a rich asparagus cream sauce in this recipe from Oyster Club in Mystic, Connecticut.
Ingredients
4 golden baby beets
4 red baby beets
1⁄4 cup plus 1 tsp. olive oil
2 tbsp. kosher salt, plus more
6 cloves garlic
1 stick cinnamon
1⁄4 cup pine nuts
1 lb. asparagus, ends trimmed
1⁄2 tsp. crushed saffron, preferably Iranian
4 sticks plus 2 Tbsp. unsalted butter
2 large shallots, finely chopped
2 cups heavy cream
Finely grated zest and juice of 1 lemon
Cayenne, to taste
4 (1 1⁄2 lb) lobsters, steamed, shells removed, and meat chopped into 1-inch pieces (6 lb. total)
Flaky sea salt, to garnish
Mint leaves, to garnish
Instructions
Step 1
Heat the oven to 450°. In an 8-inch square baking dish, combine both beets with 1⁄4 cup olive oil, 2 tablespoons salt, the cloves, cinnamon, and 1 cup water. Cover the dish with foil and bake until the beets are easily pierced with a paring knife, 45 to 50 minutes. Transfer to a rack and let cool completely. Peel the beets and cut each into 4 wedges.
Step 2
Reduce the oven temperature to 400°. In a small bowl, toss the pine nuts with the remaining 1 teaspoon olive oil and season with salt. Spread the nuts on a baking sheet and toast until golden, 5 minutes. Transfer the nuts to a rack and let cool.
Step 3
Cut off the tips of the asparagus 3 inches from the top and reserve. Peel the remaining asparagus and cut into 1⁄2-inch pieces. In a small bowl, steep the saffron in 2 tablespoons hot tap water. In a 4-qt. saucepan, heat 2 tablespoons butter over medium. Add shallots and cook until translucent, about 5 minutes. Add the chopped asparagus and cook, stirring, until bright green, 4 minutes. Add the asparagus tips along with the cream, and simmer for 5 minutes. Remove from the heat and add the saffron water along with the lemon zest, and half of the lemon juice. Season the asparagus cream with salt and cayenne.
Step 4
In a 4-qt. saucepan, melt the remaining 4 sticks butter over medium. Add lobster meat, bring the butter to a simmer, and remove from the heat. Ladle the asparagus cream into 4 bowls, and using a slotted spoon, divide lobster meat among the bowls. Scatter the beets around the lobster and sprinkle with the pine nuts. Drizzle the remaining lemon juice and some of the lobster butter over each serving, and garnish with sea salt and mint leaves.