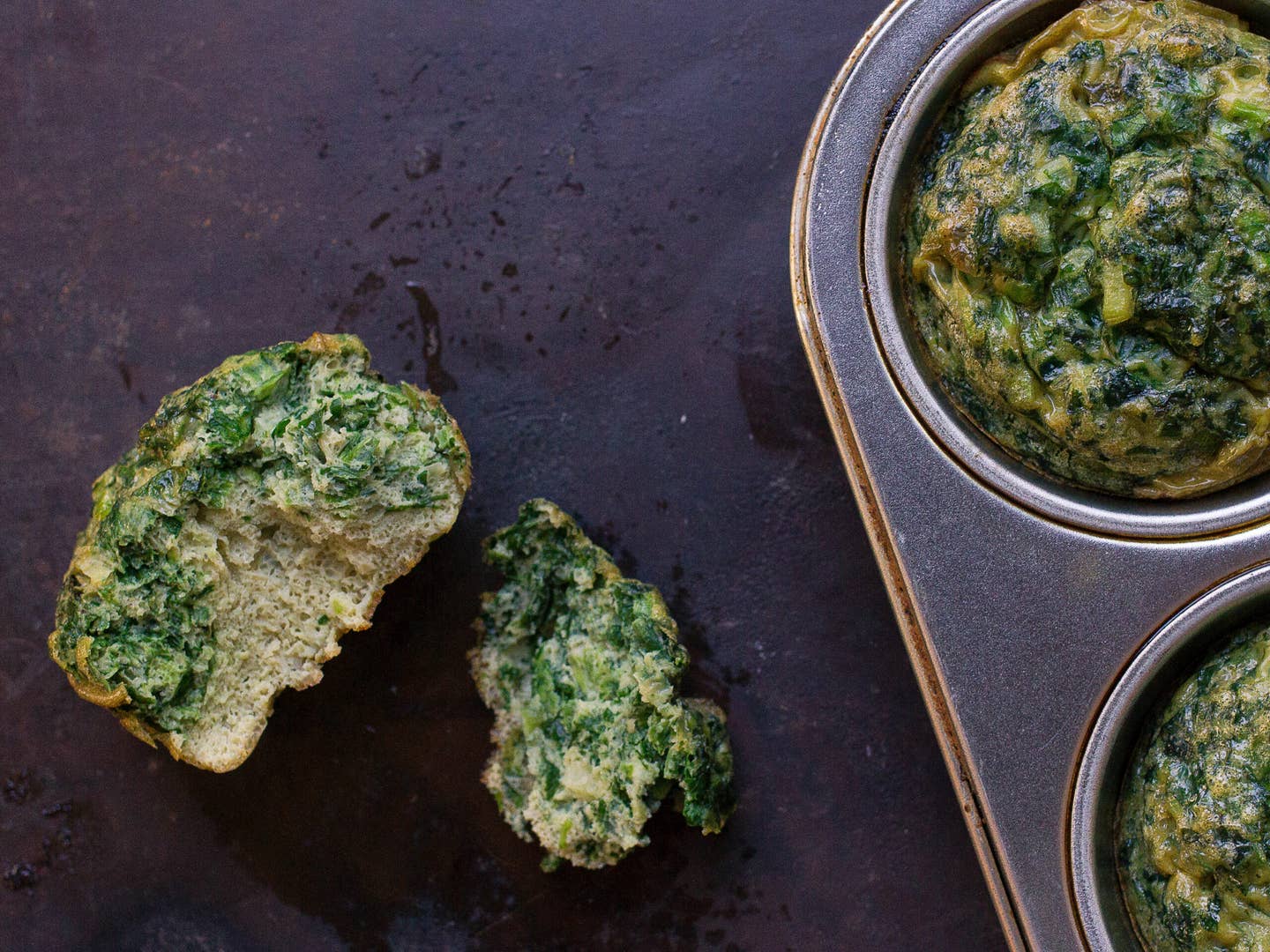 Culture
Why London's Become Obsessed With Persian Food
After a wave of immigration in the 1980s, Persian cooking has taken over England's capital
Persian kookoo sabzi looks a bit like a frittata that's been attacked by a swarm of herbs: coriander, parsley, fenugreek, or dill, with "a sharp burst of fruit and crunch of walnuts," says Sally Butcher, chef-owner of London's Persepolis shop and café, who describes the dish simply as "wow." It's one of Iran's most popular dishes—except the kookoos that Londoners are eating don't look so much like those that you'd find on any table in Iran.
Persian cuisine is having its day in London right now, but the dishes you'll find there don't stick that close to traditional recipes. With inventive add-ins and some change-ups to old-school cooking methods, kookoo and other iconic Persian dishes are becoming something totally new.
"We use a lot of traditional Persian methods, but it's executed in a modern, fresher, lighter manner," explains Soli Zardosht, who mixes ingredients like beetroot, chiles, and sesame into her kookoo at Zardosht (her Broadway Market food stall) and Café Oto, a music club where she and her sister serve an innovative lunch menu. "There's no reason you can't go wild and use whatever you want." And kookoo isn't the only dish that they sisters have played with. "People in Iran are obsessed with pickles," Zardosht says, but she and her sister aren't sweating over the traditional versions that require long fermentations. Instead, they whip up quick pickles for lunch that morning. Persian mint, mango, and garlic. Watermelon radish and orange zest. This is what she dubs "Persian-esque" cuisine.
Except that it's tricky to mess with a millennia-old cuisine—especially in a foreign city. The Iranian revolution sparked a wave of immigration to London back in the early 1980s, but it's taken a good 30 years for Iranian recipes and ideas to extend beyond immigrant communities.
"Persians are very protective of Persian recipes," explains Zardosht, "and they don't really like to play around with them." Which is why her stall draws sceptics. "There's often a sense of, 'Why are you changing these dishes? They are perfect as they are!'"
But she and her sister earn points with those hardliner customers as soon as they start speaking Farsi. And Londoners with less prescriptivist notions of how Persian food should taste love their dishes.
Why Persian food now? Partly it's thanks to the children of those immigrants, young people who grew up outside of Iran and who have a different take on the food of their parents' homeland. Partly it's because a country that has been closed off to the West for so long is now opening up its cultural borders. And then there's the growing league of ambassadors for Persian cuisine around the British capital, all of which is making this growth and development more than just a flash in the proverbial pan.
As the British-Iranian chef Sabrina Ghayour says, this new wave of London Persian is not "grandma's home-cooked meal." Named "the Golden Girl of Persian cookery" by the London Observer, Ghayour has turned her Iranian pop-up cafés, classes, and catering into a bestselling cookbook, Persiana.
When I ask Ghayour just how by-the-book her approach is, she laughs, saying that she's "reproducing classic recipes but torched the book." She takes a dish, tests it, and then simplifies and substitutes and encourages home cooks not to get hung up on the dogma. Instead of worrying over hard-to-source ingredients like dried limes, add an extra squeeze of lemon juice, she suggests.
Sally Butcher is another leader in Persian cuisine's London takeover. In the Peckham neighborhood on the southern edge of the city, the native Brit who married into the cuisine bakes her kookoo batter in muffin tins like a miniature Yorkshire pudding. Come another day, and you'll find her adding less traditional ingredients, such as cauliflower or butternut squash, into the eggy mix. As the author of several cookbooks, including the playfully named Veggiestan and Snackistan, she jokes with pitch-perfect dry British wit that Iran is "not just Persian cats and carpets and mullahs." It's also food, which can evolve and adapt.
That evolution doesn't show signs of slowing down. "It's not just a trend anymore," says Ghayour. "This is something that people respect and understand is here to stay."