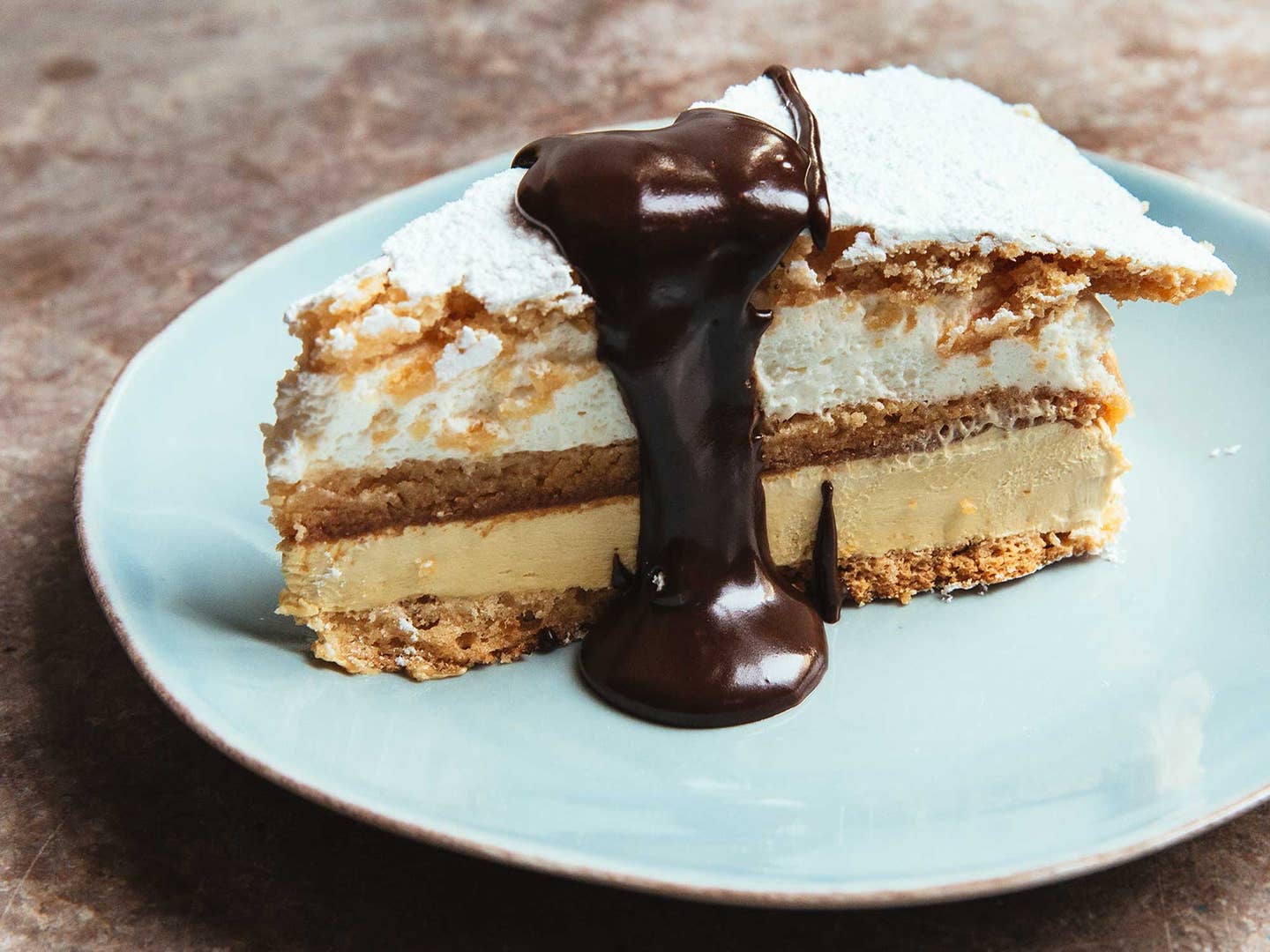 Travel
This Classic French Cake is the Hidden Gem of Louisville
The dacquoise at Buck's may be old school, but it never gets old
I don't like cake. I never much have. One bite is fine, sure. But after that, the richness, the cloying frostiness—the sheer cakeiness of it all—just gets to me. At my wedding a few years back, we served pie.
But there's a caveat here. My animosity toward cake does not in any way apply to the dacquoise, the traditional French dessert that consists of crisp disks of meringue made with baked crushed nuts (usually hazelnuts and/or almonds) that provide the structure for a variety of fillings, from buttercream to fresh fruit. While many consider the dacquoise too cakey, it's far lighter; the crunch of the meringue giving texture to the sop of the filling. To me, it's like a cake made of air. Whenever I see one on a menu, I make a point of ordering it. The problem is that I rarely have the opportunity these days.
While dacquoise can be found in French pastry shops all over the country, you don't see it on restaurant menus too often, even though it's long been considered the white whale of desserts. Back in 1977, New York Times food columnist Craig Claiborne referred to the dacquoise as "one of the finest and most sought-after desserts in Manhattan," and shared his elation over its inclusion on the menus of both Coach House on Waverly Place, and Windows on the World.
The best dacquoise I ever tasted wasn't in Manhattan, though. It was in Louisville, Kentucky. At a quarter-century-old restaurant called Buck's, which is located on the ground floor of a historic apartment building in the city's Old Louisville neighborhood. It was around two years ago, and I was on assignment, trying to figure out if the dizzying number of new restaurants opening up around the city qualified Louisville as one of America's great culinary destination.
My conclusion? Hell yes. While there, I dined on everything from the ingenious tuna old fashioned at Chef Anthony Lama's Latin-inspired ceviche, to red wine-braised beef shoulder at Proof on Main. From a near-perfect smoked pork chop with a maple bourbon jus at the understated farm-to-table Mecca, Harvest, to a braunschweiger sandwich at neighborhood fave Check's Cafe. I drank my favorite bourbon (Old Forester) at Doc Crow's, and had a Seelbach cocktail at the friggin' Seelbach Hotel.
Despite all of this, three days in, I felt like I was missing out on something. While the restaurants and bars I visited showcased the best and the brightest of Louisville, I was left wondering what people ate here before the likes of Anthony Lamas, not to mention celebrity chef Edward Lee, came to town. Sure, there was the hot brown at the Brown Hotel. Everybody loved that. But what were some of the lesser known places I should try out? Some hidden gems?
"The dacquoise at Buck's!" Stacey Yates, a friend of mine, who works for the Louisville Convention & Visitors Bureau, cried, before offering to join me there for lunch.
Watch: Making Buck's Dacquoise
In a day and age where Edison light bulbs and salvaged barn-wood walls are still (almost frustratingly) right on trend, the decor at Buck's is the polar opposite. The dining room is painted the darkest of blues; providing contrast to the hundreds of white flowers that reside in small vases throughout the dining room and bar area. The tablecloths are white. There are chandeliers. There's even a piano. Sitting at the restaurant's bar, festooned with a Royal Wedding's-worth of flowers, I felt like a little kid at a fancy restaurant my parents had taken me to because they couldn't find a sitter.
That sense a long-gone adult world hit me even harder when the waiter arrived with our dacquoise, which looked like something straight out of an old Time-Life series come to life. At Buck's it's of the mocha variety, with one layer of coffee-infused buttercream, and one layer of rum-infused chantilly, all divvied up by three crisp and crumbly almond disks, drizzled with chocolate shavings and syrup. Digging in, I felt like Buck's knew my palate perfectly. The rich mixture of coffee, rum, and chocolate was delicious, but not overbearing at all; in fact, it was almost refreshing. With the nuttiness of the meringue, it almost reminded me of the chocolate coating of the best ice-cream truck delicacy ever created—the Nutty Buddy. I don't think I've ever wolfed down a dessert so quickly in my life.
"I guess people love it because it's such a throwback," chef Colter Hubsch later told me. While customers here often rave about Hubsch's offerings of coffee and cocoa-encrusted rack of lamb, and southern-style fried green tomatoes served with beef tips, it's not unusual for them to come here for the dacquoise, and the dacquoise alone. And while it's a dessert that predates Hubsch's time here at Buck's, he's not insulted. Like everyone else in Louisville, he knows the dacquoise is something special. Craig Claiborne would agree.