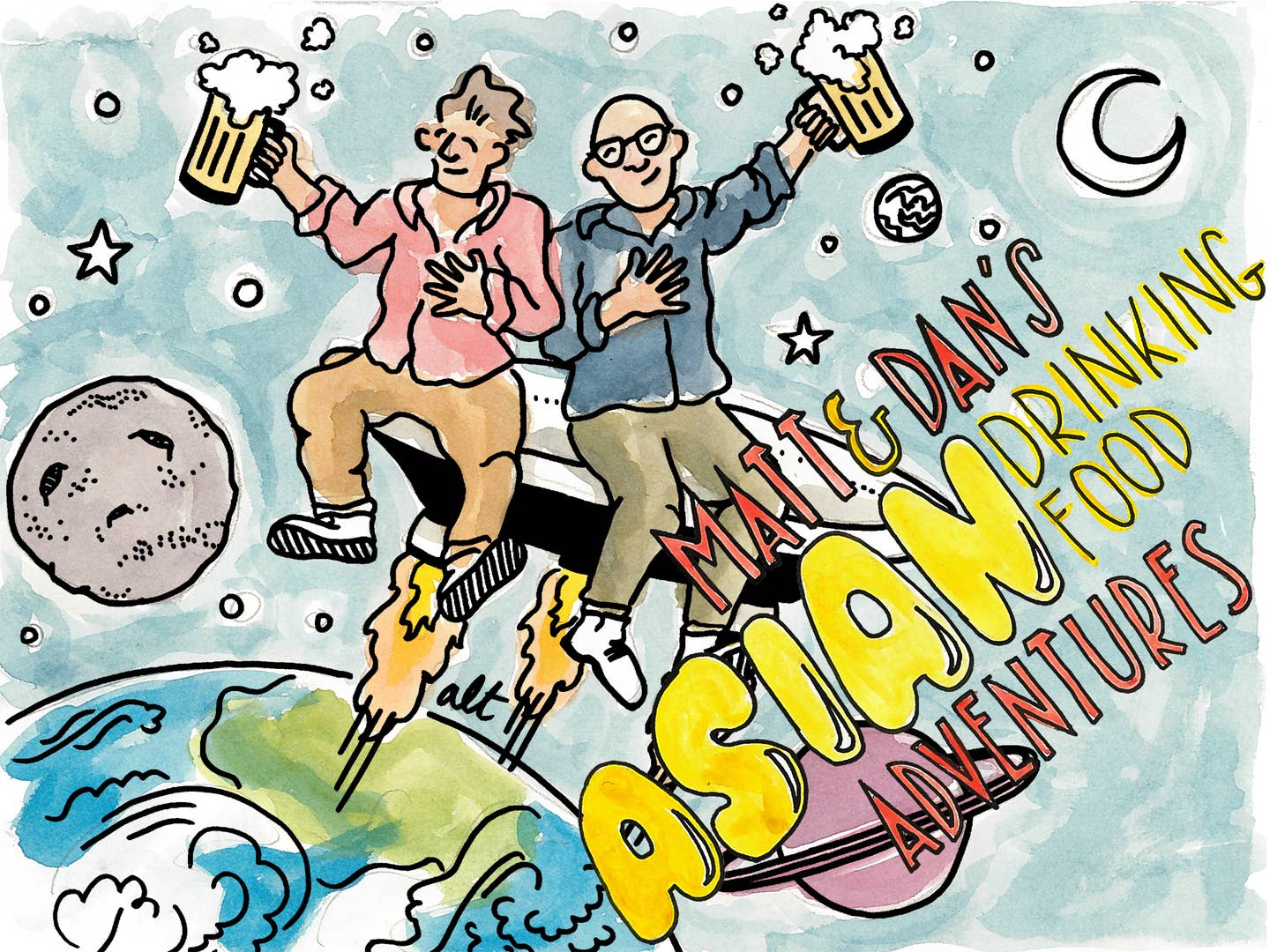 Travel
In Search of Stinky Hot Pot and Serious Pickles
A basement oyster bar in Queens makes a cucumber salad that'll have you reaching for your next beer
In Asia, drinking-food (and drinking properly with food) is an art form. So welcome to Asian Drinking Food Adventures, where Dan Holzman, chef-owner of The Meatball Shop, and Matt Rodbard, author of the Koreatown cookbook, seek out the best food from bars, izakayas, pojangmachas, and then some in their home of New York City.
China Bar is a hard-to-Google, easier to find Flushing sports bar and karaoke near a cluster of LaGuardia budget hotels and down the street from Imperial Palace, Joe's Shanghai, and a couple of other spots on the Flushing Foodie Star Map. The bar is pretty straight-forward, with a Coors Light and low-stakes gambling kind of vibe. Very Chinatown. But Dan and I weren't there to throw a game of Liar's Dice. Lu Wei Shabu Shabu is the basement restaurant below China Bar and has the feel of a Bedouin tent that's been built to survive a nuclear holocaust. Or a cave with a few too many fake flame votives and neon backlighting. It's a cement bunker, and it's perfect.
The name of the game here is beer and hot pot. Hot pot is the traditional East Asian cooking technique of boiling and seasoning broth, then chucking in bits of raw meat and vegetables, until the pot bubbles to your desired level of tongue-scalding pleasure. Call it fondue, though the smoky, spicy seasonings have more to do with barbecue than melted cheese.
We take our seats at the bar and order two large mugs of Sapporo and chat up Gary Pun, the co-owner and longtime manager of Blue Ribbon Brasserie. The place is pretty empty, save a couple of women sucking down oysters (the restaurant was previously called the Oyster Cave, and the bivalve service has carried over). But Gary isn't concerned, even as one of his cooks plays video poker on his phone nearby. It's a breezy Wednesday night in the teeth of summer and hardly hot pot weather. Soon enough, the chilly fall and hard winter will come, but right now the grotto is ours for the evening. Scanning the menu Dan orders a soup and some appetizers. The first to arrive is the tingly cucumber salad, a go-to at Sichuan restaurants.
Seasoned and quick-pickled salads like this one are made throughout China, and many parts of Asia at that. Much of Chinese food is largely evolved from the realities of peasant life, and with refrigeration in short supply, salting and pickling are some of the main hot-climate techniques to preserve food and sanitize it for consumption.
Fresh cucumbers are crushed and quick-cured in salt, then tossed in a dressing of garlic, scallions, sugar, rice vinegar, chili oil, sesame, cilantro, and Sichuan peppercorns that do the Carlton dance on your taste buds. It's a dish that embodies the essence of Asian drinking food: too salty and spicy to not have a drink after every bite, and just too delicious to stop eating. This is the kind of snack that mysteriously transforms watery Hokkaido rice lager into the flavor of liquid Matchbox cars. But by the second beer, I'm okay with the sensation. Dan is not a fan of the tongue-numbing tingle brought on by the infamous peppercorns, but he still loves the salad. We finish it all.
Up next: fried chicken. We have a heretofore-silent pact that mandates we order fried chicken every time fried chicken can be ordered. Every Asian country has its own interpretation of the cult classic many think of as strictly American, from the double-fried sweet and sticky drumsticks that shatter in your mouth in Korea, to the lightly dusted chunks dipped in Kewpie (a cultishly loved mayo that's like Hellmann's add MSG and sugar) served in Japan. At Lu Wei, the thigh meat is lightly coated with potato starch and brought to a deep golden brown before being generously seasoned with more Sichuan pepper and MSG, the sometimes-maligned, near essential additive and Asian drinking food staple we're going to come back to time after time.
We're already full when the server arrives with a cloudy pot of lukewarm broth, and he places it on the electric burner built into the faux-marble bar top in front of us. Our hot pot procession has begun. Lu Wei offers several kinds of broth including a standard pork, along with spicy, "herbal," and curry versions. We opt for the original, with an order of fatty beef sirloin to toss in.
From behind the bar materializes a small lazy Susan, lined with condiments like fresh chili, scallions and coriander, fried shallots, dried shrimp oil, and garlic; we're asked to garnish our dipping sauce (bowls of soy sauce and vinegar) while the broth comes to a simmer. Dan does the duties, while I notice a faint odor that intensifies while the broth begins to boil. With the odor, there's a sense of barnyard, but not the desirable kind of barnyard like an Alps Raclette. It's the driving through rural Iowa kind of barnyard and it intensifies as we throw in the cuts of meat as well as tofu, squash, corn, and broccoli. We're offered the house-made shrimp paste (yes, please), which we discover is basically chopped raw shrimp, tastefully arranged in a scallop shell with a small spoon to shuttle it into the broth. When the raw shrimp sit in the bubbling stock for a few minutes, they quadruple in size and become the highlight of the meal.
By the time the beef, shrimp, and veggies are all eaten, our noses have adjusted to the smell enough to dive into the broth, and Dan reaches for a few spoonfuls. I'm hesitant, but join, too. Not as bad as I expect, like the time I had fermented sake in Busan, but it's still not a show stopper. A few more swigs of beer, and our attention has turned back to the chicken and more tingly bites of the salad that we can't get out of our brains for weeks.