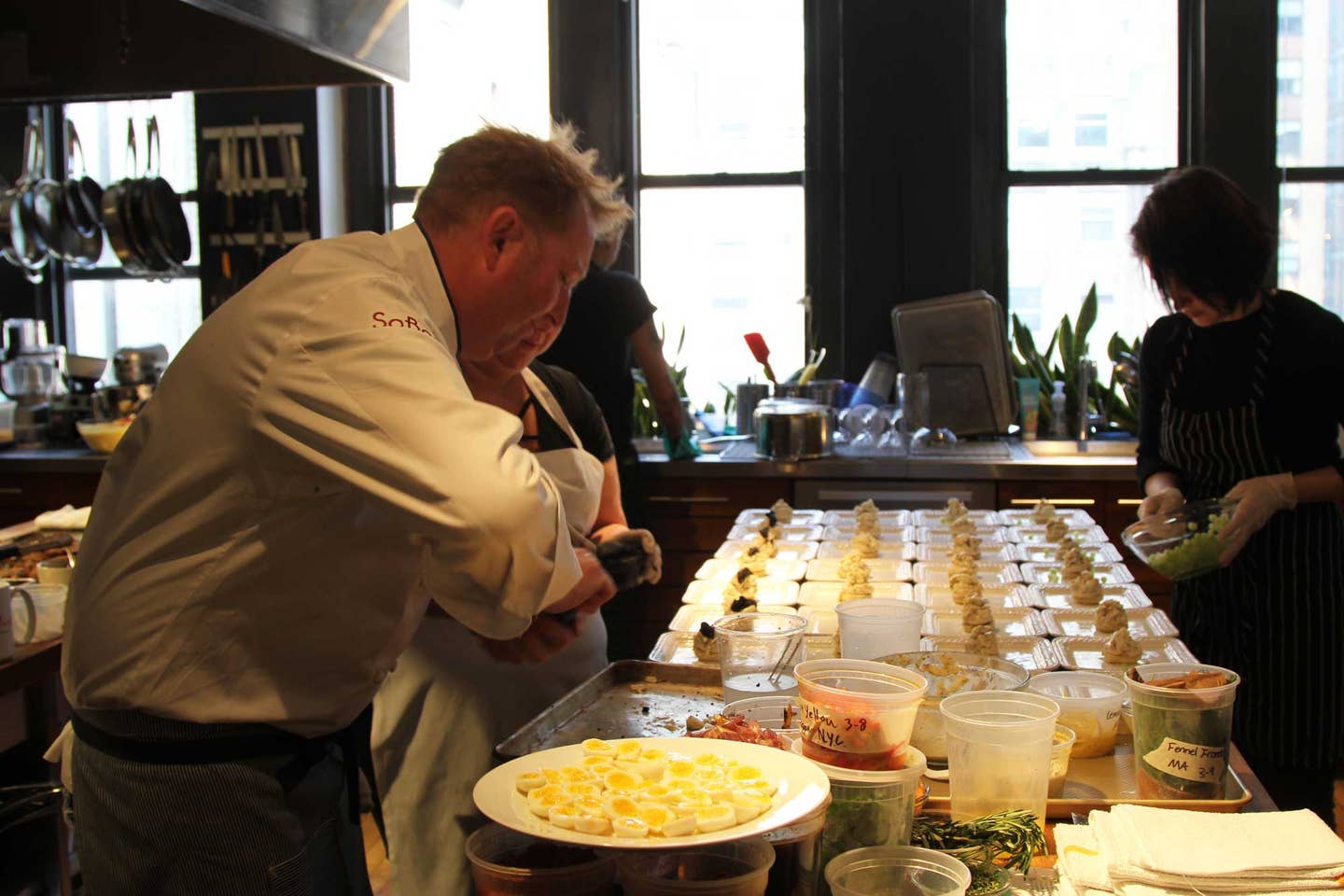 Culture
Commander's Palace Creates a Boozy Lunch in the Saveur Office
Why can't every lunch be a 25-cent martini lunch?
In honor of this month's devotion to lunch and all the amazing lunch foods of the world, we swapped out our usual evening #SAVEURSupper for a boozy martini-fueled lunch. Commander's Palace head chef Tory McPhail flew all the way from New Orleans and took over the SAVEUR test kitchen—assisted by Lucy Dakwar from Fausto in Brooklyn—to recreate the restaurant's famous 25¢ martini lunches. "Head cocktailian" Laura Bellucci from SoBou bar in NOLA mixed some seriously good drinks. McPhail kicked off the lunch by telling guests, "Relax, let your hair down, and do what y'all do. That's what we do at Commander's Palace." And that's exactly what happened. Guests started drinking at noon, sipping on lemon curd cocktails—the liquid incarnation of lemon bars, if they were made with vodka. The drink, called "House of the Rind," also had a squeeze of fresh lemon juice and Earl Grey-infused honeysuckle, and came with a sweet star-shaped butter biscuit on the side. It was a great introduction to the colorful food and cocktail pairings that were to come.
The four-course meal began with a finger sandwich with Commander's Palace's house-made salmon cream cheese, pickled fish collars, cracked crab, and topped with caviar, a quail egg, and strands of seaweed to finish. The paired cocktail, in the same oceanic spirit as the appetizer, was a watermelon martini with a sea salt, sesame seed, and nori rim.
The second dish was a sugarcane-smoked and pan-seared duck breast salad complete with roasted tomatoes, grilled fennel, blue cheese, and cognac-cured foie gras. The salad was drizzled with a sticky, almost gelatinous duck foot and strawberry jam dressing, which added a sweet and slightly acidic kick that tied the whole dish together.
And our fourth cocktail of the day was a drink called the "Catahoula fizz," a martini-ish rendition of a classic whiskey sour, made with Tito's vodka.
The next course was a spinalis-cut, pan-seared steak crusted with Louisiana's Crystal Hot Sauce pulp. The beef was sliced and served over garlic-grilled black olive and rosemary bread, with char-grilled chilis, braised onions, crispy capers, pink peppercorns, and juniper and bone marrow jus. Bellucci decided to pair this with a stronger martini infused with artichokes, which she called the "Staten Man Martini."
The finale was truly grand; a number of guests pulled out their cell phones cell phones to capture Chef McPhail feeding a blazing fire with cinnamon to flambée his citrus vodka crepes. They were filled with citrusy pastry cream and topped with sugared lemons, brown butter, and limoncello caramel. Our dessert drink, and final quirky 25¢ cocktail, was called the "Midnight Robertson"—made with pecans, espresso, and a hint of brown sugar. It was a delicious end to a midday martini-paired meal.