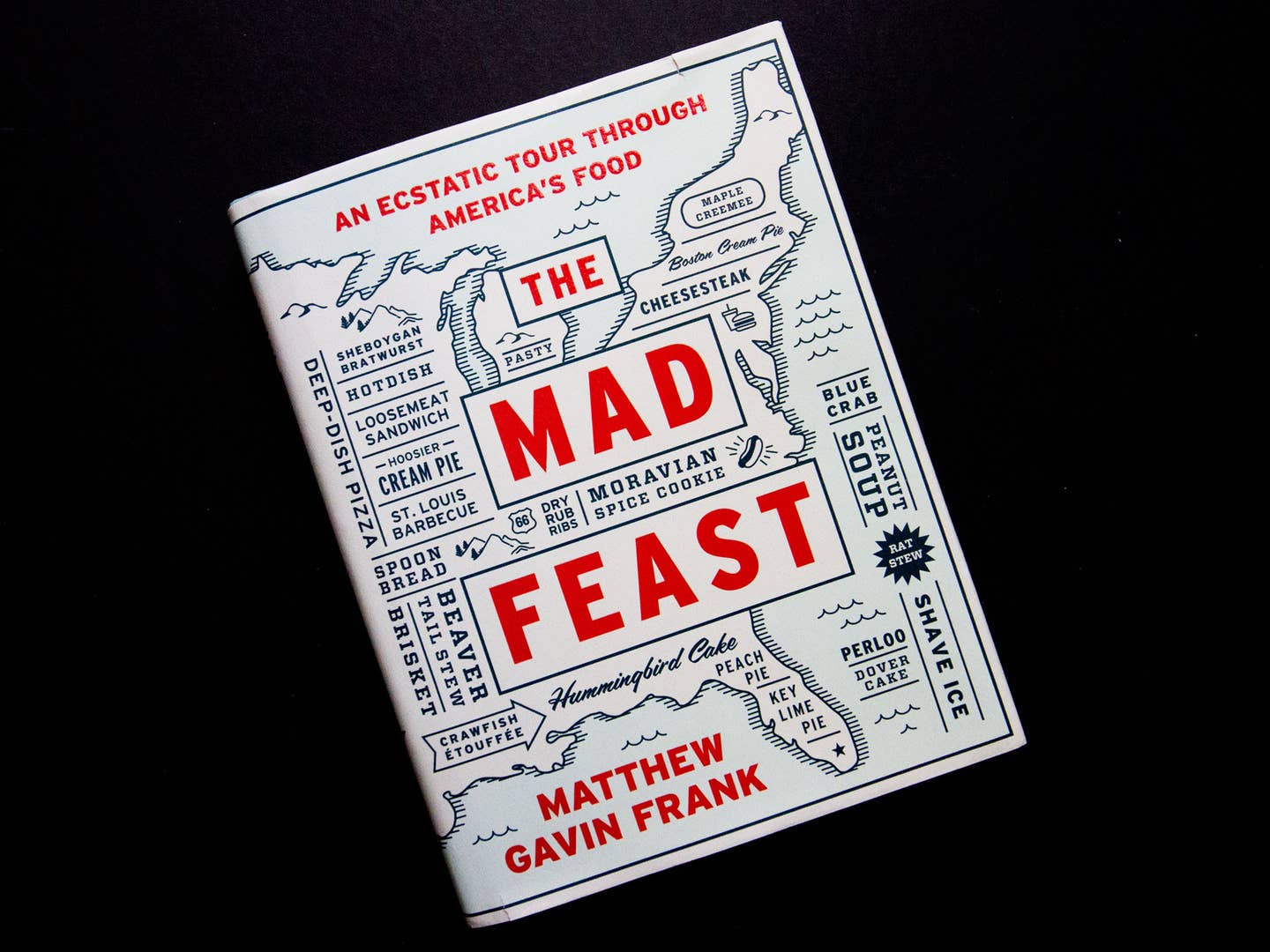 Culture
Which American State is Known for Beaver Tail and Buttwiches?
The Mad Feast is the ultimate guide to the weirdest undercurrents of hyper-regional American eating
It started with the North Michigan Pasty. "What is a pasty," you (and anyone not from England or Northern Michigan) might ask. As Matthew Gavin Frank writes in his just-released book, The Mad Feast: An Ecstatic Tour Through America's Food, it's a "baked pastry shell, half of which includes a savory dinner of stewed meat and root vegetable, half of which includes dessert." The two-in-one hand pie, the prized lunch of copper miners in the Upper Peninsula, is what inspired Frank to explore the highs and lows of hyper-regional American eating. It's a journey that led him to beaver tail in Arkansas, Vermont's quixotic creemee, and a little something Alaskans call the Buttwich.
"I wanted to get to the bottom of why we eat what we eat where we eat it," Frank told me on a recent call, excitement seemingly his standard tone. "When we eat, we don't think of all the stories and narratives, sacrifices, and beautiful and atrocious things that took place many years before to bring us these foods."
Frank highlights those subtleties in 50 historical and experiential vignettes (one for each state), with recipes. In each case, his research usually began like our conversation: on the phone. This person put him in touch with that person, and so on and so on. But he soon exhausted his contacts. "I hit a walI," he said. "I had to get in the car. I visited all 50 states, seeking, as Werner Herzog said, the 'voodoo of location.'"
Once there, it became a matter of "scratching at food until the secret stories within start leaking out." Which naturally led to the annual road kill contest in Marlinton, West Virginia. Competitors find road kill and transport it in Lawn & Leaf Bags to their homes, where it is cooked and turned into dinner, but not before it's given names like Buzzard Breath Maggotini and Rat-a-Tat Teriyaki.
The book was written over three years, but the stories started coming decades prior, when, at the age of 11, Frank started washing dishes at a chicken shack on the outskirts of his native Chicago. His time in the industry was spent collecting stories, and "many meandering thoughts from over the years wound up as paragraphs in the book." Couple that with the fact Frank comes from, what he calls, "a long line of obsessive compulsive folks," and you get the recipe for something that's far more exciting than the typical regional American cookbook or historical tract.
In his preface, Frank describes The Mad Feast as a "spastic, lyrical anti-cookbook cookbook." Turn to a random page and strike your finger on the page to see what he means: "When your uncle speaks of Connecticut Clam Chowder, he may also speak of sagittal planes, of gills that have become ctenidia—deluxe organs that allow these headless filter feeders to feed and breathe, of all things who bury themselves in a seabed."
Aunts and uncles are common characters throughout The Mad Feast. They're "composite characters," Frank writes, "one part my uncle, many parts other people's uncles." That may be the most remarkable thing about this book that parcels America out into 50 state-based dishes: It reveals the underlying currents that define our endlessly bizarre cuisine.