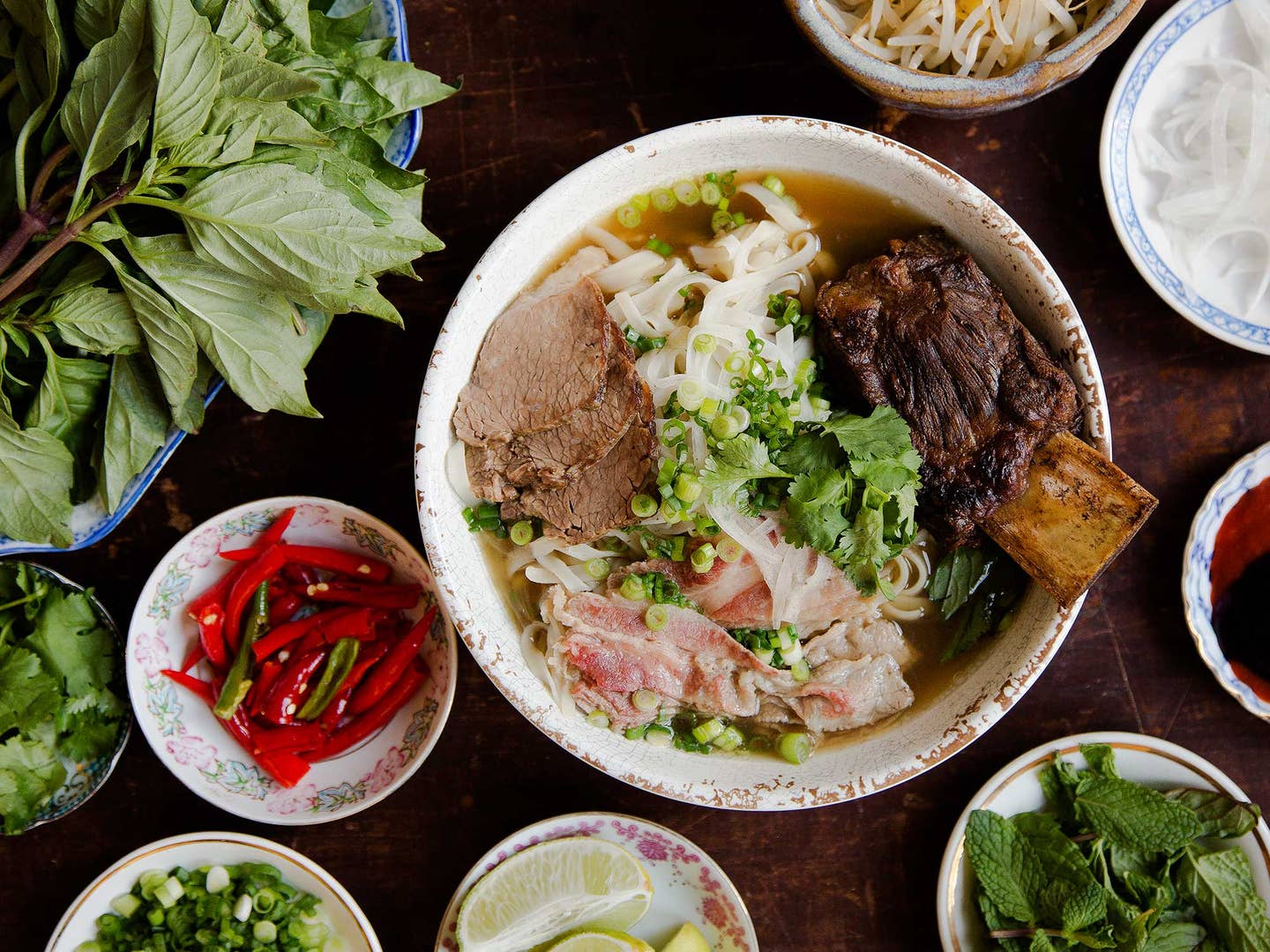 Travel
The Best Pho in NYC Comes With an Unusual Add-In
A product of cross-country refugee upbringing, Madame Vo's namesake noodle soup is unapologetically rich and fantastically comforting—and not just thanks to the giant beef rib
"It's like dad's pho," my mom remarked off-handedly as she took the inaugural sip of broth in front of her. I paused chopsticks halfway from bowl to mouth, somewhat surprised by that rare, ringing endorsement—after all, if you ask any Vietnamese person where to find the world's best pho, they'll assure you it's the one they eat at home.
But we're not at home; we're at Madame Vo, a year-old restaurant in the East Village neighborhood of New York, a city whose historic dearth of "good" Vietnamese restaurants long puzzled transplants like me. That tide is slowly turning, thanks to a new wave of upmarket Vietnamese eateries that include this small, unfussy restaurant owned by husband-wife duo Yen Vo and chef Jimmy Ly.
The couple met in New York City, where Jimmy was raised in a Vietnamese community in Queens. Madame Vo, as her husband calls her, was born in a Thai refugee camp and raised in a Vietnamese enclave in Mississippi, before moving to Houston, America's largest concentration of Vietnamese-Americans outside of California.
The menu, a marriage of the two families' recipes, speaks to that varied upbringing, with tough-to-find regional and home-cooking specialties like ga kho gung, or clay-pot chicken braised in ginger; hu tieu sate, Ly's version of a Saigon street dish of spicy sate sauce on rice noodles; and bun bo Hue, a spicy lemongrass-forward central Vietnamese noodle soup.
The first thing I noticed was the richness—the broth simmers fatty meats like brisket and oxtail—layered with the savory sweetness of fish sauce intermingling with rock sugar and fragrant toasted spices. In stark contrast to the crystal-clear minimalist stocks of Hanoi, the style of pho here is distinctly Southern, embracing big, bold flavors and heaps of fresh garnishes like bean sprouts, jalapeños, lime, and basil.
But the dish's star factor is the optional addition of bone-in short rib used to simmer the stock but also crowned on top of the bowl before serving. Though exceedingly Instagram-friendly, Vo says the idea actually originated on her side of the family: her mother used to make pho that way for her and her siblings.
"When I was younger, I didn't eat any seafood at all—I loved beef," explains Vo, noting that seafood backbones a plurality of Vietnamese dishes. "So when my mom would make pho, she would put in extra beef just for me."
Want to make the Madame Vo pho at home? We've recreated chef Jimmy's recipe below.
Madame Vo
212 East 10th Street
New York, NY 10003