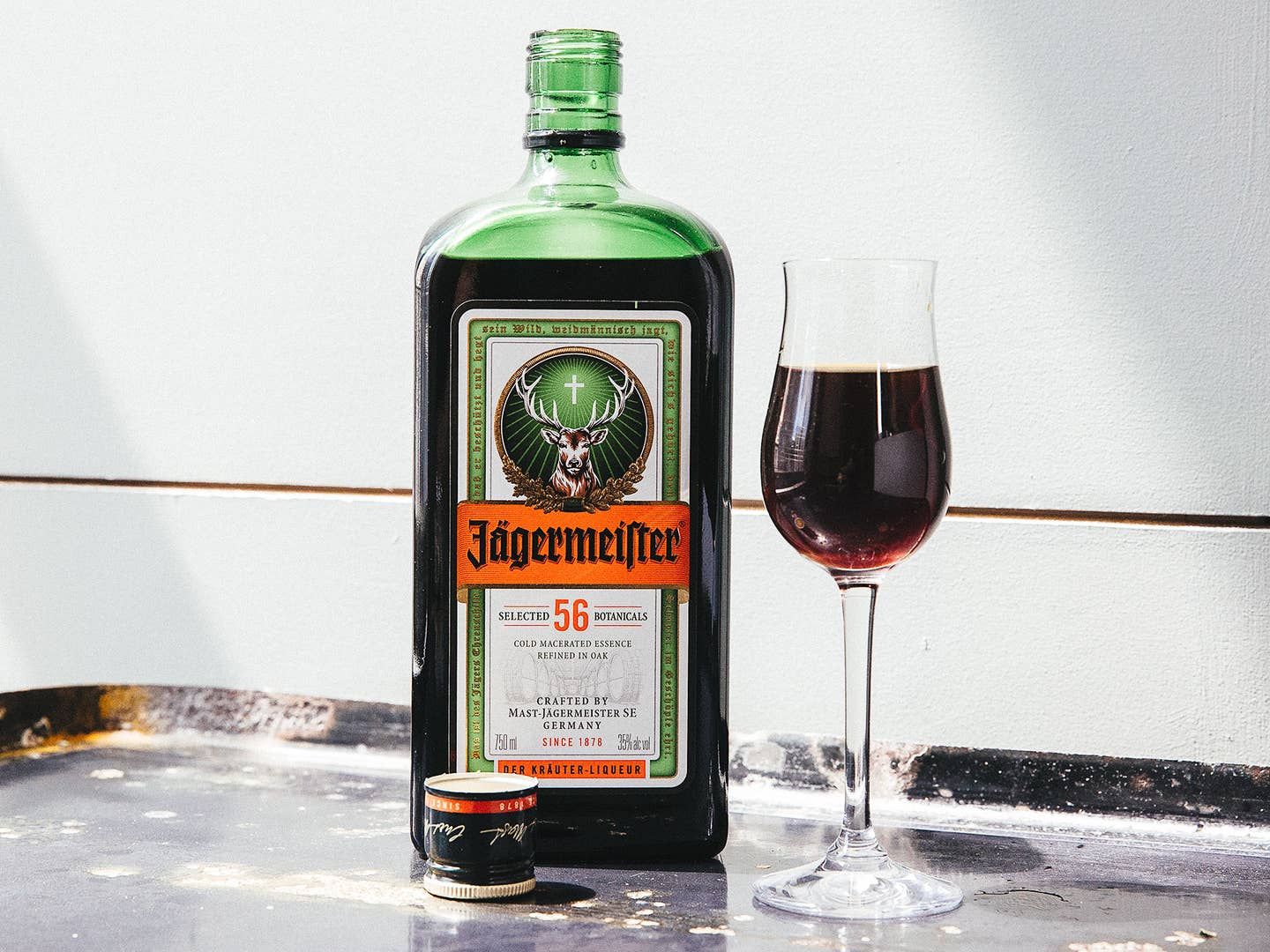 Drinks
Why Jägermeister Really Does Belong in Your Cocktails
Drop the shot glass and pick up the shakers
For many years, the German digestif Jägermeister was the Hooter's of the spirits world, their iconic orange-crop-top-clad "shot girl" a fixture at booze events. As with many such profitable yet still somewhat ill-advised ideas, the Jäger shot phenomenon, and subsequently the Red Bull-driven Jäger bomb tradition, was birthed by the brand's marketing team, pigeonholing the stuff into the shot-only category with the likes of Fireball. So while most of us, the drinking public, are familiar with Jäger, few people realize just how good and sophisticated it can be if you treat it right. For starters: It's great for mixing.
The company's strategy has dramatically shifted in the past few years, coinciding with the acquisition of its longtime import company, according to Seamstress creative director and United States Bartenders' Guild president Pamela Wiznitzer, who was also one of the earliest serious Jäger advocates. "Jägermeister recently bought out Sidney Frank and started a push to bring it back to the bars in a more fun, distinguished, and knowledgeable way," she tells SAVEUR.
Tradition is a key word here. Like so many other so-hot-right-now bitter European digestifs, Jäger is a storied spirit with a hisory dating back to 1935. Translating to "master hunter" in German, it's an herbal liqueur whose secret recipe comprises 56 natural herbs, blossoms, roots, and fruits. The botanicals are extracted raw through a weeks-long cold maceration process to create a base which is then stored in oak casks for a year.
Traditionally consumed by blue-collar German workers as an after-dinner drink, it sits somewhere between a bitter amaro and spicy schnapps. And if you take your time to sip it rather than shoot it, you'll get a heady licorice-layered sweetness with notes of licorice, anise, and saffron—ideal for adding depth to all kinds of drinks, a complex accent like fernet or absinthe.
I love using Jäger as a stand-in for amari in stirred drinks, or paired with citrus as a sweetener. It can lend both bitterness and sweetness as a spirits modifier, or serve as the base of a low-ABV drink. But don't just take my word for it: here are three cocktails from proud Jäger lovers to win over any skeptic.
At San Diego's Campfire restaurant, head barman Brian Pugalidad slings a refreshing, honey-whispered cocktail fortified with a split base of rye and Jägermeister. Reminiscent of a spiced Gold Rush, this cocktail sneaks Jäger in to play a supporting role, amping up the rye while sweetening the citrus.
"Jägermeister skillfully used in a well-balanced cocktail offers me an opportunity to give my guests new, positive memories associated with Jägermeister while building trust and expanding guests' horizons as to what a cocktail can be," says Pugalidad. "My favorite is the disbelief when I tell my guests that Jägermeister is even in their cocktail!"
In this play on a traditional gin sour, Seamstress creative director Pamela Wiznitzer tempers the clear stuff with Jäger and sweetens the mix with honey and orange juice. Here, Jäger adds a slight spice and bitterness that fuses excellently with the addition of aromatic bitters, which are also used as garnish.
In this negroni riff, brand ambassador Nils Boese swaps classic Campari for Jägermeister for a more herbaceous, licorice-scented profile. The substitute gives the drink more sweetness and body, which is rounded out by the oils of the lemon peel garnish.