Recipes
Vinegar-Marinated Potatoes with Olives and Capers
Serves

serves 6-8

Cook

1 hour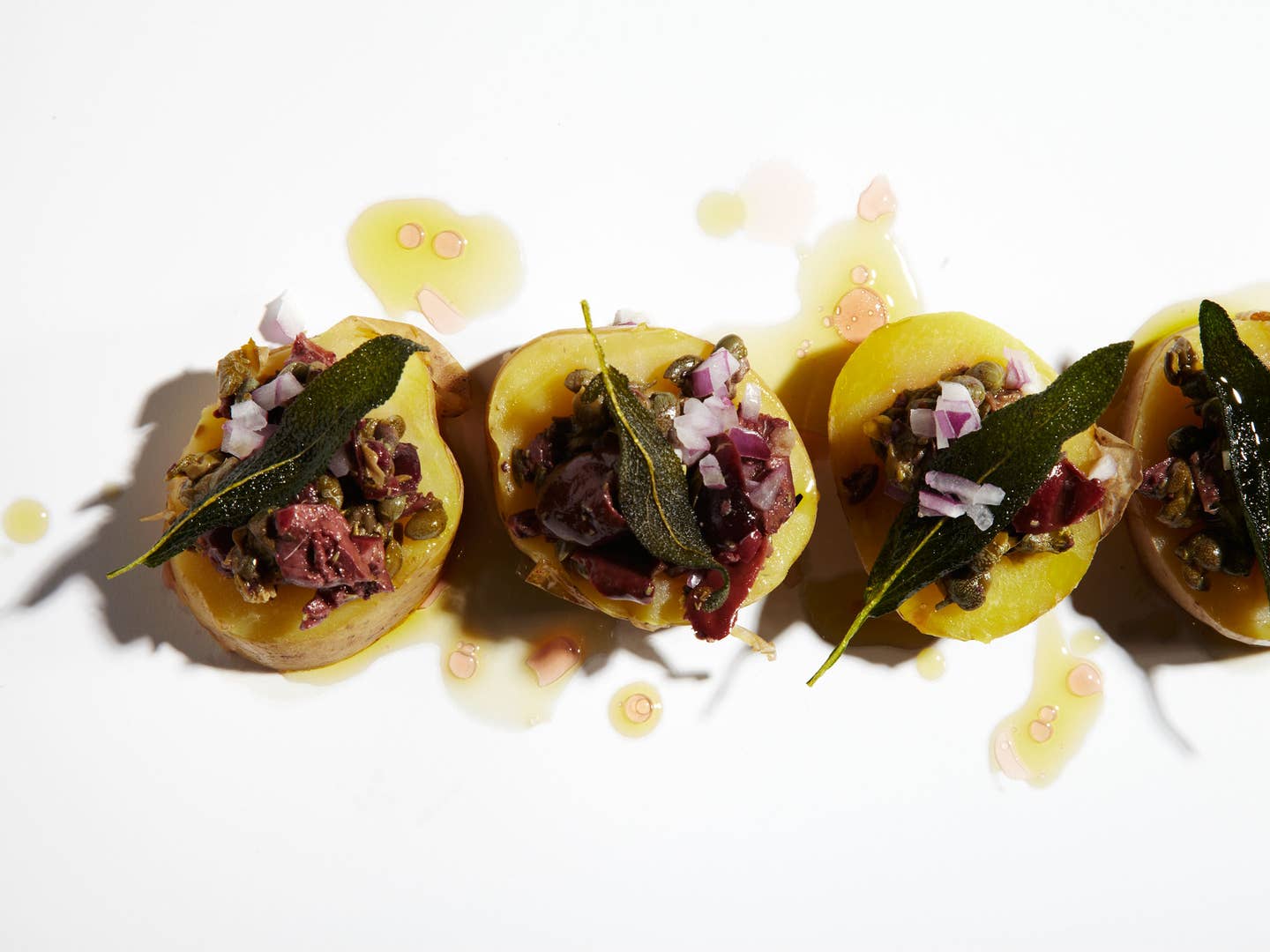 This flavor-packed hors d'oeuvres from Francis Mallmann is topped with an umami-rich relish of capers, anchovies, and kalamata olives. For a burst of bright acidity, Mallmann drizzles red wine vinegar slowly over the cooked potatoes so that they soak in every drop, like dressing a still warm potato salad.
Ingredients
1 cup olive oil
2 cups loosely packed sage leaves
3 1⁄2 lb. medium Yukon Gold potatoes
Kosher salt
2 cups capers, drained and rinsed
2 cups pitted kalamata olives, roughly chopped
24 anchovy fillets in oil, drained
1 cup red wine vinegar
1 small red onion, finely chopped
Freshly ground black pepper
Instructions
Step 1
In an 8-inch skillet, heat the olive oil over medium-high. Add the sage leaves and cook, tossing, until crisp, 1 to 2 minutes. Using a slotted spoon, transfer the leaves to paper towels and reserve the oil.
Step 2
Place the potatoes in an 8-qt. saucepan filled with generously salted water and bring to a boil. Reduce the heat to a simmer and cook until the potatoes are tender, about 30 minutes. Drain the potatoes, let cool for 5 minutes, and slice crosswise into 1-inch-thick slabs.
Step 3
While the potatoes cook, combine the capers, olives, and anchovies in a mortar and mash until lightly chunky (or chop by hand and combine in a bowl). Stir in 1⁄4 cup of the reserved olive oil and let stand for 10 minutes.
Step 4
Arrange the warm potatoes on a serving platter, season lightly with salt, and slowly drizzle with the vinegar so the potatoes absorb most of it (the rest can pool around the potatoes on the dish). Sprinkle the olive and caper mixture over the potatoes, followed by the red onion and fried sage leaves. Drizzle with more of the reserved olive oil and season with freshly ground black pepper.