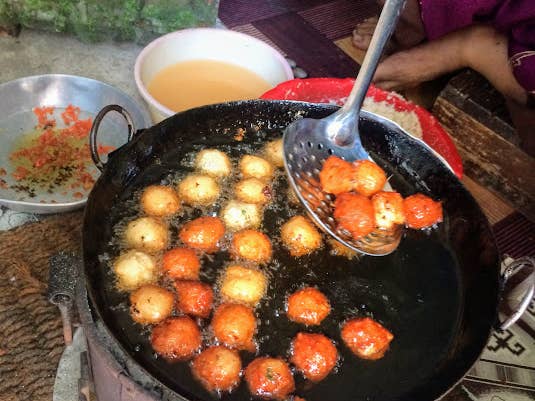 Travel
This Mango Soup is Zanzibar's Lunchtime Obsession
It's colorful, slightly sour, and its main ingredient is a tart mango
In Stone Town, a Swahili coastal trading town on the East African island of Zanzibar, locals flock to the stalls for their lunchtime urojo fix starting as early as 10 a.m. Also known as "Zanzibar mix", the colorful, slightly sour soup consists of a tart mango- and flour-based sauce poured over a dizzying mix of barbecued and boiled meats, fried and fresh vegetables, beans, and sometimes nuts. Street vendors only stay open until midday, when the last drop of bright yellow broth is poured.
A maze of ancient, narrow streets along the Indian Ocean coast, Stone Town was influenced largely by Indian Gujarati traders as early as the 16th century, who carried their culinary comforts with them. The base of the soup, a famous street dish in the region, has a combination of African, Arab, and Indian influences, commonly featuring ingredients like turmeric, and sometimes atta (used in Indian breads like chapati) and gram flour, a dried chickpea flour widely used in Indian cooking.
The original 'mix' mounded into the broth was fresh fried kachori (spiced, mashed potato balls), bagia (a crispy, nutty lentil ball), fried muhogo (cassava) shavings, boiled potato cubes, and mayai (eggs). A dash of lime- or cilantro-spiked coconut chutney, some peanuts, and a mango-chile sauce later, the end result is a dizzying burst of crunch, silkiness, tang and spice. While the meat grilling and the ladling of the soup and toppings happens on the street, the wide network of women who prepare urojo will often tackle most of the prep work at home before setting up shop on the street. All of this will run you between 50 cents (USD) and 5 dollars, depending on the complexity of the mix chosen.
Over time, local cooks have of course added flare to their own bowls by piling on additions like grilled meat kabobs, kachumbari (a fresh tomato and onion salad), katlessi (deep fried mashed potato with minced meat), shredded cabbages, cucumbers, carrots, and more. Stone Town vendor Bi. Rihana runs a favorite vegetarian urojo joint from her street-level foyer near the town's Catholic church. And you'll now spot vendors who even make alternative broths, using other sweet-tart ingredients like tamarind as a base instead of mango.
Whatever the combination, watching the vendors juggle vats of fryer oil, sizzling skewers, and jugs of neon-colored broth is almost as joyful as it is to slurp back a bowl of your favorite mix. Here are a few places to try urojo:
Kijiko Mtendeni ("Mtende Kitchen")
Location: Darajani—Zanzibar's main market
This humble little eatery features communal tables and tender beef kabobs grilling in the back.
Binti Delicious ("Daughter Delicious")
Location: Forodhani Garden nightly food market
Binti Delicious offers fresh and tasty bowls of urojo served piping hot and enjoyed by the sea, watching the boats float at dusk.
Location: across from St. Joseph's on Cathedral Street (look for the "Welcome to Zanzibar Mix" sign)
Pull up a simple wooden benches and watch the cook fry vegetarian-only delights for her freshly prepared mango broth, served with a dollop of chutney on top.