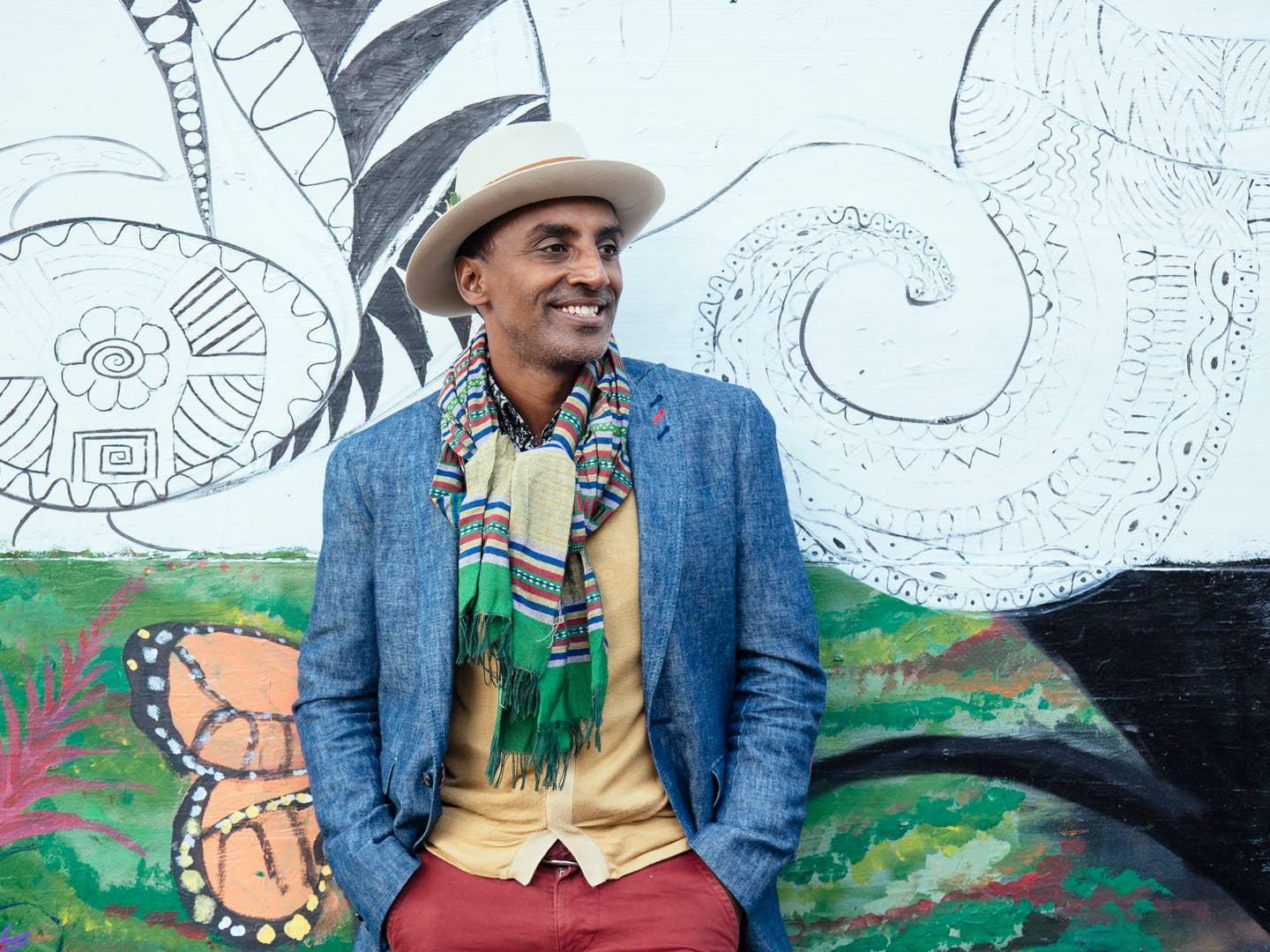 Travel
Marcus Samuelsson Dishes on How to Eat Harlem
The chef's new cookbook is really a celebration of one of America's most iconic communities
Even if you had never seen an episode of the Food Network's Chopped or dined at one of his 11 restaurants worldwide, there's still a good chance Marcus Samuelsson would still capture your attention. In a town where everyone wears black, the New York chef is a glaring exception, clad, on any given day, in a well-constructed mashup of plaid, neon colors, and eye-grabbing accessories.
His outfits make all the more sense when he starts talking, and when he's on his home turf in Harlem, he's talking to just about everyone. Joining Samuelsson for a stroll down Lenox Avenue on a Wednesday afternoon meant stopping to chat with the folks running every other storefront, handing out high-fives to kids leaving school, and shaking hands with passing drivers who stop and roll down their windows just to yell out "I love your restaurant!"
Samuelsson's earned the neighborhood's affection for more than his food. Through his restaurants, Red Rooster Harlem and Streetbird Rotisserie, he's created over 200 jobs in the neighborhood, hiring locally in a community where unemployment is notoriously high. His food festival, Harlem EatUp!, also engages nearly 1,500 volunteers and brings in around 15,000 visitors to the area's small businesses. It's one of the ways he pays homage to his adopted community (he was born in Ethiopia and raised in Sweden), and he's become sort of a local hero for it.
"Harlem is very noisy, in a good way," Samuelsson tells me. "They'll tell you if you did something wrong. And if you did something good, they'll tell you too!"
Samuelsson's seemingly universal popularity is particularly interesting given his status as a relative newcomer. But owning and operating restaurants, he has a unique opportunity to both take from and contribute to a neighborhood—a fact that's not lost on the chef, who believes restaurants are key to opening up communities.
"Once people start to enter the community, they realize it's much richer and warmer than they ever thought. That's the gift of restaurants," Samuelsson explains. "Not just [Red Rooster], all restaurants. It's really the core word of diversity, and it's not just a name tag. Where do you really feel a diverse platform in New York? You feel it on the subway and, hopefully, at restaurants."
Samuelsson's pay-it-forward attitude stems from his admiration for the neighborhood, and his appreciation for having been welcomed so warmly. So as the Red Rooster flagship celebrates six years on 125th Street, Samuelsson debuts his latest book, The Red Rooster Cookbook: The Story of Food and Hustle in Harlem, to give a voice to the community that continues to inspire him.
"This neighborhood, this village is so magical and it's taught me so much. I wanted to share that" Samuelsson says with an earnest smile. "For me, it's not so much a cookbook. It's more of a book about Harlem and about the community itself. That's why we have so many voices in the community telling stories."
We asked Samuelsson to give us a taste of his Harlem. Here's where he took us.
Our first stop is Samuelsson's own Red Rooster Harlem, where we're treated to a spread of deviled eggs topped with duck salame, buttered and braised collard greens, and the signature fried dark-meat yardbird. According to Samuelsson, the restaurant's menu embodies the multiculturalism of Harlem—that crossroads of the Southern migration, Latin-American strongholds, and new communities on the west side.
"Red Rooster's food is not really focused on Southern food only. It's focused on the migration: 50% of it is the Southerners, African Americans and laborers moving North. The other aspect is my tale too, being an immigrant, so there's gravlax and meatballs. And then there's the other immigration that's happening in Harlem: East Harlem has moved from being a Puerto Rican community to a Mexican community. West Harlem has Columbia kids and an African community. Farther east, you have Italian and Jewish. We respect the past, but our food is today is very contemporary. The techniques we're using are contemporary with global influences."
One of Samuelsson's biggest inspirations, Sylvia's is a more than 50-year-old Harlem institution. Here we dig into plate after plate of classic soul food: cornbread, fried chicken, macaroni and cheese, and sauteed chicken livers. Beyond the food, Samuelsson notes that the lunch counter itself is a destination—for gossip, that is.
"125th and Lenox Avenue is sort of an iconic address—the heartbeat of Harlem is right here. I planned Red Rooster, well part of it, at the counter of Sylvia's: eating the cornbread, learning the culture of the steam table food, speaking to Ken and the family. If you want to know what's happening in Harlem, you have to start at the counter of Sylvia's."
Sylvia's
328 Lenox Avenue
(212) 996-0660
As we wolf down our remaining bite of mac and cheese, Samuelsson whisks us away to a local sneaker shop on 125th Street. What started as one 16-year-old kid, Chase Reed, cleaning up used shoes and selling them online has turned into a world-renowned father-son–owned sneaker bank.
"Sneaker Pawn is probably the best example of entrepreneurship that exists in neighborhoods like Harlem, although it's on a different grid. People come from all over the world to look at the coolest vintage sneakers that he's cleaned up. If you have good sneakers, you give them to him, you agree on a retail price, and then you get your cut of that. It gets young people involved and it's cool stuff, because for inner city kids, when was urban not cool?"
Samuelsson's' colorful apparel can be accredited, in part, to this quirky shop that he says embodies the effortlessly cool Harlem style and fashion.
"Dapper Dan is an icon. Lana Turner is our version of Anna Wintour. If you want a little bit of that cool, that mystique, that jazz-man mentality, go to Harlem Haberdashery. Louis will hook you up. And you will walk out just so, so much cooler."
Now we head over to East Harlem, where we stop at Cuchifritos Frituras, a Puerto Rican restaurant. Standing outside, Samuelsson points excitedly at trays of fried food visible through the window. There's a lost-in-translation moment, but we trade a few bucks for some piping hot fritters and a brown paper bag of delicious morcilla, or blood sausage.
Cuchifritos Frituras
168 East 116th Street
(212) 876-4846
Heading one block east, we stop on a corner for horchata from a push-cart vendor. Nearby, in front of a small grocery store, a woman is pressing thick tortillas into sope-ready "boats" and piling them with lettuce, tomatoes, and scoops of meat. She asks if we want grated cheese on ours and Samuelsson says, "Of course!"
La Lomita Del Barrio
209 East 116th Street
212-289-8138
We zip cross-town to Samuelsson's second restaurant, a slightly more casual and much more eclectic affair. Despite the name, there's a lot more going on here beyond the realm of rotisserie chicken. The menu hops from tacos to noodles to a Hot & Messy—cornbread and chicken smeared with avocado, peanut butter, and a sunny-side-up egg; and topped with bacon and parmesan. And yes, it was both hot and messy (in the best way possible).
"Streetbird is an example of how I was really inspired by the Puerto Rican and Dominican communities in Harlem—iconic places like Malecon in Washington Heights. Just look at the rotisserie chicken that people are selling right on the street—we take that idea and do something similar."
Sitting across the street from Streetbird Rotisserie, this neon-fitted, counter-order shop offers East Coast style seafood alongside its Caribbean counterparts. Samuelsson takes us to a downstairs backyard patio area—ideal for the restaurant's outdoor seafood boils, conch fritters and jerk chicken baskets.
Our Harlem tour concludes at Southern comfort stalwart Melba's. Its namesake proprietor Melba Wilson opened the restaurant in 2005. A niece of Sylvia Woods (yup, of Sylvia's fame), Wilson cut her teeth at her aunt's restaurant before branching off to offer her own takes on barbecue turkey meatloaf and a catfish po'boy sandwich.
"The West Side is newer, younger, and hipper, but you also have icons like Melba Wilson who started the renaissance of the dining culture."
Melba's
300 West 114th Street
(212) 864-7777