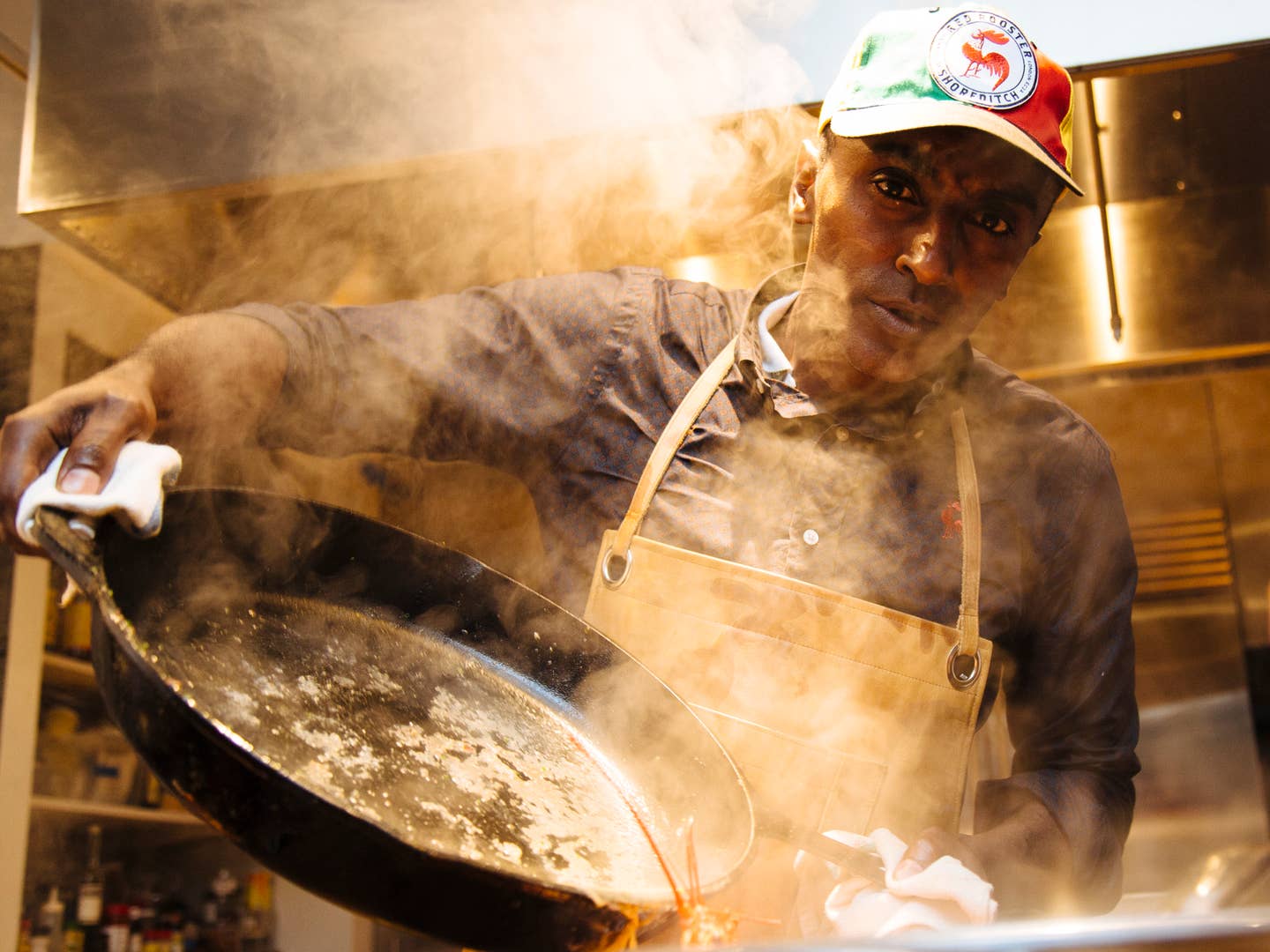 Culture
Marcus Samuelsson Brings Harlem Downtown
Celebrating a new cookbook—and a whole neighborhood
When Marcus Samuelsson celebrates Harlem, he doesn't hold back. On Thursday, Samuelsson celebrated the release of his new Red Rooster cookbook (Rux Martin/Houghton Mifflin Harcourt, October 18) in style at Saveur's test kitchen, but it was far from a normal Saveur supper. The fashionable Lana Turner brought pieces from an installation at Samuelsson's Red Rooster restaurant in Harlem, featuring clothing she designed herself. Rooster insignia and Chuck Taylors were everywhere, and the bathrooms were even outfitted with TVs.
Then there was the live entertainment. Guests were treated to the soaring, powerful sound coming from the Vy Higgins Gospel Choir from 126th Street in Harlem—those singers reached octaves that probably hadn't existed until that night. They were accompanied by the Rakiem Walker Project, a band that played tirelessly for the entire night and filled Saveur's office with blistering sax solos and drum riffs. And breakdancing group Waffle NYC shocked everyone with their dance moves and frighteningly flexible joints.
But Samuelsson really brought his perspective on Harlem through his food. Guests ate deviled eggs and cornbread with cocktails, and the first course included gravlax and charred octopus, followed by enormous pots of steaming hot Harlem chowder and grilled bread. The main course included whole fried chicken and Samuelsson's famous Obama short ribs, served up with a side of spicy collards and Ethiopian doro wat with chicken liver and soft eggs.
As guests dug into piles of honey-drizzled fried chicken and buttery biscuits, a few Harlem residents—some natives and some who have come to call the borough home—stood to talk about what Harlem means to them. One man who has lived in Harlem for 50 years said that art and culture in the neighborhood have always been vibrant. "This is nothing new for me, to see this in Harlem," he explained, saying that people in art and entertainment came to Harlem to "make it." Another long-time Harlem resident described it as "one large community that included everyone," not just musicians and entertainers, but also subcultures that became part of Harlem's larger culture.
These subcultures and intricacies in Harlem's makeup are evident in Samuelsson's cooking, and a focal point of his cookbook. And his work in the Harlem community isn't lost on residents; as one pointed out, "Marcus is keeping Harlem alive."