Recipes
Marinated Anchovies with Candied Citrus, Pickled Raisins, and Chile
Serves

serves 4-6

Cook

30 minutes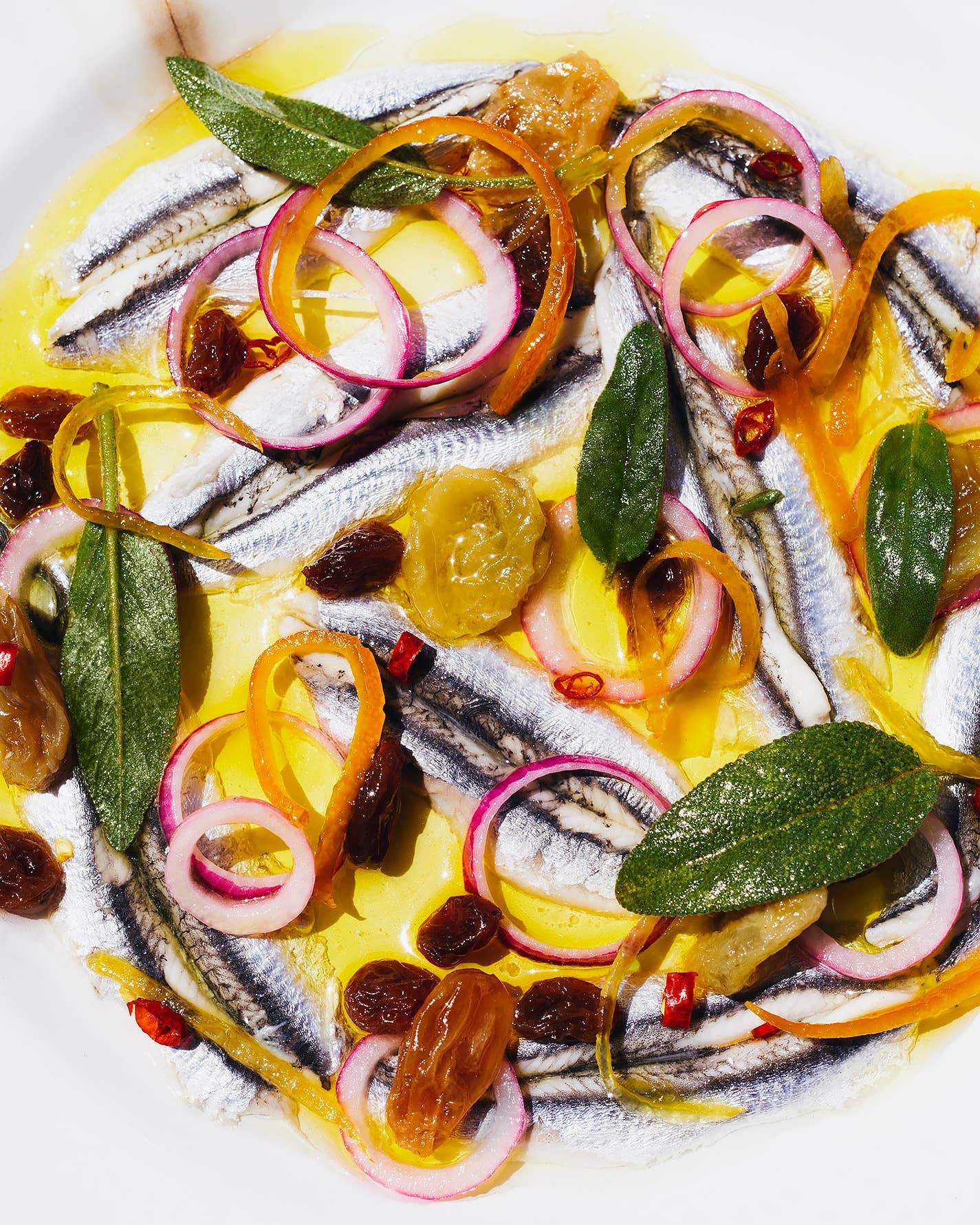 Chef Giorgia Goggi, a self-­proclaimed anchovy lover, marinates her own fillets and sun-dries raisins from local grapes to make this delicate sweet-sour dish. Store-bought marinated anchovies work perfectly well, and when they're soaked in the dish's pickling liquid, even grocery-store raisins will take on a juicy plumpness.
Ingredients
3 tbsp. dry white wine
3 tbsp. white wine vinegar
1⁄2 very small red onion, such as cipollini, thinly sliced (½ oz.)
1⁄4 cup raisins, golden, brown, or a mix
10 sage leaves
1 garlic clove, smashed
1 Calabrian or red Thai chile, very thinly sliced
1 tbsp. plus 1½ tsp. fresh lemon juice (from about 1/2 a medium lemon)
Kosher salt
4 oz. marinated white anchovy fillets
2 tbsp. extra-virgin olive oil
2 tsp. finely sliced candied citrus peel
Instructions
Step 1
In a small saucepan over medium heat, add the white wine and vinegar, and bring to boil. Add the onion, raisins, sage, garlic clove, and chile, then immediately remove from the heat and set aside to cool to room temperature. Once cool, add the lemon juice and season with salt.
Step 2
Drain the anchovy fillets, discarding their marinade. On a large serving platter, arrange the fillets, then sprinkle evenly with the prepared onions, raisins, sage leaves, and chile to taste (discard the garlic). Drizzle the plate liberally with extra-virgin olive oil, then finish with a few drops of the pickling liquid and slivers of candied citrus peel. Serve at room temperature.