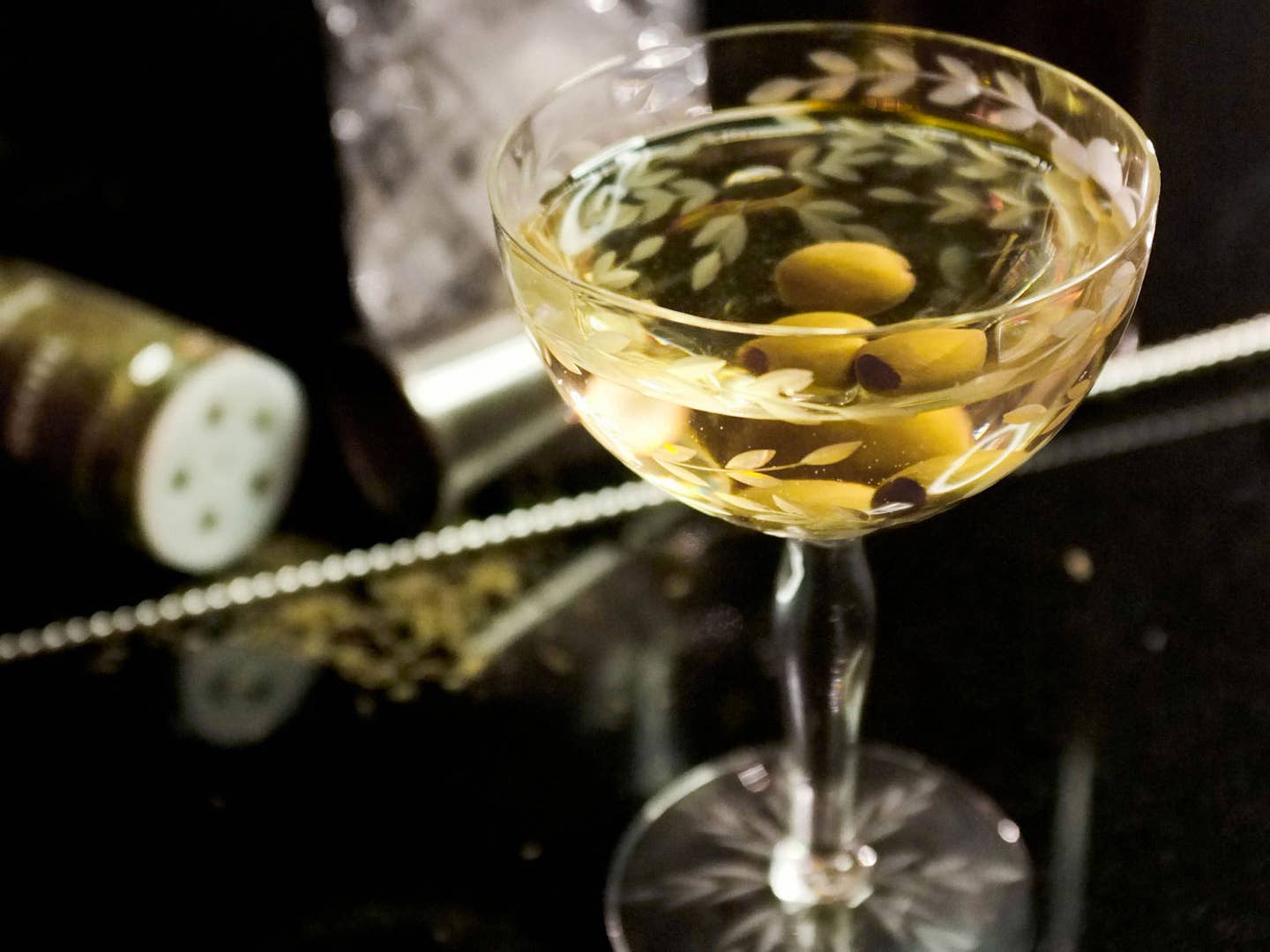 Drinks
The SAVEUR Martini Guide
Everything you need to know about the most classic of classic cocktails: Where to seek one out, and how to make the perfect one at home.
Of all the classic cocktails, the martini deserves the top spot. Its streamlined simplicity—at its heart, it's just gin and vermouth—its eponymous V-shaped glass, and its enduring place in pop culture has earned the drink its iconic status.
More than a century after its creation, this uncomplicated cocktail continues to captivate us. We love to debate the proper ratio of gin to vermouth, ranging from the "reverse martini"—a glassful of vermouth, with just a splash of gin, as Julia Child famously preferred—to "just [a] bow in the direction of France"—Winston Churchill's wry request for a chilled gin, hold the French vermouth.
The martini continues to be more than just a drink. No wonder journalist H. L. Mencken was moved to declare, "martinis are the only American invention as perfect as a sonnet."
How to Make a Classic Martini
When and where was the martini invented? Who was it named for? Grab a martini glass to learn more about this storied sipper.
1880-1910s: The Martinez vs. The Martini.
As with many alcoholic beverages, the early history of the martini is a muddled one. According to some historians, the Martinez (Old Tom Gin, sweet vermouth, maraschino liqueur and bitters) was the
forerunner of the martini, created in gold rush-era California in the 1880s—certainly, many of the first published references to the martini/Martinez date to this period. Yet others claim that a New York bartender created it in 1911. Further complicating the origin story, Italian vermouth maker Martini (now Martini & Rossi) started marketing its product in 1863.
1900s: The martini dries out.
Although early martini variations relied on lightly sweetened Old Tom Gin, as distillation methods improved, drier gin grew in popularity, closer to what we call London Dry-style gin today. By the 1900s, the Martini recipe had evolved closer to what it is today: gin, vermouth (though still often sweet vermouth) and bitters, often orange bitters. Specifying a "dry martini" usually meant London Dry gin specifically, dry vermouth, too. Many cocktail books from the early 1900s include recipes for both "Martinis" and "Dry Martinis."
1920-1933: Prohibition changes the game.
The advent of Prohibition didn't prevent Americans from drinking—but it certainly did force them to drink differently. Buying and selling liquor was illegal; having liquor was legal. As a result, "cocktail parties" in private homes became a popular pastime, while underground speakeasies accommodated many other drinkers. As whiskey became harder to obtain (and distill, and age), gin grew in popularity. Of course, much of this was so-called "bathtub gin," an un-aged base spirit with juniper extract added to hide harshness or impurities.
1940s: Silver screen idols popularize the martini.
When Prohibition was repealed in 1933, Americans breathed a sigh of relief. But had the public forgotten how to make a good martini? The celebrities of the day provided plenty of direction, and martini glasses became a key accessory in many of black & white films of the era.
1950s-1960s: Vodka martinis make the scene.
You can thank fictional spy James Bond for popularizing vodka in the martini glass. In print, one of Bond's first signature drinks was the Vesper, described in *Casino Royale* (1953): "Three measures of Gordon's [gin], one of vodka, half a measure of Kina Lillet. Shake it very well until it's ice cold, then add a large slice of lemon peel." But it wasn't until the 1962 film *Dr. No* that Bond famously asked for vodka martini, "shaken, not stirred."
1980s-1990: Flavored "martinis" ascend.
Thanks to an Absolut vodka advertising campaign featuring artwork by Andy Warhol and later, work by other art, music and fashion world icons, sales of vodka (and vodka-based martinis) surged. However, many of these 'tinis were flavored (i.e. the apple-tini) or given silly names. The stemmed cocktail glass was rechristened the "martini glass," and anything served in it, including existing cocktails like the Lemon Drop and the Cosmopolitan, were categorized as martinis. "Martini Menus" and martini lounges became increasingly common.
2000s-present: The classic martini renaissance.
Classic martini resurgence. In the early 2000s, craft cocktail bars in New York City, such as Milk and Honey, Employees Only and Pegu Club, helped spark interest in pre-Prohibition cocktails like the martini, and the history behind it. Meanwhile, spirits producers, importers and others responded to requests to bring back "lost" ingredients (like Old Tom gin) to help re-create nearly-forgotten drinks. Among these cocktail dens, gin and whiskey often took the spotlight; some refused to carry vodka at all. Alongside scores of Manhattans, Sazeracs and Negronis, the classic martini was restored to pre-Prohibition glory.
Note: credit is due to historians Robert Hess for his research on the history of the Martini and Patricia Herlihy for her research on the history of vodka.