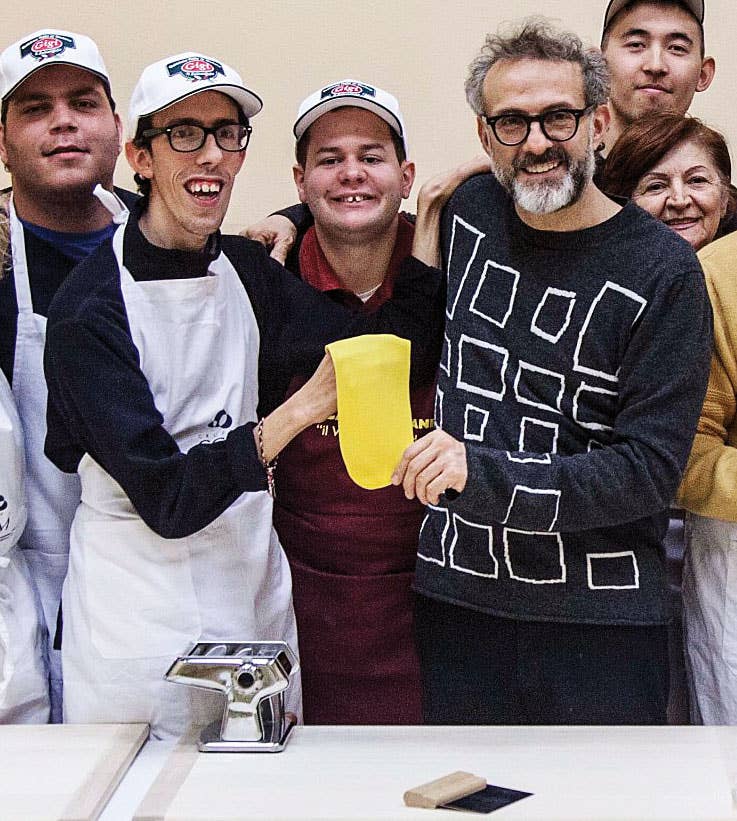 Culture
Massimo Bottura's Special-Needs Program Teaches Life Skills Through Tortellini
The Tortellante project works with neuroatypical kids to practice teamwork while sustaining an ancient tradition
The north-central Italian town of Modena has produced Enzo Ferrari and Luciano Pavarotti, as well as some of the most iconic Italian foods, like balsamic vinegar, Bolognese, Parmigiano-Reggiano, and the classic stuffed pasta, tortellini.
When it comes to making tortellini, a Modenese tradition dating to the 16th century, there is no room for improvisation. The dough must be rolled out to a precise thickness, divided evenly, and worked quickly or it will dry and crack. Proper folding requires practice and exacting movements. You wouldn't think of this as child's play.
But the kids of the Tortellante project do. With the help of a group of volunteers, mostly grandmothers, aunts, and family friends, these special-needs teenagers and young adults are mastering the art of tortellini. The experimental after-school program was launched last year with the aim of bringing young people with various disabilities together—not just to learn a new skill but also to create an opportunity for socialization and interaction with the community at large. In Emilia-Romagna, the masters of egg pasta are called rezdore. These women are our gatekeepers of secu­lar knowledge and culinary traditions. Volunteer rezdore, often retired, are the cornerstone of the Tortellante project, sharing skills and gestures mastered over many years.
My husband, Massimo Bottura, and I, together with our 16-year-old son, Charlie, a Tortellante himself, initiated the project as an extension of our experience with interns at Osteria Francescana, our restaurant in Modena. Over the years we noticed that chefs were only interested in learning contemporary culinary techniques with little regard for the traditional recipes. So, a decade ago, we began recruiting interns on Mondays, our closing day, to learn from Lidia Cristoni, the rezdora who taught Massimo how to make tortellini. At Lidia's table, young men and women from all over the world embrace the old, slow techniques. Just as important, they practice collaboration and teamwork.
We weren't sure what to expect on that first day of Tortellante class. But there they were at the end of the three-hour session: tortellini, far from perfect or evenly sized, but enough of them to split between all the kids. This meant that everyone brought home a container of fresh pasta. That simple formula—making something that could be enjoyed immediately by everyone in the family—is what sealed the deal.
The kids returned determined to make better and more tortellini. The frequency of classes increased from one to five sessions a week. Today the project is taking an interesting turn. From an after-school activity, Tortellante will open its own pasta shop and laboratorio in September of next year, offering apprenticeships and job opportunities for special-needs young adults during the day, and a recreational space for socialization and tortellini training in the afternoon for students.
There are many lessons to be learned by mastering a classic gesture like making tortellini. And at a time when even young chefs need to be reminded of the importance of rolling pasta by hand, the kids at Tortellante are part of the solution to keeping the Modenese culinary tradition alive.