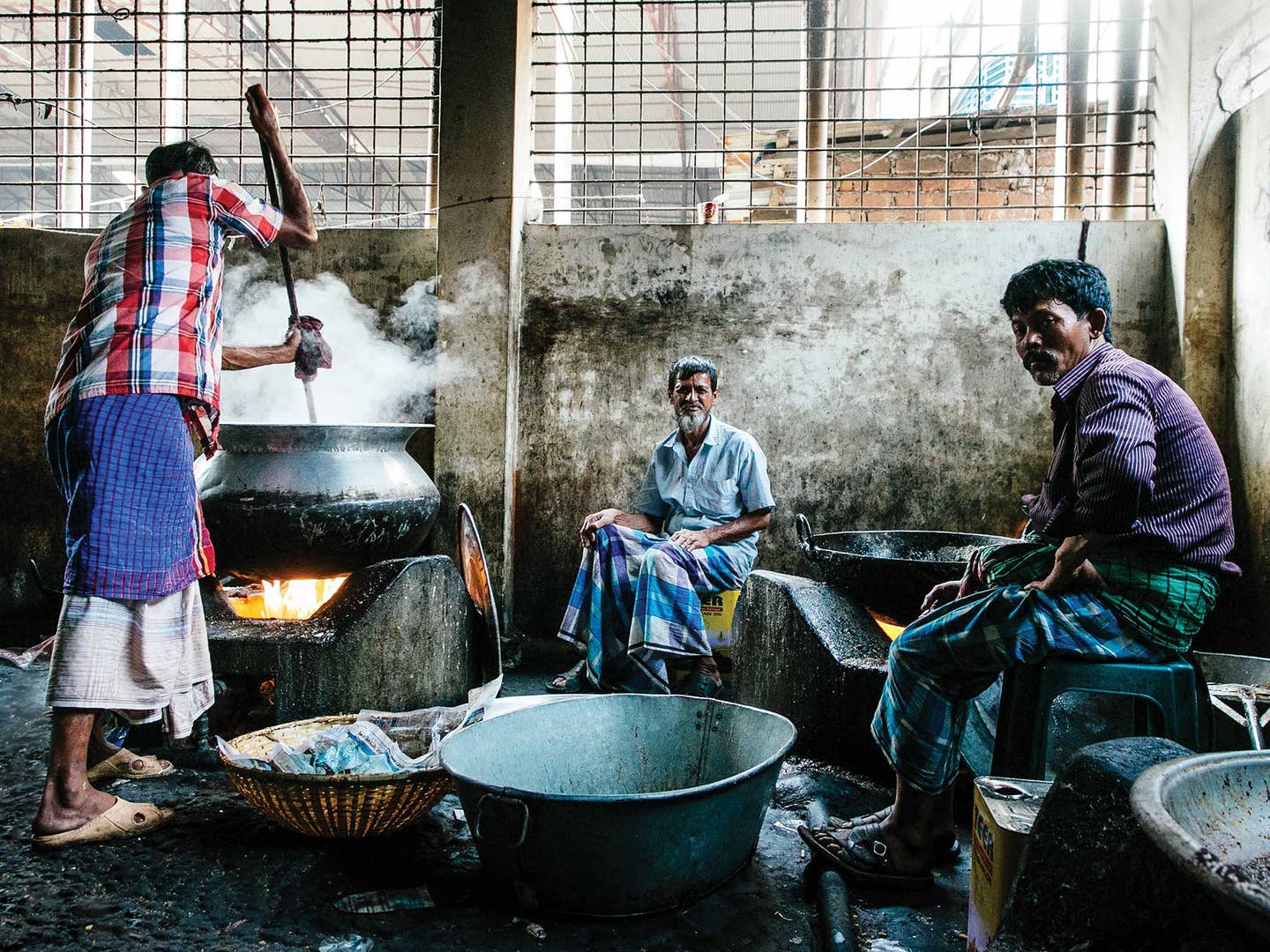 Travel
A Wedding Feast for 4,000 in Bangladesh
Photographer Tanveer Badal captures a week-long celebration with curry and rice for a quadruple-digit crowd
Charail, Bangladesh, February 21, 2015: It was a balmy Saturday, and red and green twinkle lights were strung up on my cousin Shawon's house and all along the length of his block. For a week, my uncle, a prominent political figure in this village in central Bangladesh, had been throwing a wedding for Shawon, his only son, and today was the biggest celebration of them all. Nearly 4,000 guests were expected.
Bangladeshi weddings are traditionally huge, weeklong affairs. The seventh day is always the grandest with nearly the whole village partaking in festivities. Drivers were hired to transport family and friends in luxury vans to the reception. A team of men, known in Bengali as baburchis, prepared the gigantic meal over the course of several days. The dry, warm weather at this time of year means three or four such celebrations might take place every week—and that's just in the village of Charail. Every day, all season long, these cooks and servers expertly execute enormous feasts, some helpers even sleeping at the venue overnight in between frantic, daylong sessions of dicing onions.
The feast began with richly spiced curries, chicken, and piles of rice flooding the tables. This was only the beginning. The baburchis are quick with turnaround, serving food and clearing plates in shifts so that everyone gets a chance to sit and eat—even those few interlopers who feign a connection to the bride and groom so they can be admitted. When my cousin and his bride, Anika, finally arrived, the immediate family sat for an even more extravagant feast: fried fish, colossal prawns, and whole roasted goats served alongside salads, biryani, and sweet fried gulab jamun for dessert.
It can all seem a bit excessive—the endless food, the elaborate decorations, the teams of baburchis—but it's a point of tremendous pride to hold a celebration that the community will remember for generations to come. And for that, there's no expense too great.