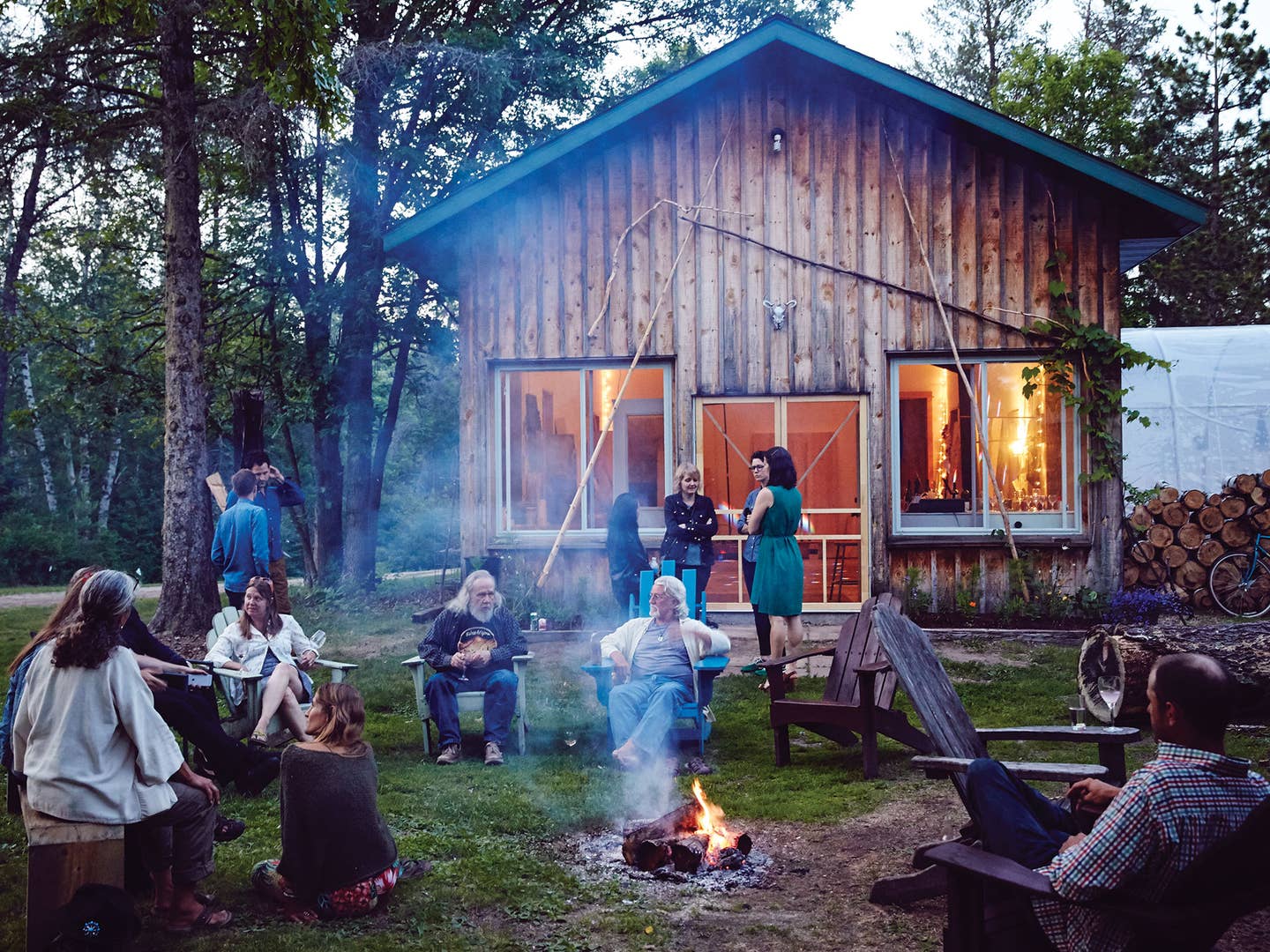 Culture
A Midwest Dinner Party With Author Amy Theilen
Amy learns the value of laid-back entertaining and garage parties
Entertaining. As much as I love to do it, I dislike the word itself. It sounds so matronly—saying it out loud makes me break out in polka dots of cold deviled quail eggs. Hospitality is just as buttoned up, but a step better because it contains the suggestion of generosity, which is really what throwing a party is about. My social contract is pretty simple: I make way too much food and invite too many people, and in turn they bring too much wine and we stay up too late. I provide the dinner, and they, en masse, provide the din that soothes my excess-loving soul.
When my husband, Aaron Spangler, and I moved back home to rural Minnesota after nearly ten years of living in Brooklyn—swapping a small apartment on a hopping urban street corner for a rustic house on 150 acres of lonely Northern wilderness—we started having more parties. It happened naturally: Inviting a throng to drive down our snaking dirt road was a consequence of our sudden rural isolation and our newfound space.
Not that we didn't throw lots of parties in the city. I'd regularly set out buffets for 20 on our tiny kitchen counter. Having cooked on the line at restaurants for years, I expected to keep up my game at home, which meant my party food was either derivative of the restaurants I cooked in (shallots confited in red wine sauce—delicious but fussy) or channeled someone else's more storied rural roots (smoky Southern-style pork butt). I rarely served Midwestern food, which I thought of at the time as stodgy and stuck in the past. (I have since become one of its fiercest advocates.) Back then I dreamed about throwing classy parties—proper ones with champagne in flutes, individual appetizers, two to three courses, and well-behaved children. That dream died fast and, truth be told, painlessly, when I moved back to Minnesota. Any guests who come with expectations of haute cuisine stand corrected when they arrive to find me still peeling carrots, kicking the oven door shut with my house mocs, and taking breaks to sip a cocktail as I pound out a sauce in my mortar.
No matter how ambitious the dinner, I always lean on my Midwestern roots and serve the food in a single buffet line. Buffets comfort me, and not just for their convenience, or because the word rhymes with duvet. A buffet reassures me that no dish—especially something foundational like rice or, in this case, polenta—will languish, cooling, at some talkative someone's elbow. Not to be a nag, but I like to see the dishes erode and disappear evenly. Buffets give good sight lines, easing the fears of even the most fretful of cooks. To read my tips and tricks to throwing you best buffet-style party, head here.
No matter what mood I'm currently chasing, I stick with a casual format, having learned that failures of the informal approach are few. As long as the food contains some ambition, some evidence of striving, the nonchalance of everything else balances out. If you like to cook, it's easy: Fixate all your obsessions on the food and let the rest of the details slide. The few times I've really tried to cover all bases of hospitality—neurotically over-tidying, or ironing cloth napkins—I've lost sight of the food. I remember sitting beneath my own gray storm cloud at the table, trying not to deflate the party by saying something derisive about the wiry duck tendrils on my plate that had turned to frizzle over too-high heat. Suddenly it didn't matter that all those flat napkins matched. When the duck went down, it took my fancy dreams with it.
Though I used to try to control the scene, now I let things happen. Blame it on middle age or becoming a mom, but I've given up on trying to herd people. When I have a party, I let them wander where they may, and I've found that guests at our house tend to follow the fire. The congregation that begins in the kitchen around my working burners often moves after dinner to Aaron's studio, where folks idle happily around the wood stove like bugs around a late-night lightbulb. Naturally, it makes sense sometimes to just throw the party in the garage, as we're doing today.
Aaron's studio is actually more hive than garage. Here he makes sculptures—some freestanding 3-D pieces, some bas-reliefs that hang on the wall—from local basswood. The studio is filled with chunks of wood in various states of creation and demise, not least of which is an enormous basswood log that he'll peel and cut into long curling cylinders. Freshly glued-up basswood panels line the walls, and the wood chips litter the ground, making a shuffly foot mulch as reassuring as peanut shells on the floor of a dive bar.
I'm still fine-tuning the menu, which changed several times according to my mood and what I had available in the garden. The meal that eventually emerges is not what most people would peg as typically Midwestern, and it is composed of locally sourced ingredients, some so local I pulled them from the front yard. Buffet-friendly but full of competing personalities, these dishes have no pre-planned seating chart: They can mingle on the plate like old acquaintances.
I've intended the parsley bagna cauda to be eaten with the jumbo roast of slow-cooked pork, but I won't mind if the fleecy green sauce slides into my mound of wild rice-flecked polenta. And the grilled leek tops and greens come with their own sauce, a slick of bright red chile-garlic business, but if it rubs up against the pork, that's okay, too. The shredded turnips got an unexpected grape vinaigrette when I ran out of lemons, started looking around for replacement acidity, and found a few conveniently unripe grapes hanging on the vine. I don't know if they'll ever mature into a drinkable juice, but for now I'm excited to have found a cool use for the sour verjuice. As is traditional at a Midwestern feast, there's so much food that the salad can hardly fit on the plate. (The more civilized among us will go back for it after clearing some real estate and eat it last, as Europeans do.)
The reality of dessert is that some folks only want another drink (hummingbirds after nectar!) and some will wait patiently for a solid confectionary to arrive. Eventually it does: The fermented berry juice that sat for days in my back pantry, growing fizzier and tarter and ever more purposeless, finally finds its calling in a pretty little ice cream float topped with a cap of homemade marshmallow crème, its silvery pompadour like a space-age antidote to all of this garden goodness. Conveniently, because we're in the woodshop, a handy-dandy blowtorch sits by the stove, so I put it to use brûléeing the meringue float tops.
Hot and cold, fancy and gritty, airy and dense, sweet and tangy—all the contrasts that work in a successful dessert work for a party, too. Polarity can be liberating; it creates some space into which the unexpected can flow.
My restaurant professionalism is fading as quickly as the dawn stars in the sky. I am now a domesticated home cook. I have a designated "cracker bowl"; an appetizer means a hastily made dip that soon wears the tracks of a sledding hill; we always run out of wine glasses and have to use the jelly jars; and the kids are never quiet unless they're suspiciously quiet.
The garage party confirms the weird theory I lit on when I moved back home: The deeper you move into the country, the farther the party travels from the formal heart of the house. Fancy dining rooms give way to bright kitchens, and when you get to really rural areas such as ours, you find people accustomed to throwing parties in cement-floored shops and garages. Now that I've logged time here, I get it: When the meter dips to super-casual, the social-barometric pressure falls. It might seem like this kind of informality is one lazy lady's excuse, but I don't think so. When it comes to dinner parties, a lack of rules in an unconventional space feels rather electric.
And just when all this extreme informality begins to sound dangerously close to a set of commandments, remember that party rules work best when they are noted but then subversively trespassed—which also applies to the rules of English grammar. So iron your linen napkins if you must, but remember: Parties are fun, but parties in the garage are always funner.