Recipes
Super-Quick Minute Steak
Our favorite no-fuss one-pan sirloin.
Serves

serves 1-2

Cook

15 minutes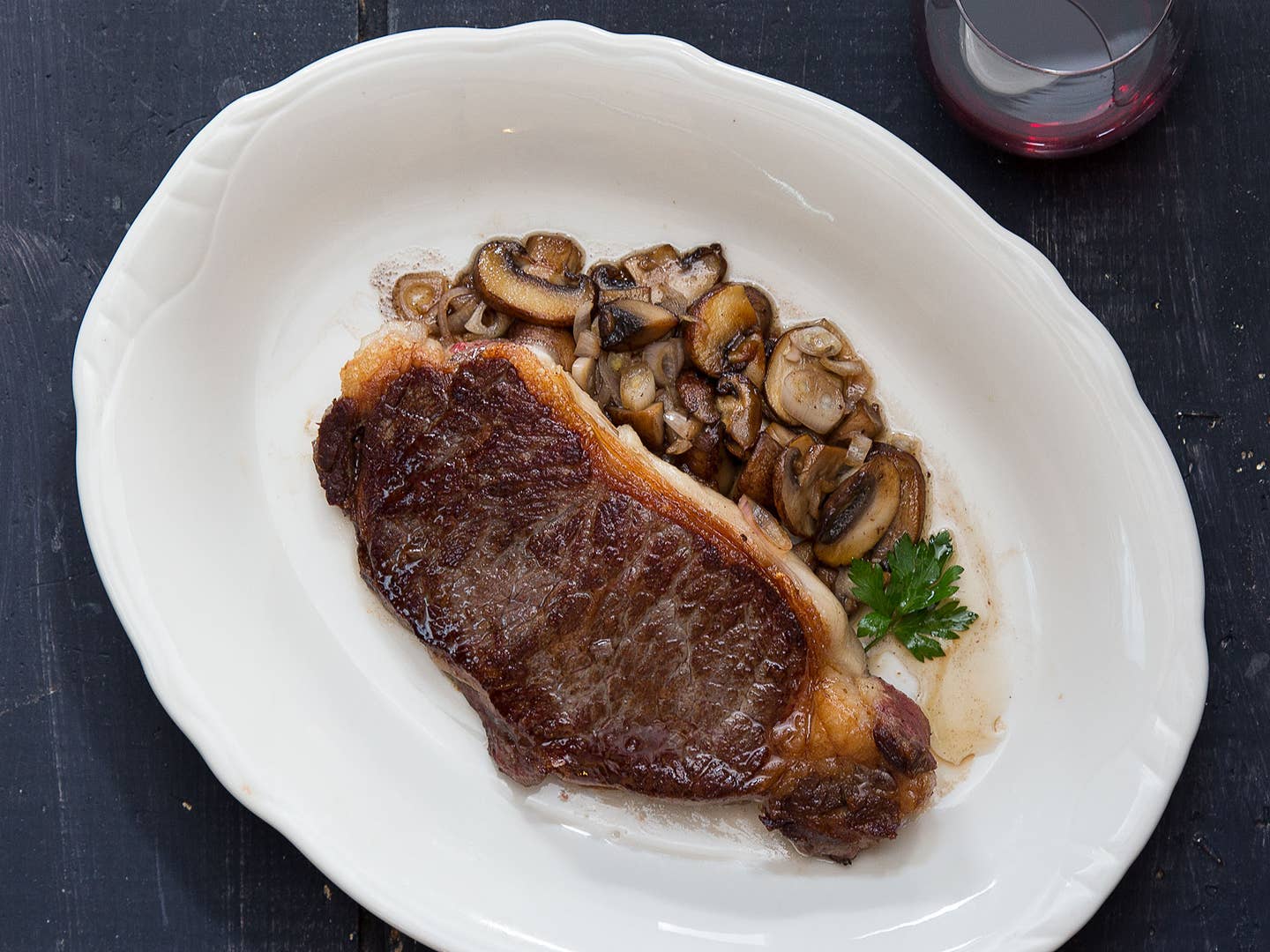 This pan-grilled sirloin was adapted from French scientist Édouard de Pomiane's Cooking in 10 Minutes (1930), a revolutionary quick-meal cookbook for its time, in which he writes, "Beef is excellently suited to Express-cookery, since it is delicious when it is served underdone." Use steak sliced no thicker than an inch to achieve a crispy crust and warm, pink center.
Ingredients
1 1-in. thick bone-in sirloin steak (about 1 lb.)
Kosher salt and freshly ground black pepper
1 tbsp. vegetable oil
2 tbsp. unsalted butter
1⁄2 lb. button mushrooms, trimmed and thinly sliced (about 3 cups)
1 small shallot, finely chopped
1 ¼-in.-thick ham slice, finely diced
Lemon wedge, for garnish (optional)
Finely chopped parsley, for garnish (optional)
Instructions
Step 1
Season the steak generously with salt and black pepper. To a medium cast-iron skillet set over high heat, add the oil. When it's hot and shimmering, add the steak. Cook, turning once, until well browned on both sides, about 4 minutes per side for medium rare. Transfer the steak to a plate and tent with foil.
Step 2
Turn the heat to medium and add the butter, mushrooms, and shallot. Cook, stirring occasionally, until the mushrooms are lightly browned, about 5 minutes. Stir in the ham and cook until heated through, 30 seconds.
Step 3
To serve, discard the foil and scrape the mushroom mixture around the steak. Garnish with lemon wedges and parsley if desired.