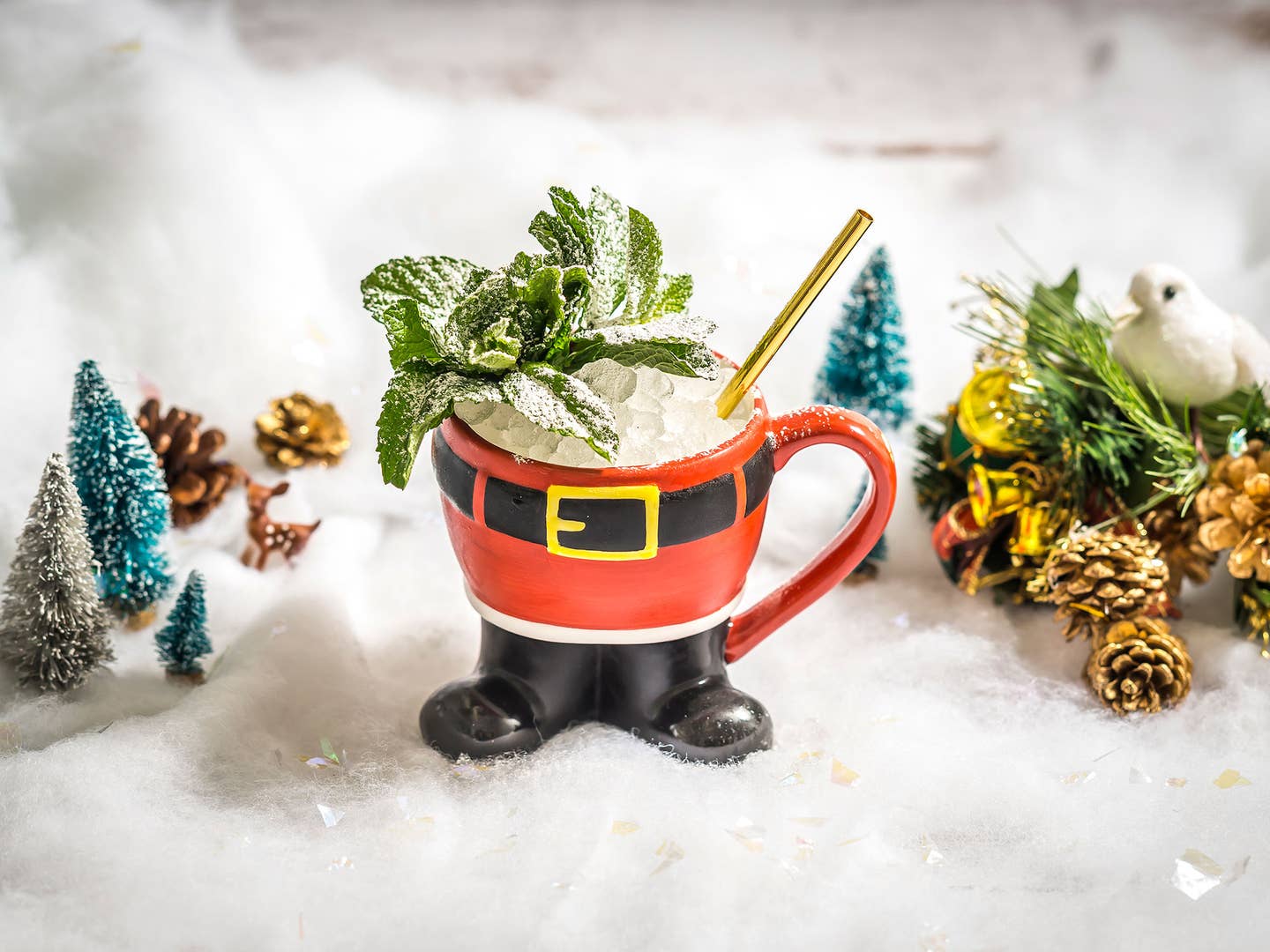 Drinks
Here Are All 51 Locations of the Holiday Cocktail Bar Pop-Up Taking Over the World in December
Raise a glass of Christmas cheer at any of the Miracle on Ninth Street or Sippin' Santa outposts across the globe
If the holidays are already feeling less like The Most Wonderful Time of the Year and more like open season on Big Capital, here's a way to reclaim some Christmas cheer: drinking it. That's the idea behind Miracle on Ninth Street, the annual Christmas-Hannukah pop-up devised by Greg Boehm, Joanna Spiegel, and bartender Nico de Soto of New York City bar Mace—with Christmas lights, costumed bartenders, and all. In its fourth annual iteration, Miracle on Ninth and its tiki-themed sister Sippin' Santa's Surf Shack are expanding to over 50 bars and restaurants around the world.
That means you can drink the very same drinks from the very same menu whether you're in Raleigh, North Carolina at The Haymaker, Paris at Glass, or Hong Kong at Lily & Bloom. Those universally available cocktails include the Snowball Old-Fashioned, stirring gingerbread bourbon with wormwood bitters, the gin-and-sage–based How The Gimlet Stole Christmas, and the Run Run Rudolph made with tequila, coffee liqueur, iced hot chocolate, and Mexican spices.
On an individual level, some of the bars are offering additional celebratory elements to show off local flavor: Miracle at Mystic Station in Malden, MA is hosting a "Dean Martin, Get Nogged, Ugly Sweater, Christmas Karaoke Holiday Extravaganza" party on December 9th, and the Miracle at Highland Brass Co. in Waterbury, CT will open early on Christmas Eve morning and do a "Kegs N' Eggs" event where they accept toy donations for local underprivileged youth.
Ready for festive drinks served in Santa head mugs, Christmas coconuts, Miracle coupe glasses, and more? From now until Christmas Eve, visit a Miracle or Sippin' Santa near you to drink your holiday cheer (list to be updated as final bars are confirmed):
Asheville, NC – Miracle on Wall Street (at MG Road)
Athens, Greece – Hosted at The Trap
Atlanta, GA – Miracle on Monroe (by Big Citizen)
Atlanta, GA – Miracle Two (by Big Citizen)
Austin, TX – Miracle on 5 th Street at The Eleanor (by The Roosevelt Room)
Baltimore, MD – Miracle on Magothy Beach (at Mutiny Pirate Bar & Island Grille)
Cambridge, MA – Miracle at Kimpton Marlowe (Lobby Bar)
Charleston, SC – Miracle on East Bay Street (at The Gin Joint)
Chicago, IL – Sippin' Santa (at Lost Lake)*
Cincinnati, OH – Miracle at The Overlook Lodge
Cleveland, OH – Miracle at The Spotted Owl
Delray Beach, FL – Miracle on Delray Beach (at Death or Glory)
Denver, CO – Miracle on Little Raven (at Wayward)
Detroit, MI – Miracle at The Skip
Fort Worth, TX – Miracle in Cowtown (at Proper)
Hong Kong – Hosted at The Lily & Bloom
Los Angeles, CA – Miracle on Sante Fe (at Westbound)
Louisville, KY – Hosted at Rye
Madison, WI – Miracle on King Street (at Lucille)
Malden, MA – Miracle at Mystic Station
Milwaukee, WI – Miracle at The Outsider
Minneapolis, MN – Miracle at Lawless
Montreal, Canada – Hosted at Nexus Bar
Montreal, Canada – (Deluxe version)
New Orleans, LA – Sippin' Santa (at Latitude 29)*
New York, NY – Sippin' Santa (at Boilermaker)*
New York, NY – Miracle on 9 th Street (at Mace)
New York, NY – Miracle on the Harbor (at Pier A Harbor House)
Orlando, FL – Miracle on Orange (at The Courtesy Bar)
Panama City, Panama – Miracle on aMano
Paris, France – Hosted at Glass
Philadelphia, PA – Miracle at In The Valley (ITV)
Pittsburgh, PA – Miracle on Market (at The Original Oyster House)
Portland, OR – Miracle PDX (at Function)
Quebec, Canada – TBD
Raleigh, NC – Miracle at The Haymaker
Rio de Janeiro, Brazil – TBD
Sacramento, CA – Miracle on 21 st Street (at The Red Rabbit Kitchen and Bar)
San Diego, CA – Hosted at Polite Provisions
San Francisco, CA – Miracle PCH
Sao Paulo, Brazil – TBD
Seattle, WA – Miracle on 2nd (at Rob Roy)
Sherbooke, Canada – TBD
Springfield, MO – Miracle on Walnut (at Missouri Spirits)
South Bend, IN – Miracle at The General (by Render Kitchen & Bar)
St. Louis, MO – Miracle STL
Tucson, AZ – Hosted at Elvira's
Washington, D.C. – Hosted at Mockingbird Hill
Waterbury, CT – Miracle at Highland Brass Co.
Winston-Salem, NC – Hosted at Bar Pina
Worcester, MA – Miracle at The Citizen
**Denotes a Sippin' Santa pop-up*