Miso Soup with Scallions and Shiso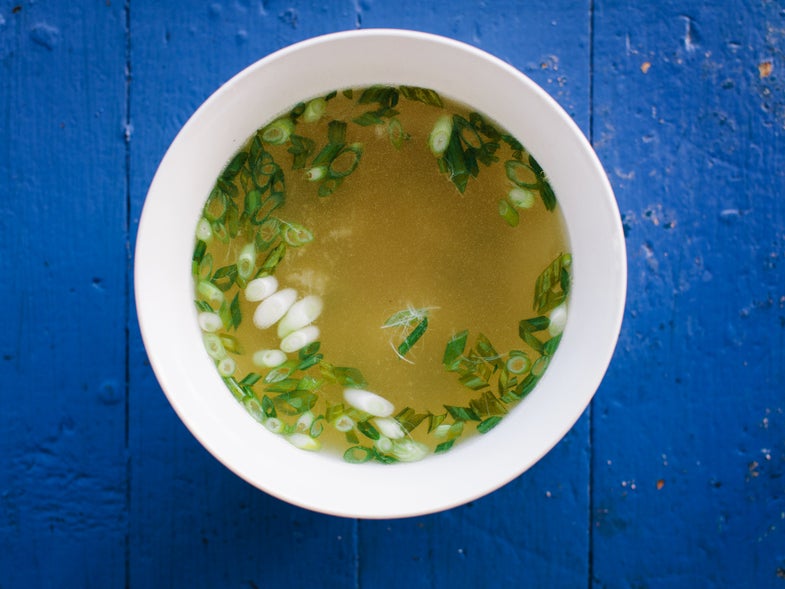 This clean-tasting, simple miso soup from chef Chris Fischer is made with dashi, a fish broth reinforced here with kombu and bonito flakes. Sipped from mugs in the cool summer evening hours, it makes the perfect starter to an al fresco dinner, or an easy portable soup for a beach picnic. You can substitute any small, white-fleshed, mild fish for the sea bass.
Featured in: A Gathering by the Sea
Yield: serves 4
Time: 40 minutes
Ingredients
1 whole sea bass (3/4 to 1 lb.), gutted, scaled, and rinsed clean
1 (2-oz.) sheet Kombu
6 cups water
3 cups Dried bonito flakes (1 1/2 oz.)
6 tbsp. white miso
Kosher salt
2 cups thinly sliced scallions
Shiso blossoms, to garnish (optional)
Instructions
In a medium saucepan, cover the bass and kombu with the water and bring to a simmer over medium heat. Cook the bass, skimming any foam that rises to the surface, until cooked through, about 10 minutes.
Using tongs, transfer the fish to a work surface and discard the kombu. Remove the pan from the heat and stir in the bonito flakes. Let the broth stand for 10 minutes. Meanwhile, using a fork, flake the meat from the bass into 1⁄2-inch pieces, and discard the skin and bones.
Pour the broth through a fine sieve set over a bowl and discard the bonito flakes. In a small bowl, stir the miso with 1 cup of the warm broth until dissolved. Pour the miso back into the saucepan with the remaining broth. Season with salt and keep warm over medium-low heat.
To serve, divide the scallions and fish among serving bowls and ladle over the warm broth. Garnish with shiso blossoms, if using, and serve while hot.