MOFAD and SAVEUR Join Forces for a Food Photography Exhibit
Called Feasts and Festivals, the exhibit showcases imagery from the SAVEUR archives to show how food plays a central role in gatherings around the world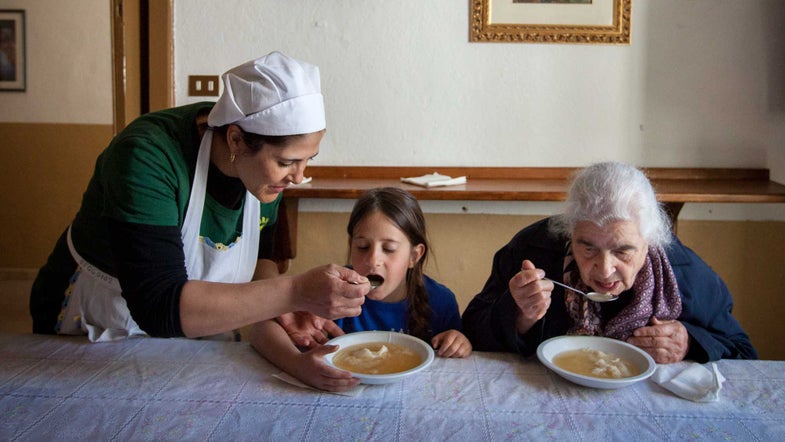 Last week, Saveur kicked off a three-month program series and pop-up photography exhibit with the Museum of Food and Drink (MOFAD). Called Feasts and Festivals, the photography explores food's central role in celebrations, religious festivals, and family traditions around the world.
To celebrate the opening, MOFAD hosted a festive Day of the Dead party in conjuction with the Mexican Cultural Institute that included a community altar that guests were encouraged to contribute photos of their deceased loved ones, Mexican hot chocolate from Hernan, bites from Roberto Santibanez's Fonda, pan de muertos from La Newyorkina, mezcal from Peloton de la Muerte, and bubbly from Champagne Taittinger.
Sorting through thousands of images in Saveur's archives to select twelve representing feasts and festivals around the world was no easy task. The result is a globe-trotting collection of moments ranging from a Buddhist monk's solo midday meal at a temple shot by William Hereford to a capture by our own Michelle Heimerman of a few of the four million women that pilgrimaged to Trivandrum, India to cook a sweet rice porridge as an offering to a Hindu Goddess.
Other more familiar holidays are also on display, from a food-filled wine festival that takes place on New Years Eve in southwest France shot by David Yoder to a [family breaking fast during Ramadan in the United Arab Emirates shot by Jason Lowe.
To view the exhibition, visit MOFAD's site for visiting hours and additional information on upcoming events in the program series.