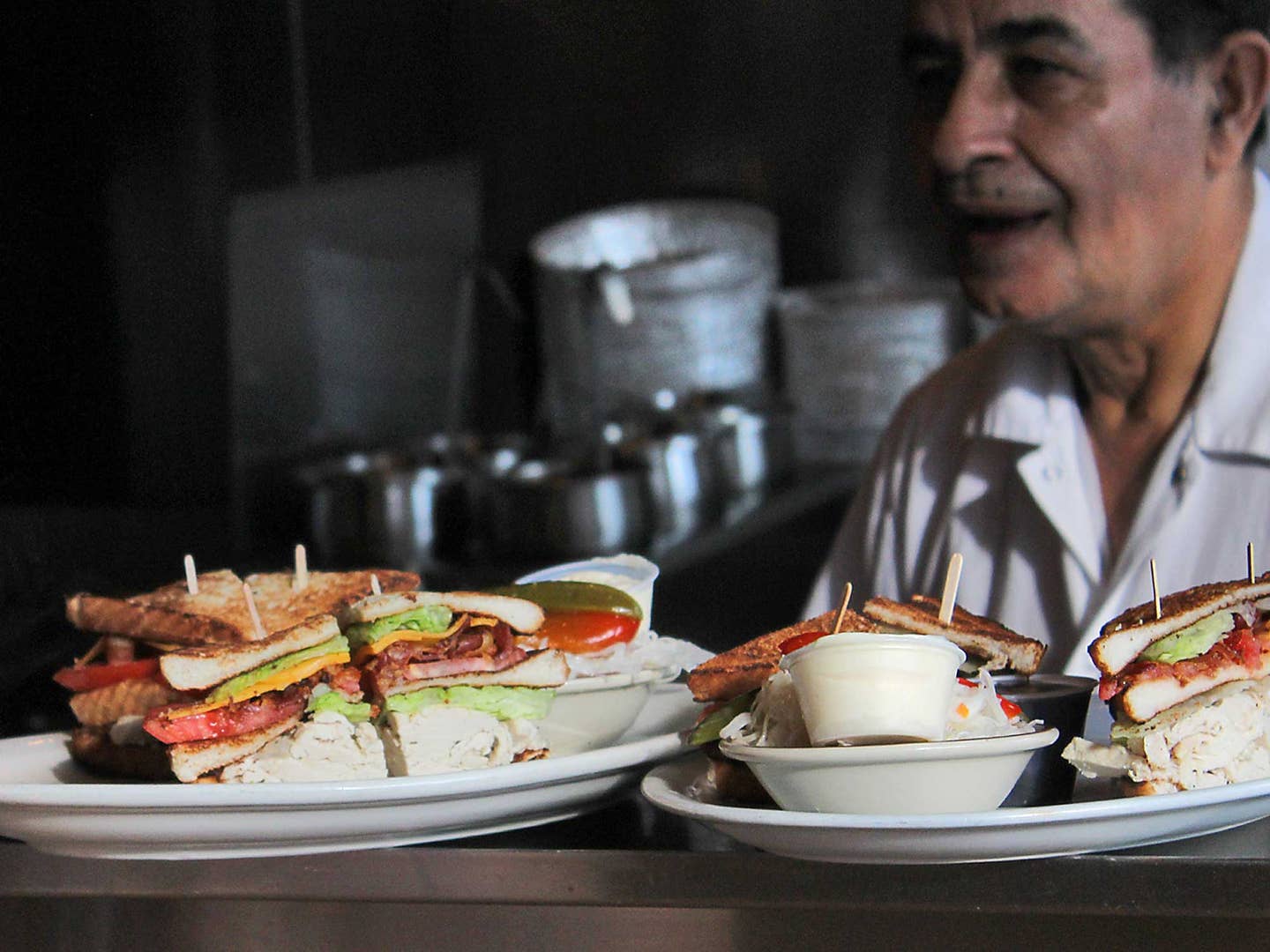 Travel
Inside Montreal's Unbeatable Diner Culture
Quebec's casse-croûte kingdom is one of the last great diner cities
Montreal, which famously has the largest number of restaurants per capita of any North American city, is many things to many people. It's the taste of salty confit de canard backdropped by cobblestoned streets. It's a deli haven with a beloved smoked meat tradition. And it's the casse-croûtes, the local diners and snack bars, that fill the gaps left between all other restaurants and champion the night after everything else has closed.
Casse-croûtes have a long and fond history in Montreal, which trace their ancestry from the city's varied cultural traditions. And they're everywhere: these all-purpose local hangs gather around the city's six universities and 12 junior colleges, and sit well-snuggled in the recesses of golden memory of anyone who has passed through Montreal.
You never have to travel far if, in a drunken haze, you find yourself jonesing for souvlaki piled high with garlic sauce, Jewish deli-style smoked meat, poutine, steamé hot dogs topped with mustard and coleslaw, a slice of pizza, or any combination of greasy breakfast stuffs. And at a time when greasy spoons across North America are facing harder and harder odds to stay open, Montreal has emerged as one of the last great diner cities.
There are plenty of reasons why Montreal's diner scene has succeeded where others have not. Until 2013, a long-held ban on street-food vendors and trucks meant that Montrealers looking for fast, cheap food were driven into corner snack counters for their food on-the-go. Many older casse-croûtes own the buildings in which they operate, and for those that don't, a slow-moving economy has meant stable commercial rents.
"The recession really gripped the city for much of the past three decades due to the political situation," says David Sax, an ex-Montrealer and author of Save the Deli, referring to an ongoing political instability that can be traced back to the '60s. "Until recently, it froze real estate prices in place." The same cannot be said of rapidly developing Toronto, or prohibitively expensive New York and San Francisco.
The casse-croûte is more than just an old fashioned place for burgers; it represents a culture that's distinctly Montreal. Sax calls the city's casse-croûte landscape "a reflection of modern Quebec", saying, "Every culture that comes in through that business leaves its mark, and every culture that comes in through that city leaves its mark, too."
Those cultures fuse seamlessly today; souvlaki is served with french fries; shredded smoked meat sits atop of a shimmering mound of poutine; fries ladled over with spaghetti sauce, cheese curds, and Italian sausage becomes poutine italienne, and a steamé topped with meat sauce and chopped onion is embraced as a Michigan hot dog.
You could say the only similarity between these foods, other than the relatively ease of preparing them, is that they're the kind of dishes that one would only consider ingesting if they were completely, fall-down, loaded off their faces. And this is the last key to Montreal's casse croûte success: their clientele, which hasn't changed much in the last century.
The waterfront and the former red light district came alive in these decades: neon panels were stacked, row by row, beckoning night owls into jazz clubs along St-Antoine and Notre Dame streets. Between the clubs, snack bars and cheap diners awaited, helping bar hoppers sober up before moving onto the next cabaret, gambling den or brothel. Diners became well known for their celebrity night owls: longtime Montreal residents still remember the regular sight of Leonard Cohen at Ben's, les glorieux Montreal Canadiens at Moe's Corner Snack Bar, and everyone else at Schwartz's.
By the '70s, a crime crackdown struck most of the sin from the city, but the formica diners remain, as do their hungry, sometimes hungover patrons.
Casse-croûtes still sit on every corner along Rue Notre Dame in Oscar Peterson's old neighbourhood of Little Burgundy, though their more illicit neighbours have vanished. On St-Catherine Street on any given weekend, groups of young Americans drive in from out of town to take advantage of the lower drinking age of 18, and to pop into decades-old strip clubs, stopping into Mr. Steer for a quick bite as they did 50 years ago.
They remain cheap sources of bacon and eggs, where you follow the crowd after a show at Club Soda, where you taste your first poutine and, decades later, have another one for the memories.
Five Casse-Croûtes You Need to Visit in Montreal
Wilensky's
Established in 1932, Wilensky's Light Lunch has earned a legendary reputation for its Wilensky Special, a salami and bologna sandwich topped with mustard in a flat kaiser roll, best paired with an old fashioned fountain soda. They moved down the street in the '50s, and since then, the only thing that's changed is their prices.
Wilensky's
34 Avenue Fairmount Ouest +1 514-271-0247
Orange Julep
Montreal's Olympic Stadium isn't the only Big O in the city. Also established in 1932, this three-storey-tall orange has made an indelible mark on Montreal's skyline since its carhop days, when aficionados would gather in the huge parking lot to show off their classic rides. They serve everything a casse-croûte should, from souvlaki to smoked meat-topped poutines, but they're most famous for the Orange Julep drink, a frothy orange beverage somewhat akin to an Orange Julius, but with a mystery recipe.
Orange Julep
7700 Boulevard Décarie +1 514-738-7486
La Belle Province
The most ubiquitous chain in Quebec, La Belle Province might not be most Montrealers' most nostalgia-draped diner, but its 125 strategic locations ensure that everyone has had at least one inebriated rendezvous with the instantly recognizable fluorescent orange gravy that tops its 26 kinds of poutine. Sometimes sketchy, often pretty and always cheap, you'll never find a more tempting offer than a $1.45 steamé hot dog at 3 a.m. after last call.
Déli Sokołów
A new player in town, Déli Sokołów has been open for a year and has settled comfortably among the trendy juice bars and upscale restaurants west of the train tracks in St-Henri. A Polish-inspired casse-croûte, Déli Sokołów's menu is total comfort for people looking for everything from Montreal Jewish deli fare, perogies and borscht, or just a scoop of strawberry ice cream. Their latke poutine isn't to be missed, and there are plenty of vegan and vegetarian options as well.
Montreal Pool Room
No longer a pool shark's haven, the 1912-established Montreal Pool Room is mostly known for its steamés and potates frites. Located in the former Red Light District (currently the Quartier des Spectacles) in the heart of downtown, it moved across the street in 2010 but you can still see the marquee lights emanating from the old Café Cléopatra strip club across the street.
Montreal Pool Room
1217 Boul St-Laurent
+1 514-954-4487