Carrots with Aleppo Pepper and Mint
Humble roots take on big flavor in this Mediterranean salad from chef Michael Solomonov of Zahav in Philadelphia.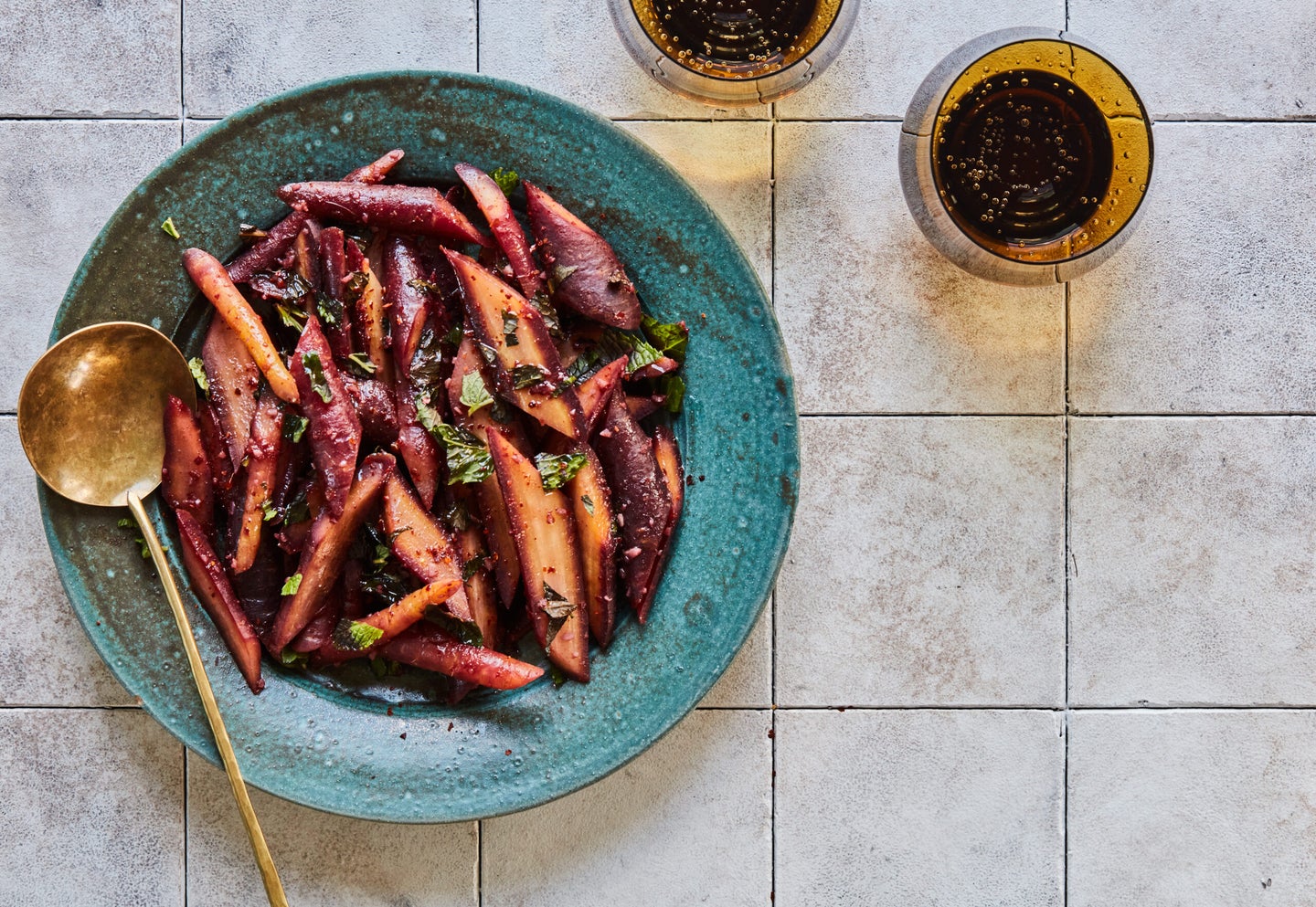 Fresh mint, Aleppo pepper, and cumin flavor this carrot salad from chef Michael Solomonov of Zahav in Philadelphia. The carrots' cooking liquid becomes a concentrated syrup when reduced, perfect for a subtly sweet dressing. Find all of our best carrot recipes here.
Featured in: "Eating Israel with Michael Solomonov."
Yield: serves 4-6
Time: 2 hours 30 minutes
Ingredients
1½ lb. heirloom carrots cut into 2-inch lengths, then cut lengthwise into approximately ½-inch pieces
Kosher salt
1 garlic clove, finely chopped
¼ cup olive oil
2 Tbsp. coarsely chopped mint leaves
2 Tbsp. fresh lemon juice
1 tsp. Aleppo pepper
1 tsp. sugar
1 tsp. ground cumin
Instructions
To a large skillet, add the carrots and cover with 1½ cups of generously salted water. Turn the heat to high, and when the water boils, cook the carrots, turning occasionally, until beginning to soften, 8–10 minutes. Using tongs, transfer the carrots to a cutting board, and when cool enough to handle, halve them lengthwise. (If using regular carrots, cut into quarters.) Transfer to a serving bowl and set aside.
To the skillet with the cooking liquid, add the garlic and cook until the liquid becomes syrupy and reduces to about 3 tablespoons, about 3 minutes. Remove from the heat and whisk in the oil, mint, lemon juice, Aleppo pepper, sugar, cumin, and salt to taste.
Pour the dressing over the carrots and toss to combine, then cover with plastic wrap and refrigerate for at least 2 hours before serving.