Recipes
Grilled Burgers With Mushroom and Onion Jam
Serves

makes 4 Burgers

Cook

30 minutes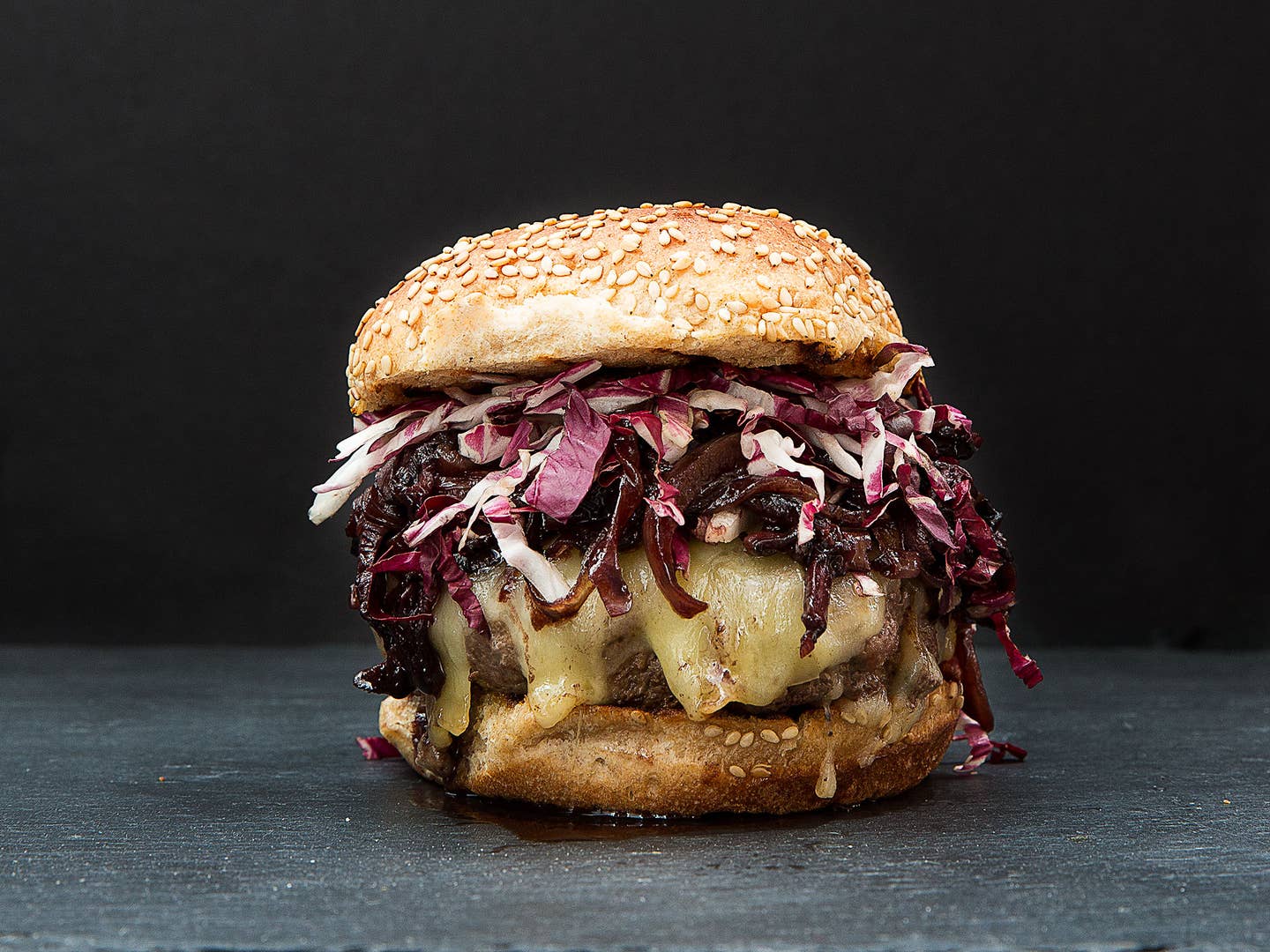 A hearty burger packed with nutty, melty Grueyere, deeply browned mushrooms and onions simmered in a red wine reduction, and crisp, bittersweet radicchio.
Ingredients
For the Onion-Mushroom Sauce
6 tbsp. LAND O LAKES® European Style butter, divided
1 small onion, sliced 1/8-inch thick, about 1 3/4 cups
Kosher salt
2 shiitake mushrooms, sliced 1/8-inch thick, about 1 cup
1 portabella mushroom, sliced 1/8-inch thick, about 2 cups
1 small shallot, minced
2 cups red wine
1⁄4 cup red wine vinegar
2 tbsp. heavy cream
1 tbsp. plus 1 tsp. brown sugar
For the Burgers
4 tbsp. LAND O LAKES® European Style butter, softened
4 burger buns
1 1⁄2 lb. ground beef (80% lean)
Kosher salt
6 oz. Gruyere, cut into 1/8-inch slices
1⁄2 small head of radicchio, thinly sliced
Instructions
Step 1
For the Sauce: In a large sauté pan, melt 2 tbsp. of butter over medium-high. Add onions and a pinch of salt and cook, stirring occasionally, until the onions turn light brown and very soft, about 7 minutes. Add 2 more tbsp. of butter and the mushrooms. Season with salt and cook, stirring frequently, until they turn tender and dark brown, about 3 minutes.
Step 2
Using a slotted spoon, transfer mushrooms and onions to a bowl and set aside. Add shallots to the pan and cook, stirring frequently, until they begin to soften and become aromatic, about 1 1⁄2 minutes. Add red wine, increase heat to high, and bring wine to a boil. Reduce wine to 1⁄2 cup, scraping the bottom and sides of the pan with a wooden spoon to loosen any browned bits, about 15 minutes.
Step 3
Add vinegar, heavy cream, sugar, and the remaining 2 tbsp. of butter, and continue to reduce mixture until it forms a thick sauce that clings to the back of a spoon and leaves a clean line when a finger is swiped across the back, 5 to 6 minutes. Stir in onions and mushrooms, season with salt, and remove from heat to set aside.
Step 4
For the Burgers: Heat a grill or a cast-iron grill pan over medium-high. Form meat into 4 patties slightly larger than the buns, press a slight indentation into the middle of each patty, and season heavily with salt.
Step 5
Using a spatula or butter knife, spread softened butter evenly on the cut sides of the burger buns. Grill burgers, flipping them occasionally, until cooked to desired doneness, about 10 minutes for medium rare. Melt 1 to 2 slices of cheese on each burger, then set aside to a clean platter to rest.
Step 6
Toast buns on the grill, cut-side-down, until they just turn golden, 1 to 2 minutes. Top with burgers, fat spoonfuls of onion-mushroom sauce, and radicchio.
Watch: How to Make the Ultimate Block Party Burger