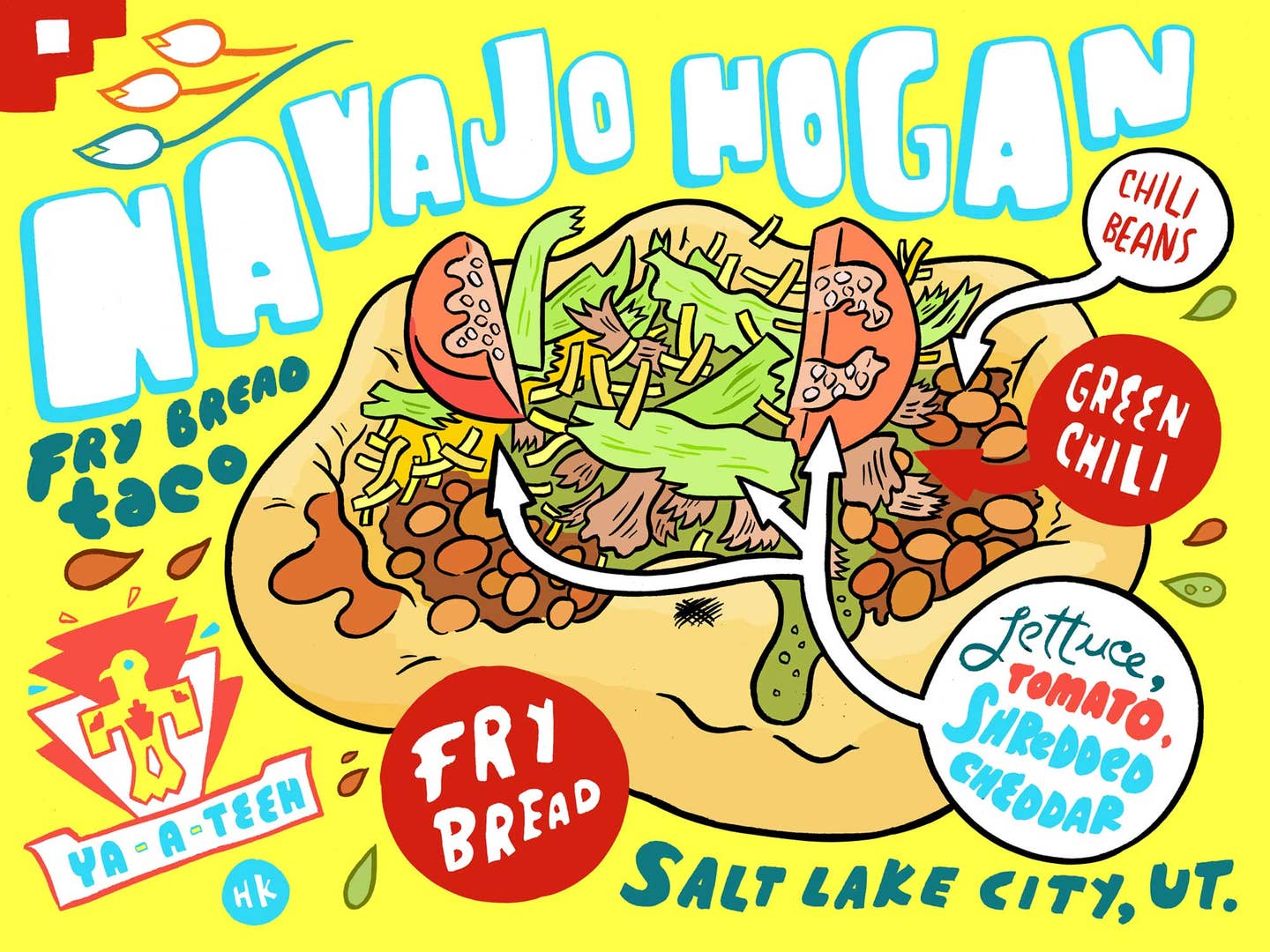 Travel
Journey to the Frybread Belt, Where Fried Dough Meets Taco Filling
Navajo Hogan in Salt Lake City makes some of the country's best frybread tacos
Welcome to Hawk's Illustrated America, a monthly series following illustrator Hawk Krall's journeys through the back roads of the U.S. in search of our country's most obscure and delicious regional specialties.
Part Native American, part Southwestern and Tex-Mex, part state fair-style deep-fried joy, frybread tacos are an oft-overlooked, sometimes controversial, and insanely delicious example of a regional American food born from cultures accidentally coming together.
Imagine the ground beef, lettuce, and grated cheddar of a hard-shell taco wrapped in the puffy embrace of an unsweetened funnel cake, with the occasional touch of Southwestern ingredients like blue corn or green chile. As with a good Philly cheesesteak or giant pastrami sandwich, it's impossible to eat a frybread taco neatly, but when it's done right you don't mind the dribbles all over your shirt, and you'll wonder why you can't get anything like it outside the frybread belt between Arizona and South Dakota.
But if you have your pick of places, start with Navajo Hogan in Salt Lake City, which makes some of the nation's best.
Navajo Hogan started as a video game arcade and pool hall called "The Farmers Place" in a cinder block box near the local high school. The business didn't do too well, so in 1989, Marcie and Bill Espinoza changed the focus to food, and opted for frybread tacos as a way to differentiate themselves from the area's Mexican restaurants and to honor their Mexican and Tewa Pueblo heritage. Then they brought in local artists to design the logo and paint murals—including famed Navajo artist Andrew Warren—and paid them in tacos.
Frybread is a staple of the Southwest, found everywhere from sit-down restaurants to state fairs, roadside stands and legit Najavo pow-wows. It's a simple dough fried until puffy and crisp, and when you cover it in honey butter and powdered sugar, or chokeberry wojapi, or mutton stew, or ground beef or green chile (the latter are typical frybread taco trimmings), it's quite possibly one the most delicious things you can ever put in your mouth.
Navajo people originally used maize for their breads, until processed white wheat flour was forced on them by U.S. government rations, from which the modern frybread was born. Many Native Americans now deride frybread as a symbol of cultural appropriation and oppression, especially for the health problems associated with consuming it regularly (Native American reservations report some of the country's highest concentrations of diabetes).
But for some, frybread is a longstanding symbol of Native culture and pride, from Inuit assaleeak, similar to the Navajo version, to sopapillas, popular from Chile to Mexico and the American Southwest. And in the case of the frybread taco, frybread becomes a vehicle for binding diverse cultures together. You can get almost anything under the sun on frybread—hamburgers, hot dogs, deli sandwiches—but nothing has outdone the popularity of the taco.
Navajo Hogan does both sweet and savory frybread, including the Tex-Mex classic of ground beef and pinto chili beans as well as the more Southwestern green chili frybread taco. The beans start with pintos, ground beef, a secret blend of spices, and little to no tomatoes, that are simmered all day long in a big pot. They're simple and classic, but with a powerful depth of flavor that comes from the experience of making beans for decades.
For their tart and spicy green chili, the Espinozas make an annual trip back home to Albuquerque to stock up on New Mexico chiles, which they mix with pork, garlic, and onion. Navajo Hogan also does shredded beef and chicken tacos, and all of these options come topped with the standard dressing of chopped tomatoes, iceberg lettuce, shredded cheese, sour cream, and the salsa of your choice. For something more Navajo, there's Mutton stew, a Navajo comfort food favorite, hearty, satisfying with a pleasant gaminess; it's a special on Saturdays that often sells out before noon.
In addition to the standard white flour, Hogan also offers blue and red corn frybread for any of their dishes, something you don't see too often, inspired by a trip to the Blue Bird Flour Mill in Colorado, where the Espinozas get all their flour and pinto beans. And you really can't leave without trying the dessert frybread, which starts with the same dough as the savory kinds but adds a blizzard of powered sugar, cinnamon, honey butter.
I've tried to recreate their frybread at home, a dead simple recipe with only four ingredients—flour, baking powder, salt, and water—to no avail. The Espinozas insist part of their magic is the super-fine, high-gluten Bluebird flour they use, but it's mainly about technique: nailing the consistency after years of practice. Navajo Hogan makes each taco by hand fresh to order, which is crucial for good frybread. They stretch balls of dough in a process called "flapping," similar to tossing pizza dough, and drop them in clean fryer oil for a few minutes. They also prick a hole in the middle of the bread while it fries to "release evil spirits" and ensure it cooks evenly.
Navajo Hogan has been going strong for more than 25 years, and they haven't expanded the business except for a few catering gigs and a 2013 pop-up in Philadelphia with their son Marcos, a food writer, and local chef Lucio Palazzo. Hundreds of people lined up for a taste of their tacos then, and Marcos says he'd love to expand the business to Philly full time. "People still don't really know about it, and nobody (besides me) is really preaching its gospel."
Navajo Hogan
447 3300 S, Salt Lake City, UT
(801) 466-2860
Hawk Krall is an artist, illustrator, and former line cook with a lifelong obsession for unique regional cuisine, whose work can be seen in magazines, newspapers, galleries, and restaurants all over the world. He focuses on editorial illustration, streetscapes, and pop-art style food paintings.